Some obsessions must be kept secret, while others must be called out: I'm a planning champion. Not the sort of planning which leads to the accomplishment of tasks and which makes me productive, no, but the kind that remains only scribbled on sheets of paper.
Calling yourself a planning champion is like telling a recruiter during an interview that you're a perfectionist, who believe me, is not always a good quality. It's often a sign of someone spending their time on trivial things, like watching out for promotions or restocking kitchen accessories—even if I really believe I need them—instead of canceling unnecessary banking services.
Who can blame a girl who discovers this highly desirable collection on Chic & Basta, a site dedicated to crafty products from Quebec?
For me, planning becomes even more intense, the first month of the year, of course, because dear guest, I am well-intentioned like you, and therefore, I strive to turn myself into a new me for the new year.
But like 80% of the population, my desires collapse.
However, to start the new decade off right, I got myself a promising tool: a super creative agenda, a Happy Planner, and I studied it well—yes, I watched videos on YouTube to find out how to maximize my busy looking life—so that I can be a highly effective person. I'm sure Stephen Covey would be proud of me, ahem, in my alternative life.
But I'm speaking far too quickly. We're only at the end of January. I'll only rejoice when I have prepared all the simply planned recipes. Starting with my chickpea stew.
2019 was filled with turning points.
Since last spring, I became a francization teacher—finally, a job where I feel fulfilled; in the fall, I registered at HEC (Hautes Études Commerciales) to establish my status as an eternal student (a diploma in marketing, communication, and branding), and also, I experienced a tragic event in my family.
In an attempt to give myself a fresh impetus, I sat in the dining room at night for a week to define my life goals and organize a food schedule to satisfy the desires of my stomach and yours too.
But sometimes there's no point in overplanning; you just have to let go and let yourself be guided by the synchronicities of life.
The fact remains that I had scribbled a recipe for a chickpea stew with Swiss chard to prepare this month, but I still didn't know how I was going to go about it. I needed a sign.
And the sign appeared before me.
One evening, I saw my chickpeas stashed in the back of my other Mason jars. Poor things, since my little monster doesn't like them, I'd stopped cooking them.
But I told myself that one day, I had to give them justice.
When I learned that Mr. Pleasant was inviting a colleague to come home somewhere during the week, I found myself a perfect excuse to, first put them back in the limelight, second, return seriously in front of the stove, and third, talk to you about it at the beginning of the year.
And this was a good thing. As I surfed the Internet, a recipe from the New York Times caught my eye.
Deep inside, I hoped that it would please the little one.
It included a perfect blend of comforting ingredients.
Combining coconut with Indo-Caribbean spices, this stew evokes a lot the chana masala found in certain regions of South India or other stews typical of certain regions in the Caribbean, notably Jamaica.
Flamboyant but tasteful, this version testifies to the art of tasting, flavoring, and tasting again. In fact, during the preparation, I couldn't stop myself from taking slurps while moaning.
Like many good things, it starts with onions and garlic. Next comes a lively parade of spices. The chickpeas are first added to participate in the carnival, then a part is removed from there for the garnish. After that, the pouring of tasty liquids follows to finish off with corpulent leaves, which soften soon after.
With a rich texture and a moderate rumble of warmth, this chickpea recipe is worth scribbling on your agenda many times. Especially when your little one gives you his seal of approval.
Step-by-Step Chickpea Stew
[Stept by step photos to come]
1 / Sauté the garlic, onion, and ginger (5 min).
2 / Add the spices (curry, cumin, and red pepper flakes), cooked chickpeas and seasonings (salt and pepper), then fry and brown, stirring frequently (8-10 min).
3 / Reserve half of the chickpeas for garnish and mash the other half to thicken the stew. Add the coconut milk, vegetable broth, and red pepper flakes and leave to thicken (30-35 min).
4 / Add the green leaves and stir (3-7 min).
5 / Divide into bowls and garnish with mint, reserved chickpeas, a pinch of red pepper flakes and a drizzle of olive oil.
6 / Optionally serve with cashew yogurt.
Spiced Chickpea Stew with Curry and Coconut
Adapted from Alison Roman the New York Times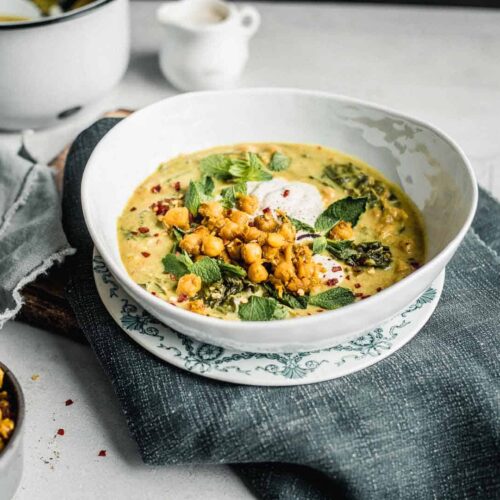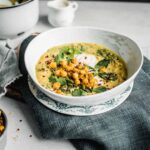 Print Recipe
Spiced Chickpea Stew with Curry and Coconut
The following recipe is my attempt to make the original recipe a little more flavorful and less rich. Indeed, it required twice the amount of coconut milk, but by doing this, I found that my belly had suffered from its richness. However, do it if yours is less fragile than mine. The leaves can be replaced by other green leaves. However, be aware that Swiss chard and spinach wilt and soften much faster than kale.

This stew can be served in two different styles: optionally with a quarter cup of reserved coconut milk, cashew yogurt to soften the flavors or without anything at all on top; garnished with fresh mint or fresh cilantro. I loved the fresh mint. It brought an eccentric freshness on the palate. Regardless, this dish is even better on the second or third day.
Course:
Main Course, Soup
Ingrédients
2

tablespoons

olive oil, and more for serving

4

garlic cloves, minced

1

large Spanish onion, chopped

about 1 cup

2

inches

5 cm ginger, freshly grated

about 1 teaspoon

1

tablespoon

ground curry

1

tablespoon

ground cumin

1

teaspoon

red pepper flakes, and more for serving

1 ½

cup

chickpeas, soaked in water the day before with 2 teaspoons of baking soda

3 cooked cups or 2 cans (400 g / 15 oz) chickpeas, drained and rinsed

1

can 400 ml

15 ounces whole coconut milk

3 ¼

cups

vegetable broth

1

Scotch Bonnet pepper or ¼ teaspoon cayenne pepper

1

bunch of chard, kale, or green cabbage, stems removed, leaves torn into small pieces

Salt and pepper

1

cup

mint leaves, for garnish

1

serving of lime cashew yogurt

optional
Instructions
Heat the oil in a large saucepan over medium heat. Sauté the garlic for 2 min until it smells fragrant. Add the onion and ginger and stir occasionally until the onion is translucent and begins to brown a bit around the edges, 3 to 5 minutes.

Add the curry, cumin, and red pepper flakes, then the cooked chickpeas. Season with salt and pepper. Let the chickpeas sizzle and fry in the spices and oil, stirring frequently until the chickpeas begin to decompose and become slightly golden and crisp, 8 to 10 minutes. Remove about a cup of chickpeas and set aside for garnish.

Using a spoon, wooden spatula or potato masher, mash the remaining chickpeas a little more to release their starch (this will help thicken the stew). Add the coconut milk (reserve ¼ cup to garnish, if desired) and broth. Bring to a boil, scraping all the pieces that have formed at the bottom of the pan. Stir in the Scotch Bonnet pepper and cook, stirring occasionally, until the stew has thickened and the flavors have started to blend, 30 to 35 minutes. (Taste a chickpea or two, not just the liquid, to make sure they're also tasty.) For a slightly thicker stew, continue to simmer until you get the desired consistency. (Alternatively, you can add a teaspoon of chickpea flour or other thickening powder).

Add the green leaves and stir, making sure they're submerged in the liquid. Cook for a few minutes so that they wilt and soften, 3 to 7 minutes, depending on the type used. Season again with salt and pepper, if desired.

Remove the Scotch Bonnet pepper, if used. Divide among bowls and garnish with mint, reserved chickpeas, a pinch of red pepper flakes (if you can handle the heat) and a good drizzle of olive oil. Serve with coconut milk or cashew yogurt and toasted pita bread if you have on hand.

Stored in a container, this Spiced Chickpea Stew will keep for 5 days.
Prepare this chickpea stew now!
You have everything to gain when you plan to cook a meal that includes chickpeas. Especially this one, with exotic ingredients.
The richness, consistency, and spiciness make this stew a perfect meal for the cold weather.
Start with aromatics typical of tropical regions and you'll quickly find yourself in front of a homely dish.
If you try this recipe, I want to know about it! Leave me a comment below or share it on Instagram. Tag @biting.into.life with the hashtag #bitingintolife