Admit it.
If you still haven't fully transitioned to a vegan diet, one main reason could be that your love of cheese is a major stumbling block. It's like trying to jump over tall buildings.
And you're anxious for ANY "cheese-like" recipes that will fill the void.
Because cheese is so addictive. It really is. Really!
Hey, I don't blame you. You need to be someone who's never really cared for cheese to be able to give it the cold shoulder.
Whether you're a severe "cheesehead" or not, cheese brings a delicious flavor, a second layer of flavor to a lot of recipes that's hard to deny. (Of course, it doesn't if you hate it.)
So what's a cheese lover to do? Find an alternative that will satisfy your cheese craving. That's what! Well, something that comes close, anyway.
And you know what? I've got the perfect recipe that will do just that.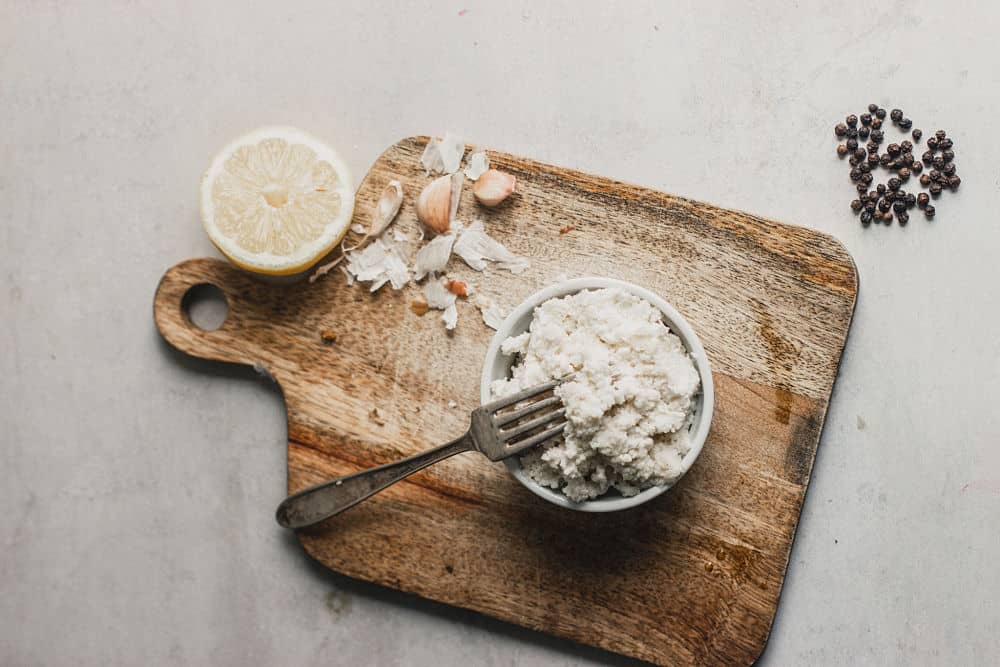 The Biggest Issues with Most Nut-Based Dairy-Free Cheese Recipes
If you look around the web or elsewhere, you'll notice that most nut cheese recipes call for cashews. There's a reason for this.
Cashews give a creamy texture and have this particular taste that, when mixed with the right ingredients, you get something that comes really close to creamy cheese or cheese spreads. You must be like: "Okay, what's the issue here?"
Well, my friend, if you happen to have cashew nut allergies, you might tend to avoid cashew nut cheeses completely. (Actually, you might not have any reactions if you have a general nut allergy because the cashew nut is not technically a nut. It's more a legume. But for safety, you're probably doing the right thing by avoiding them.) So that's the first issue.
The second one is, when it comes to creating a ricotta-style cheese, cashews become too creamy and won't give you the same texture.
So here again, you might have to look for another alternative.
The nuts I'm going to introduce to you will save the day.
Why Macadamia Nuts Are the Perfect Substitute for Ricotta-Style Cheese
Macadamia ricotta is not as popular as other ricotta-style recipes like cashew ricotta or almond ricotta. But it will truly amaze you. I got this recipe when I was teaching as a raw food teacher and I'm gonna share with you! Woot! Woot!
The original recipe calls for two main ingredients: macadamia and lemon. You read that right! Only two main ingredients! Then you add water and salt, which we won't call ingredients since you never run out of water and most spices (A little industry secret: That's how most recipe books sell you on 5-ingredients this! 10-ingredient-that!).
Okay, I know, I know… Macadamia nuts are expensive and maybe that's why people choose cashews or almonds instead. But I did something clever to help you cut down costs.
I divided the original quantity with blanched almonds. This recipe is actually featured in my e-cookbook I launched recently. Here, you simply add the ingredients in a food processor and that's it. You can either grind the nuts first and add the rest of the ingredients after or mix everything together.
Always use a food processor instead of a blender to give more texture to your concoctions.
Now, using ground macadamia nuts in lieu of dairy won't ever create something that tastes just like the original as these round nuts are mild-tasting, rich, and sweet. Anyhow, ricotta doesn't typically have an intense cheesy flavor, so you won't be too far off.
But once processed, macadamia nuts do magically transform into a spread with a texture remarkably similar to firm ricotta, thanks to their high-fat content.
Lemon juice is used for a little tanginess and salt for saltiness. For more flavor, you can add nutritional yeast for a little cheesiness and a dash of garlic powder (or fresh garlic) for depth of flavor.
It's a perfect basic recipe that can be played around with. Try adding herbs or other spices. You can use this homemade vegan cheese anywhere.
Stuff it in ravioli or cannoli (don't add any bitter spices, though).
Dollop it on pizza.
Stir it in salads.
Mix it in pasta recipes.
Slip it in sandwiches.
Or devour it as a dip with crackers or veggies.
Make This Now
Finding an alternative to dairy ricotta cheese — in somewhat similar texture and taste — is very possible with ingredients like macadamia nuts. You don't have to stick to the commonly used cashew nuts or almonds only.
Use these tiny white and mild-flavored pebbles on their own or divide them with almonds, just like I did.
With the numerous ways to add this quick non-dairy ricotta, you can now transition to a vegan diet or dairy-free diet more peacefully. You can now fill the void. You can now still satisfy your cheese craving in a certain way.
And most of all, you can now say: "Cheese please!"
Almond Macadamia Nut Ricotta Cheese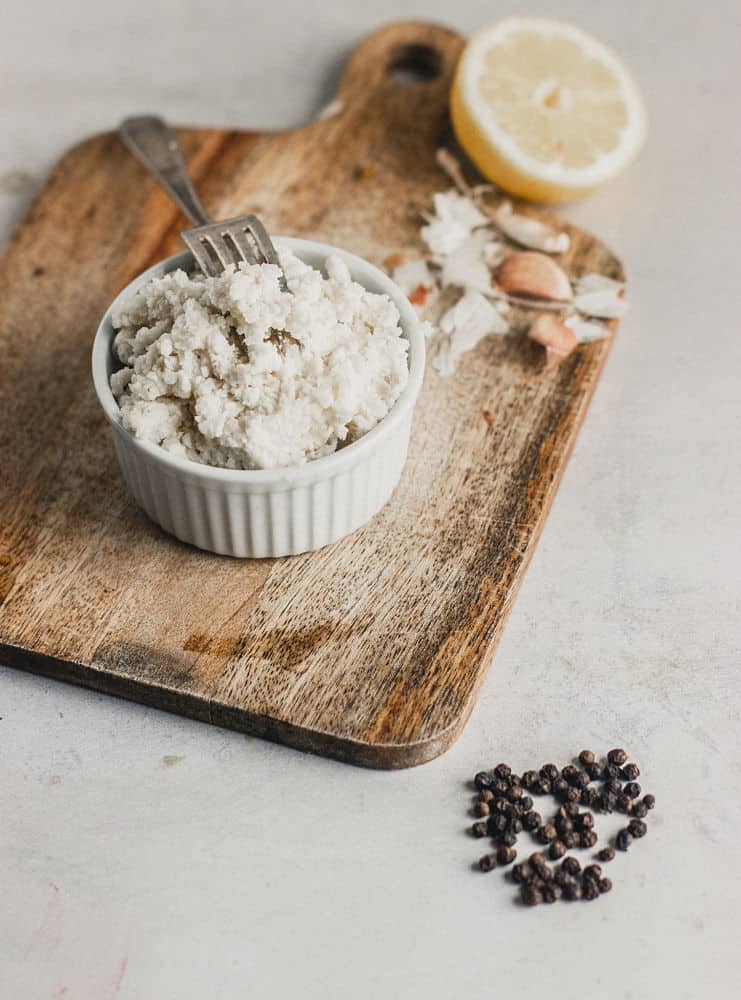 If you try this recipe, I want to know about it! I always appreciate your feedback. Leave a star rating in the recipe card right below and/or a review in the comment section further down the page. You can also follow me on Pinterest, Facebook, or Instagram. Sign up for my email list, too!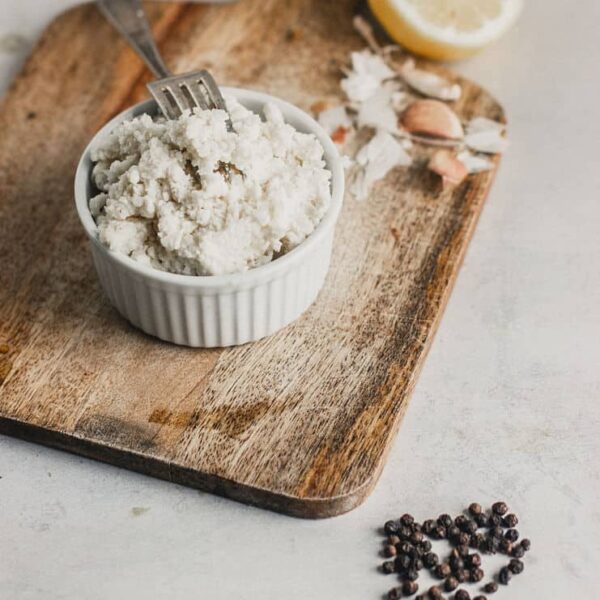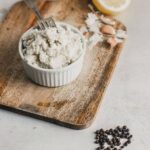 Print Recipe
Dairy-Free Ricotta-Style Cheese
This dairy-free ricotta is a great alternative to satisfy your cheese craving and mimic the traditional thing. Add it anywhere you'd like!
Ingredients
½

cup

almonds

preferably soaked overnight (about 8 hrs) and peeled, or blanched (Notes)

½

cup

macadamia

1-2

tablespoons

lemon juice

2

tablespoons

water

¼

teaspoon

garlic

crushed (about 1⁄2 clove garlic)

Pinch

salt
Instructions
Put all the ingredients and ¼ cup water in the small bowl of the food processor fitted with the "S" blade, and process until creamy. Serve immediately or store in an airtight container in the refrigerator for up to 4 days.
Notes
Blanching involves dipping the almonds in hot water for a few seconds. To skip this step, buy the almonds already blanched.
Nutrition
Calories:
897
kcal
|
Carbohydrates:
26
g
|
Protein:
21
g
|
Fat:
86
g
|
Saturated Fat:
11
g
|
Polyunsaturated Fat:
10
g
|
Monounsaturated Fat:
62
g
|
Trans Fat:
1
g
|
Sodium:
6
mg
|
Potassium:
769
mg
|
Fiber:
15
g
|
Sugar:
6
g
|
Vitamin A:
2
IU
|
Vitamin C:
7
mg
|
Calcium:
249
mg
|
Iron:
5
mg
Get Your Free Plant-Based Eating Toolkit and More
Subscribe to my newsletter and unlock my plant-based course, nutrition charts, recipe secrets, and exclusive updates to prepare wholesome, varied & balanced meals effortlessly. All you need is a good appetite. Subscribe!