This savory buckwheat contains the right ingredients to improve your digestion. It's possible to follow a plant-based low-FODMAP diet and be delighted with it without regret. Cherry tomatoes, roasted eggplants, and a preserved lemon cream give something very satisfying.
The secret to spicing up this dish is the green parts of green onions and asafoetida to replace the regular onion and garlic, respectively. That's what makes it so delicious!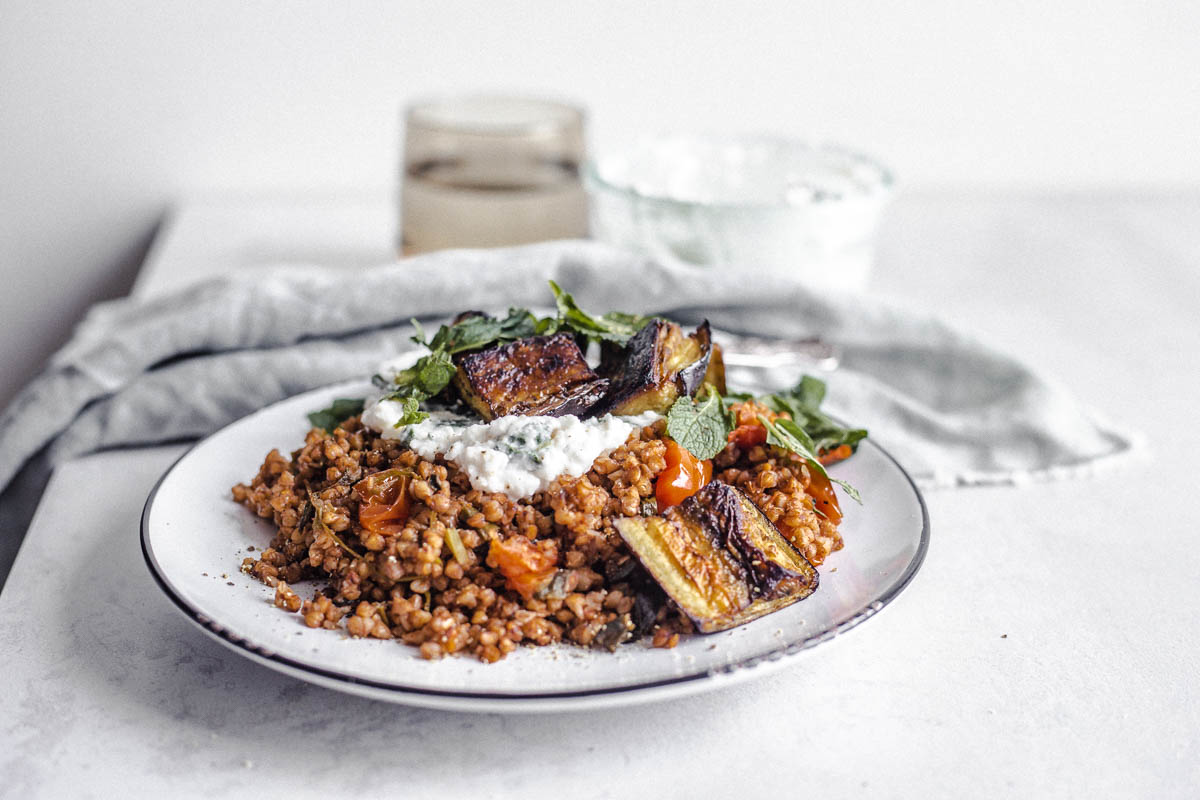 Jump to:
Why this Dish is So Perfect for a Low-FODMAP Diet
I don't know about you, but following a low-FODMAP diet—when it's plant-based, on top of that—seems as hard as keeping track of your expenses. It's excruciating when a girl fond of tasty dishes has to omit garlic and onion to restore herself to bland concoctions, and therefore, in dreary monotony.
Worst of all, since my best sources of plant protein, legumes, are unfortunately forbidden, I'm forced to turn to grain products. And not just any: they must be gluten-free. At this point, anyone of weak character would've dug their own grave.
True, but in my case, darkness can wait. I'm inclined to believe that my reclaiming spirit cannot be overcome by these blessed constraints.
The other day, when I dislodged my Yottam Ottolenghi Simple cookbook from on top of my fridge, a bulgur recipe presented itself to me. That evening, I was feeling a little frisky. And instead of taking out the usual quinoa Mason jar to substitute the grain that would harm my fragile gut, I thought of roasted buckwheat grains (kasha), bought a few days earlier.
It's a sad day, I realize, when a person comes to associate the words "feeling frisky" with eating boiled pseudo-cereal grains, but I'm not ashamed to admit it. Anyway, the experience was remarkable.
This is especially true with a sort of cream cheese, tinged with preserved lemon and mint, spread on the top.
The cooked buckwheat is soft and slightly sweet, thanks to the cherry tomatoes, and has a great nutty flavor. Then there are the tender, caramelized eggplants. Those three elements alone go well together, but seriously, with the cream cheese stuff on top, surprisingly, this dish deserves lots of superlatives.
This grain is similar to rice, but when chewing, it has more a complex nutty flavor, it's more filling, and, to think of it, this dish erases all traces of my digestive affliction.
Answers to Your Burning Questions
What's kasha?
If you haven't heard of it before, you might have known it as hulled and roasted buckwheat. It's wrongly called kasha to designate this grain, slightly reminiscent of steel-cut oats. Buckwheat grains, once roasted, release a pleasant smoky flavor.
In Russia, it's cooked with milk to look a bit like porridge. In this case, this traditional porridge is called kacha (written with a "c" and not an "s").

Kasha is one of the pseudo-cereals, highly prized for their lack of gluten, such as quinoa, amaranth, millet, and so on.

Wrongly called "buckwheat," kasha does not belong to the grass family like quinoa. In this case, it is not a cereal. It's part of the same family as rhubarb and sorrel: the Polygonaceae. Thus, since it is gluten-free, it becomes particularly digestible.

It's chewy and slightly sweet and has a nutty flavor. It can be used in both sweet and savory recipes. For example, it can be used as a base for rice or hot cereal; it can be incorporated into salads, soups, risotto imitations, and about a million other things.

Is it good for your health?
The benefits of buckwheat are multiple. Packed with antioxidants, an incredible source of vegetable proteins, endowed with essential amino acids, buckwheat (or kasha) is no less rich in fiber and vitamins. Like oats, it also helps to regulate bad cholesterol levels in the blood.

It's also a good source of magnesium. This mineral relaxes blood vessels and improves blood circulation and nutrient delivery while lowering blood pressure, which is the perfect combination for a healthy cardiovascular system.

Where can I buy it?
Roasted buckwheat is sold by various brands and is mostly found in all healthy grocery stores. It's sometimes available in bulk, but as a rule, it's relatively easy to find. To buy kasha and not common buckwheat, be sure to see the words "toasted buckwheat groats."
In Russian, European or Asian markets, it usually comes pre-roasted and is golden brown in color. Roasting is quite simple.

Note: Organic buckwheat has a different texture than what Russians are used to. Therefore, this recipe might not work well with it.

Can I make my own homemade kasha?
Yes, it is child's play, even. To prepare it at home, you need hulled buckwheat seeds called "plain" (be careful to check the words "hulled").

Take plain buckwheat and make homemade roasted buckwheat in no time.
1 / In a pan over medium heat and without fat, toast the small seeds.
2 / Stir constantly until the seeds reach a beautiful golden brown color.
3 / Leave to cool and reserve your kasha in an airtight box.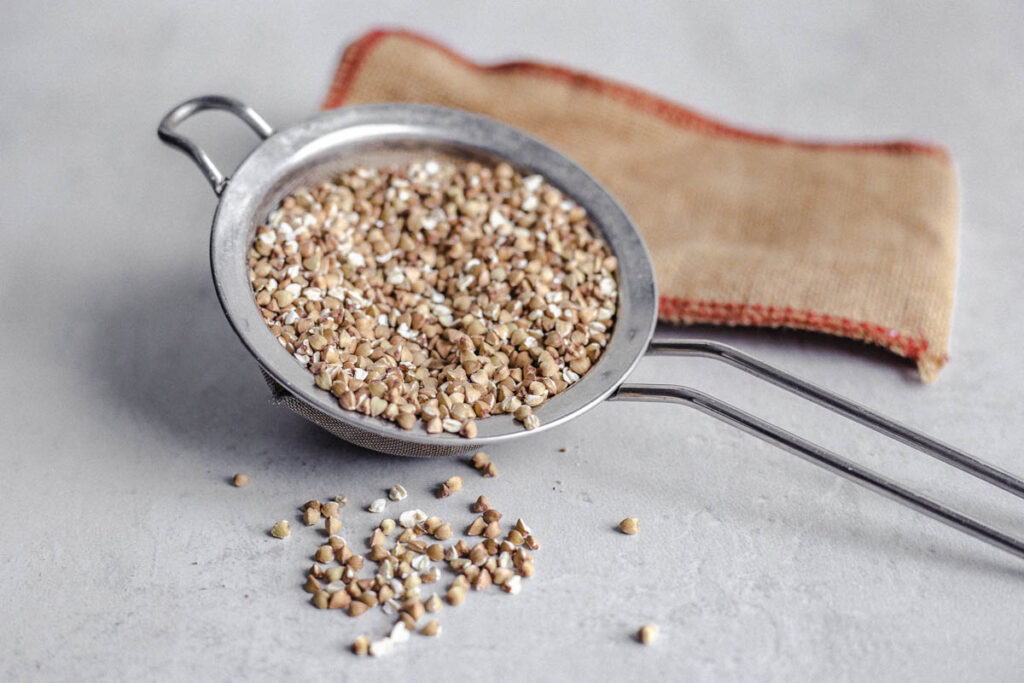 What Do We Put in this Savory Roasted Buckwheat?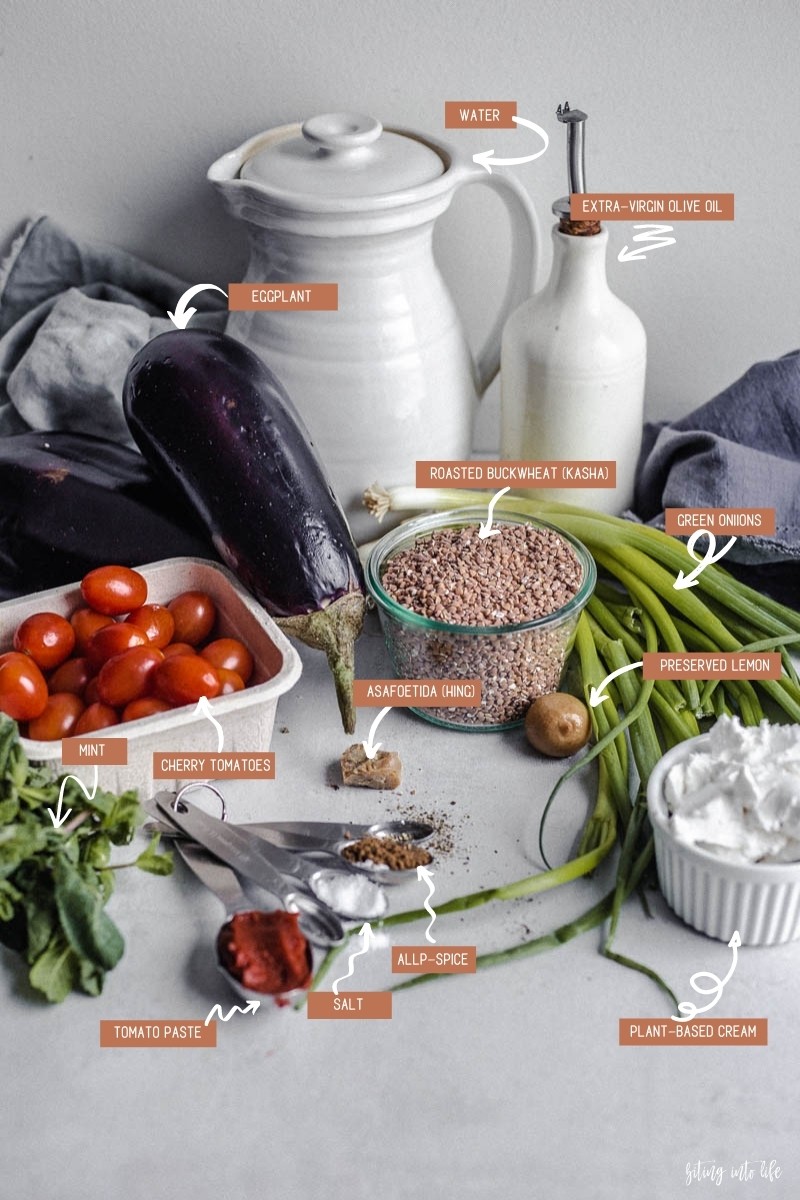 Main ingredients
Eggplants – these are generally in high season in late summer, August, and September. At this time of the year, look for gleaming ones with dense, evenly firm, sweet flesh with a few seeds. Keep them in a cool place to keep them.
Cherry tomatoes – these will add some color and umami.
Tomato paste – concentrated umami!
Roasted buckwheat – also called kasha, its taste is very close to the taste of roasted nuts. This is also what we appreciate about it when tasting it.
Plant-based cream – the original recipe called for yogurt, and I thought about coconut yogurt at first, but I wasn't sure it would do. Instead, I found a cream cheese-style creme, to which I added a little water to make it creamier.
Preserved lemon – these are mini-lemons dipped in brine.
Seasonings
The green part of green onions – I couldn't help but think of another way to substitute for regular onions. And may God be praised; the green part does not cause any damage in the low-FODMAP diet. Green onions (aka scallions) have an onion-y but mild flavor that is not as intense as regular onions (the white parts contain the most intense flavor).
Ground allspice – this pepper evokes the taste of cinnamon. You can find it in grains and grind it when it's time to cook with it. This releases those volatile oils and makes the spice more fragrant.
Mint – it will serve as a garnish and refresh your palate.
Salt and pepper – the salt is kosher, and the pepper is freshly ground.
Optional ingredients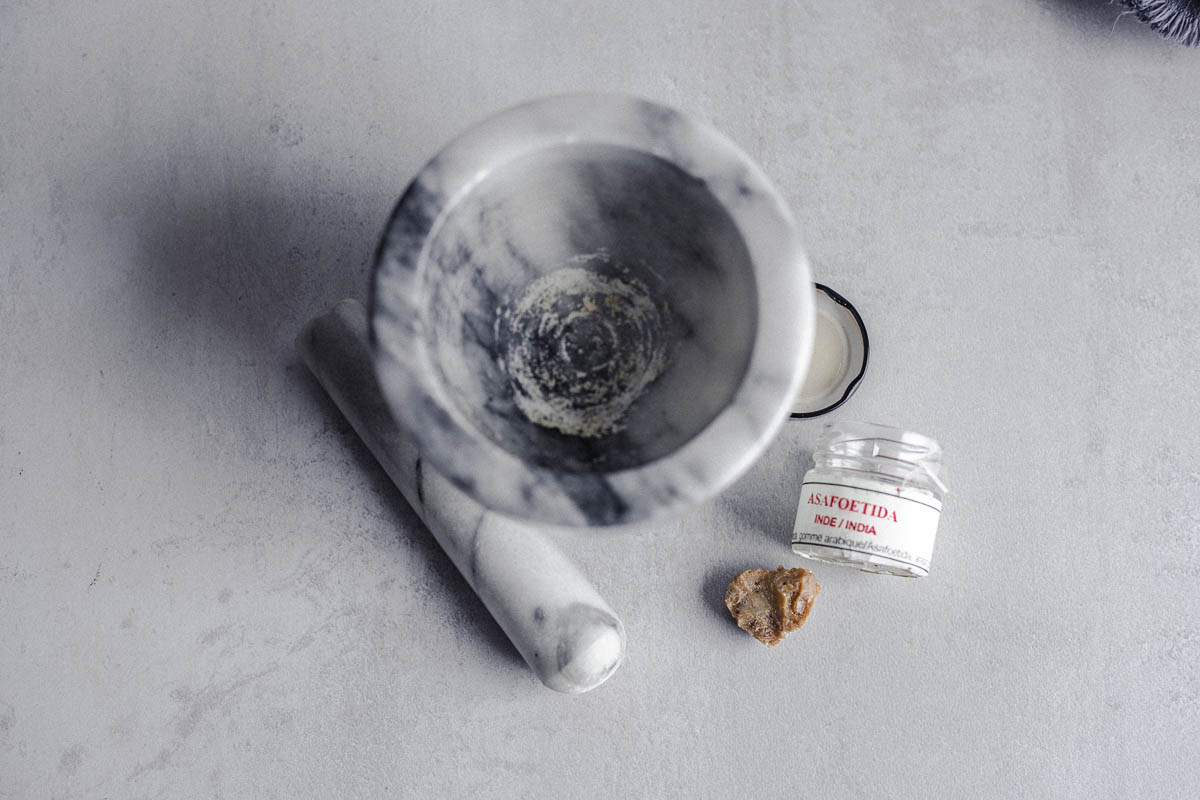 Asafoetida – also called hing, it's the resin of a type of giant fennel native to Central Asia. Its peculiar smell—unpleasant for many, no, I'm sorry: it smells mean like wet and moldy socks!—has earned it the name of "devil's droppings." However, it is an essential spice in Indian (Ayurvedic) cuisine, used in dishes based on lentils or vegetables.
When cooked or browned in oil, its flavor is reminiscent of roasted garlic, and its intense scent diminishes. It promotes the digestion of legumes and limits the "side effects"! It is rarely sold pure. I bought some from a specialty spice store, mixed with gum arabic only, therefore containing no flour.
How to Make Savory Kasha Step by Step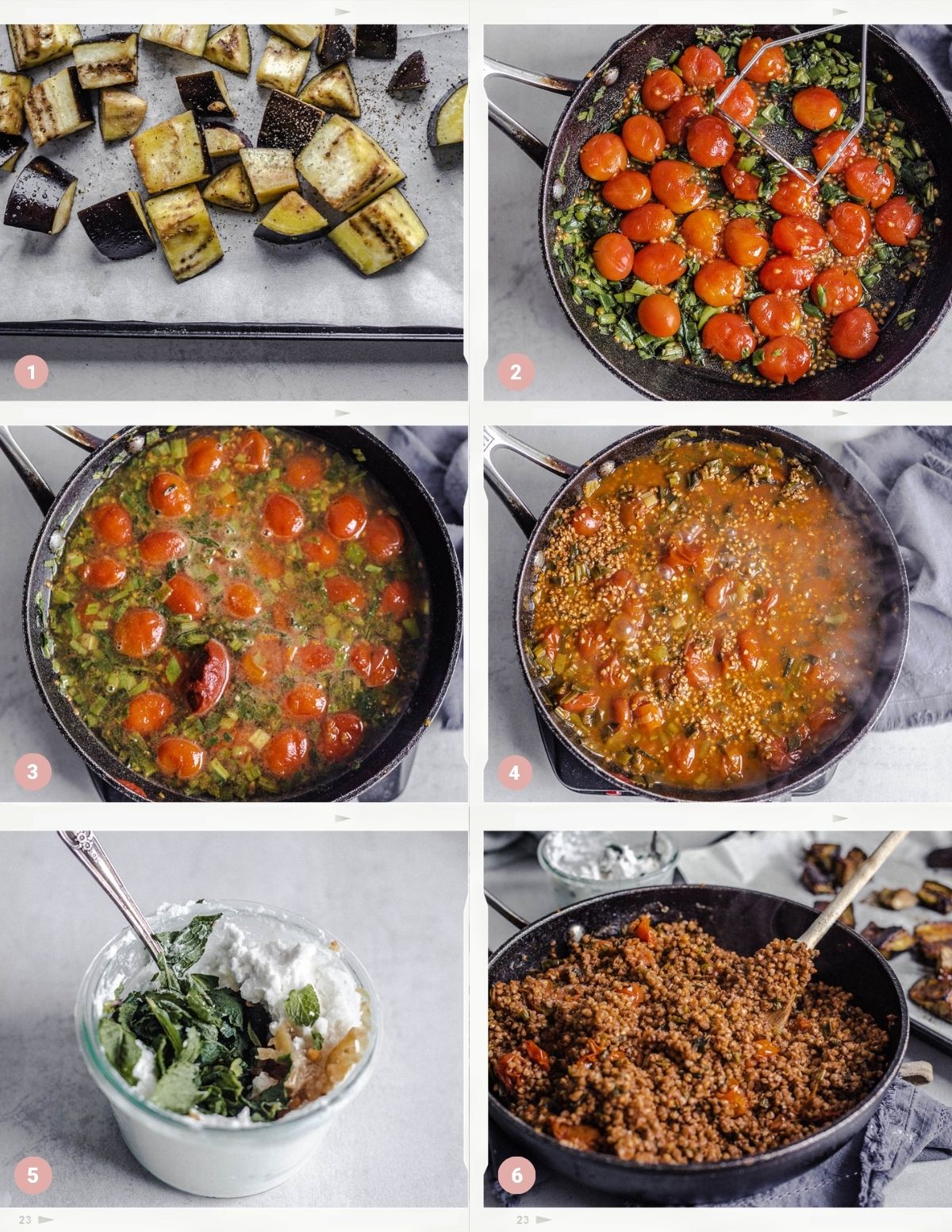 Once cooked, kasha is delicious to accompany sautéed vegetables.
1 / Roast the eggplants.
2 / Sauté the green parts of the green onions with the allspice and the crushed cherry tomatoes.
3 / Add the tomato paste, water, salt and bring to a boil.
4 / Add the kasha, stir well and cook.
5 / Make the preserved lemon cream.
6 / Serve the kasha with cherry tomatoes topped with plant-based cream, eggplant, and mint.
The Keys to Success: My Top Tips
For the best texture, go straight to the source
Do your best to buy buckwheat in an Eastern European market. The texture of buckwheat from these sources is denser and prevents it from overcooking by avoiding mushy results.
Still, it's not bad at all and tastes delicious anyway. Another benefit is that it will be easier for toddlers to bite and chew it.
Cook the kasha to perfection
A single watchword, do not drown your grains in too much water.
Put one volume of these roasted seeds for two volumes of water. Be careful, roasted buckwheat cooks easily, but you still have to watch it for fear of turning it into a porridge. As soon as the fire starts to simmer, lower the heat. This is how it will turn out perfect.
For the adventurer in you! Don't be heavy-handed with asafoetida
This resin has a powerful, rather foul odor, and so is its flavor. Fortunately, it becomes pleasant when used in small quantities. And when I say that, I mean to take only a small pinch, namely 1/16 teaspoon, and grind it into powder it with a pestle mortar.
Other Creative Variations
Replace kasha with other pseudo-grains. This list included quinoa, millet, and amaranth, but my go-to choice is the former.
If you don't have gluten sensitivity, replace it with bulgur. To do this, after bringing the water to a boil, add the bulgur, stir it so that it is well covered with the reddish liquid, and remove it from the heat. After that, set aside for 20 minutes, while it absorbs all the liquid.
How to Serve this Dish
I eat it as a main course, but it makes a nice side dish. You can skip the addition of eggplant and preserved lemon, but honestly, you'd be missing out. By the way, roasted buckwheat alone with the cherry tomatoes may be dry in the mouth.
It's also delicious with a little cooked kale or mixed Swiss chard. Just boil the green vegetables in well-salted water for about 5-7 minutes, until they are tender but not mushy; then drain them, squeeze out all the water, roughly chop them and add it to the buckwheat mixture.
Make this Meal Now
Following a plant-based low-FODMAP diet can be very restrictive, especially if you're looking for tasty dishes.
But if you have a few tricks up your sleeve, it's possible to get by. Pseudo-grains are appealing to this diet, so why not think outside the box with a less well-known grain than quinoa, like hulled and roasted buckwheat?
It's perfect for warming your heart and energizing you in those winter moments. You can prepare it as many times as you like. Especially since it is much less expensive than quinoa.
You will rejoice at the first bite, the next day, and again and again.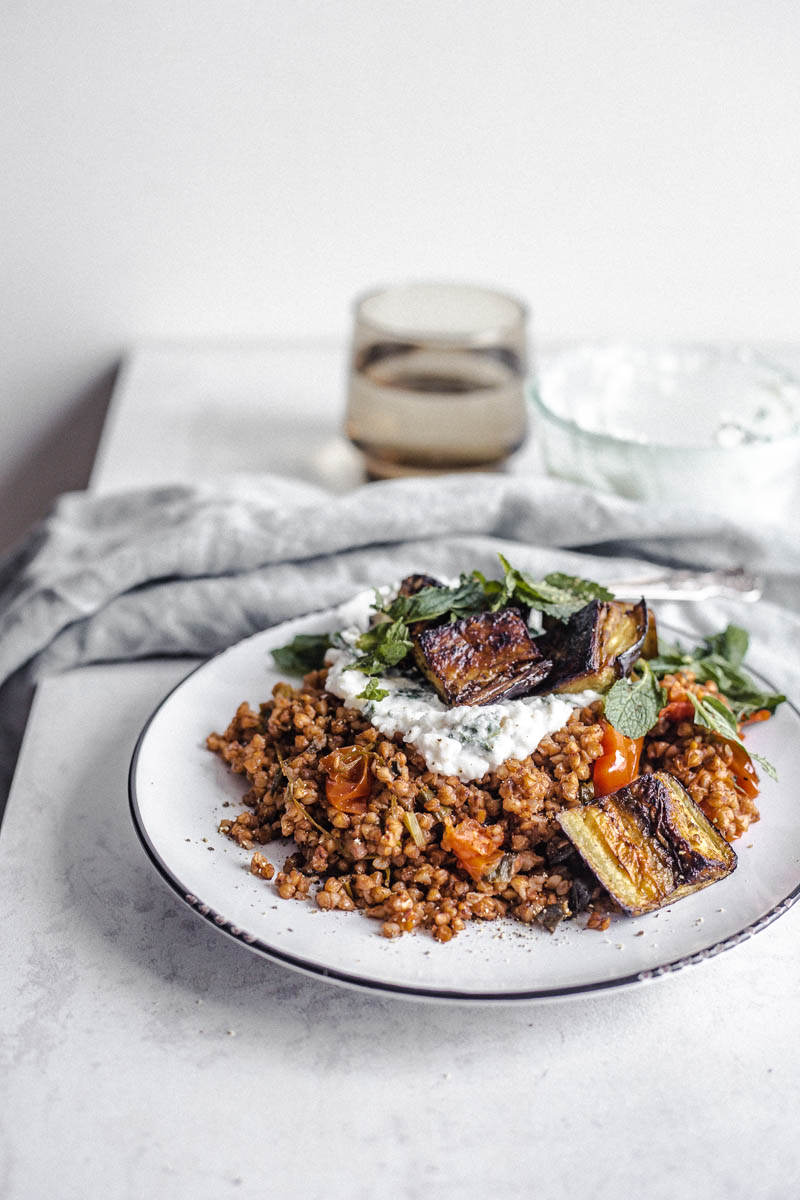 If you try this recipe, I want to know about it! I always appreciate your feedback. Leave a star rating in the recipe card right below and/or a review in the comment section further down the page. You can also follow me on Pinterest, Facebook, or Instagram. Sign up for my email list, too!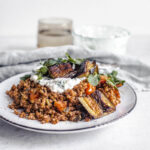 Low-FODMAP Savory Buckwheat with Cherry Tomatoes, Eggplant and Lemon Cream
You can make only the buckwheat with the tomatoes if you wish (i.e. without the eggplant and the preserved lemon cream) and as a side dish. But when you add these two elements, it makes a delightful dish. You can prepare the different parts one day before, either a Sunday or a weekday evening when you have more time to officiate in front of the stoves. Just keep them separate in the fridge, reheat, and assemble before serving. When you're on a low-FODMAP diet, you don't always want to worry about what to cook.
Save Recipe
Saved!
Print Recipe
Pin Recipe
Ingredients
2

small

eggplants

cut into 3 cm/1 ¼-inch pieces (6 cups/500 g)

7

tablespoons

olive oil

plus 1 teaspoon

Salt and pepper

3

cups

green onions

green part, minced (Note)

1

pinch

asafoetida powder

(about 1/16 teaspoon) (optional)

1

teaspoon

ground allspice

14

oz

cherry tomatoes

(400 g)

1

tablespoon

tomato paste

Or 2 ½ 3 cups of water

1 ½

cup

roasted buckwheat (kasha)

⅔

cup

plant-based cream

or cream cheese-like cream

1

small

preserved lemon

seed removed, skin and flesh finely chopped (about 2 tablespoons)

½

cup

mint leaves

minced (10 g)
Instructions
Preheat the oven to 425 °F.

Place the eggplant in a large bowl with 4 tablespoons of oil, ½ teaspoon of salt, and a good grind of pepper. Mix well and spread on a baking sheet lined with parchment paper. Roast, 35 to 40 minutes, stirring halfway through, until the eggplant is caramelized and softened. Remove from the oven and set aside.

Add the remaining 3 tablespoons plus a teaspoon oil to a large sauté pan with a lid and place on medium-high heat. When hot, add the green parts of green onions and the optional asafoetida and fry for 1 minute, stirring a few times. Add allspice and fry for a minute. Add the cherry tomatoes, crushing them with a potato crusher to burst them (be careful: they might squirt everywhere). Stir in the tomato paste, water, and 1 teaspoon salt. Bring to a boil, reduce the heat to medium-low and add the buckwheat. Stir until completely covered and cook for 18 to 20 minutes.

In a medium-sized bowl, mix the plant-based cream (add to 2 or 3 tablespoons of water if the cream is very thick and mix well until homogeneous) with the preserved lemon, half the mint, and ⅛ teaspoon of salt.

Divide the buckwheat among four dishes. Serve with the cream and eggplant on top and sprinkle with the remaining mint.
Notes
Green onions: make sure you only take the green parts.
Asafœtida (hing): This resin has a powerful, rather foul odor. Its flavor is just as good, but fortunately pleasant when used in small quantities. And when I say that, I mean just take a tiny pinch which is 1/16 tablespoon, and grind into powder with a pestle mortar.
Kasha:

Do your best to buy buckwheat in an Eastern European market. The texture of buckwheat from these sources is denser and prevents it from overcooking by avoiding pasty results.
Do not drown your grains in too much water. One volume of its roasted seeds for two volumes of water.
Variant
You can replace the kasha with the same amount of quinoa.
Conservation
Placed in an airtight container, this savory kasha will keep for five days in the refrigerator.
Nutrition
Calories:
25
kcal
|
Carbohydrates:
6
g
|
Protein:
1
g
|
Fat:
1
g
|
Saturated Fat:
1
g
|
Sodium:
44
mg
|
Potassium:
271
mg
|
Fiber:
1
g
|
Sugar:
3
g
|
Vitamin A:
554
IU
|
Vitamin C:
24
mg
|
Calcium:
22
mg
|
Iron:
1
mg
Get Your Free Plant-Based Eating Toolkit and More
Subscribe to my newsletter and unlock my plant-based course, nutrition charts, recipe secrets, and exclusive updates to prepare wholesome, varied & balanced meals effortlessly. All you need is a good appetite. Subscribe!