Here's a dish with ingredients that you would consider boringly simple: Brussels sprouts and quinoa.
But these two, presented in diversely colorful, eccentric, and mixed with roasted sweet potatoes, toasted pumpkin seeds, and plant-based ricotta-style cheese, you have a meal that couldn't be more spellbinding.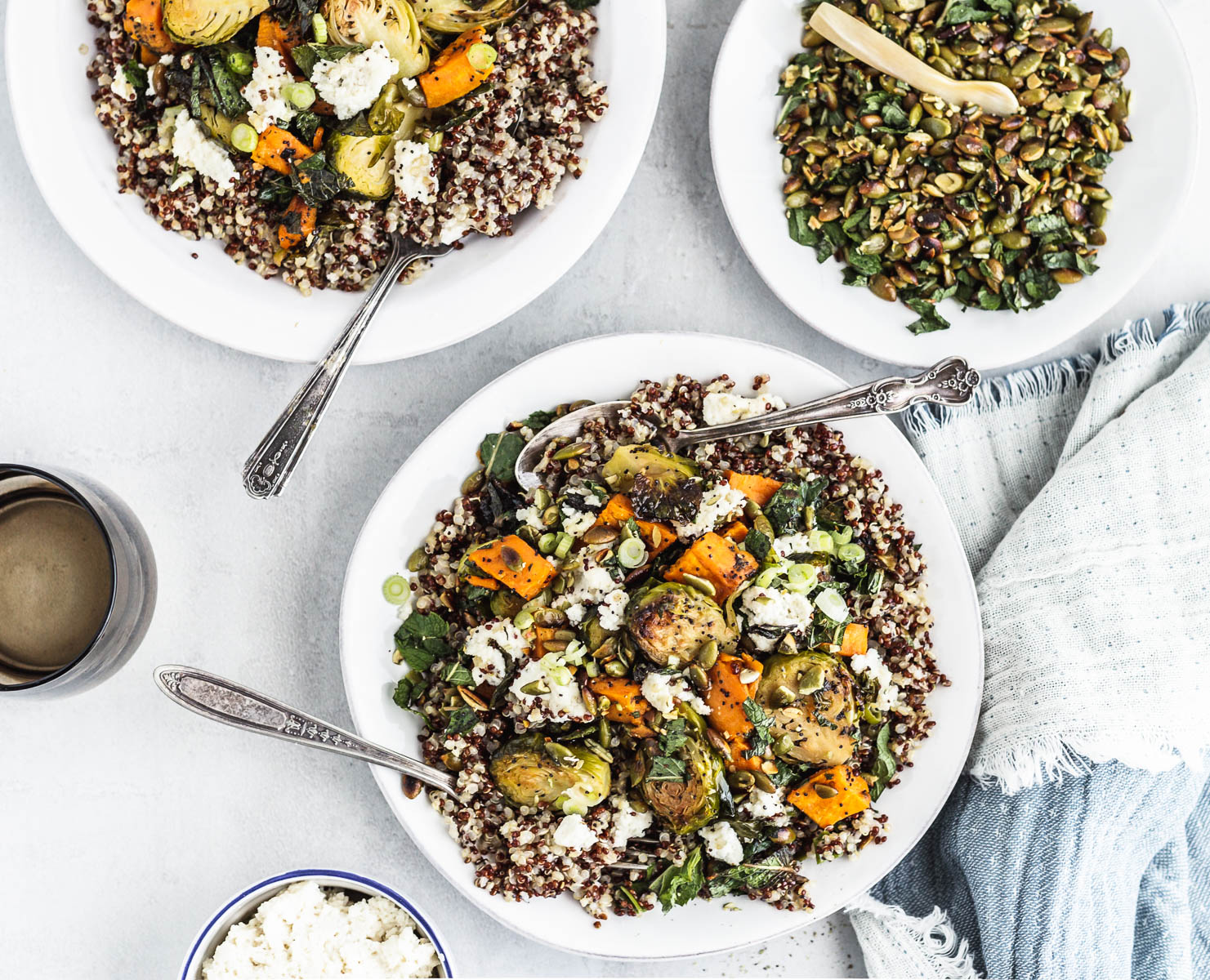 Jump to:
Why this Recipe Works
Listen, maybe quinoa doesn't turn you on, or perhaps, like me, you happily settle for a bowl of this no-frills stuff, but you've never had it like this! I assure you.
The combination of maple-glazed sweet potatoes, charred Brussels sprouts, and crispy quinoa is absolutely exquisite. It's quite a grain bowl!
Not only does it contain ingredients bursting with flavor, but it also ticks all the boxes for a super nutritious meal. It's:
High-protein thanks to quinoa, poppy seeds, pumpkin seeds, and plant-based cheese made from macadamia nuts;
Filling thanks to the ingredients listed below, precisely;
Captivating by its various colors;
Bewitching, I mean, did you take a good look at it?
I brought it for a quiet little picnic lately, and my pals loooved it.
Together, the fragrant and toasted nuts enhance and reinforce the natural qualities of the Brussels sprouts' nutty taste. They give an almost addictive flavor, which is a lot to say for a quinoa dish. (I usually reserve this kind of praise for things involving chocolate.)
What Goes in It?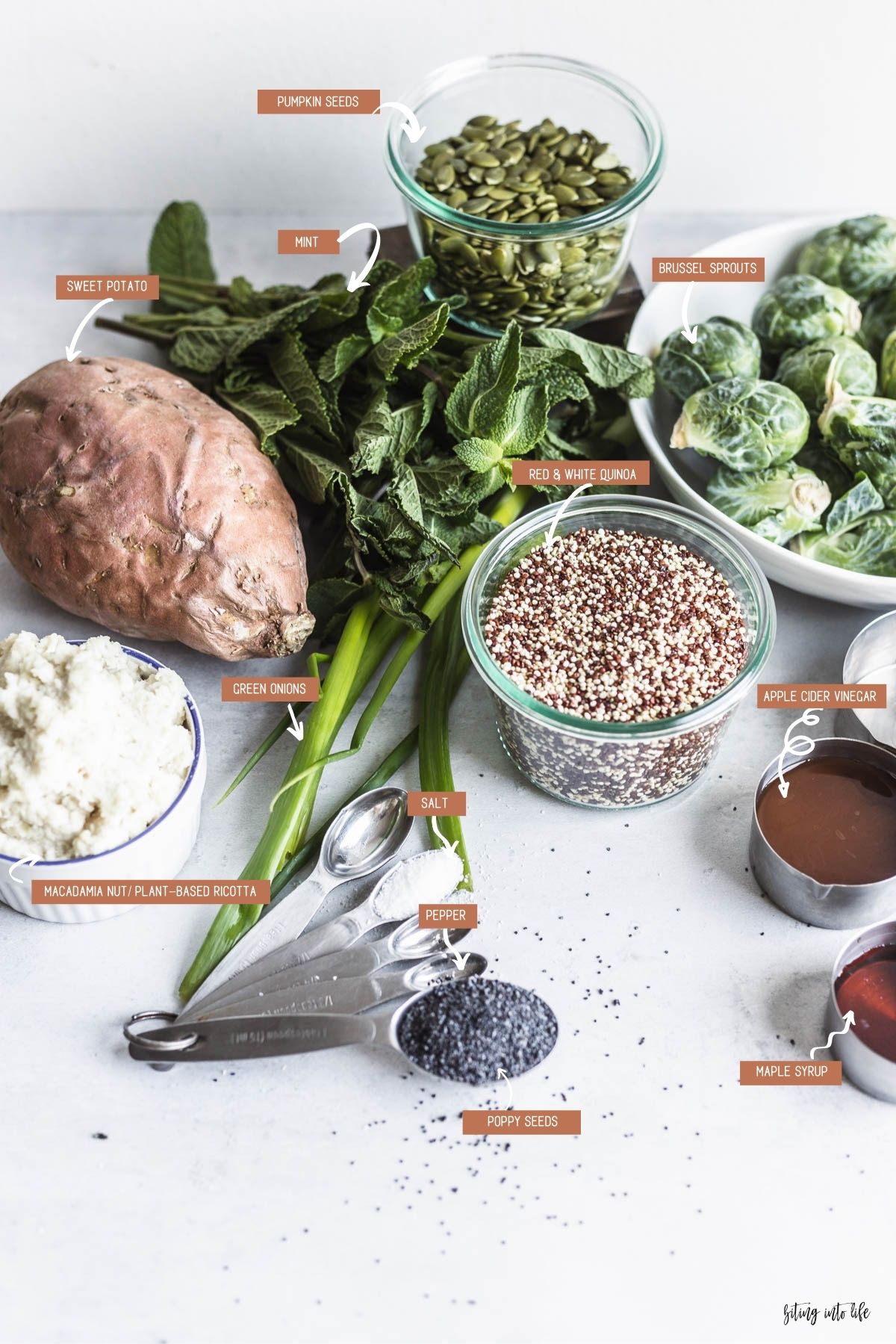 Ingredient Notes and Substitutions
Red and white quinoa – you can buy a packet of pre-mixed two-tone quinoa (or even three-color though it will be expensive), or you can mix it up yourself.
Sweet potato – choose dark sweet potatoes (Beauregard and Garnet varieties ranging from bright orange to pale red) rather than pale ones. The former has thicker skin; their flesh is sweeter and moist. At the market, select those that are pretty small to medium with smooth, bruise-free skin. Take them organic, if you can. Conventional sweet potatoes are usually waterlogged and have a blander taste.

If you don't have this ingredient, you can replace it with Butternut squash.
Brussels sprouts – the smaller ones are softer, which is better. Buy some that are bright green with compact bulbs.
Pumpkin seeds – if you don't have a fragile gut, you can replace them with pistachios or do half and half (excellent, by the way).
Poppy seeds – these are great for adding a third color dimension to quinoa (hey, this is a more economical way to have a tricolor type). These tiny, dried, dark gray-blue seeds can be purchased at most grocery stores. There are also beige and brown poppy seeds commonly offered in Asian or Eastern markets, so you can try them too.
Macadamia ricotta – my ricotta is made with macadamia nuts, water, lemon juice, and a little salt, all puréed in a food processor. It has a reasonably wet texture. You can also make almond-based ricotta cheese or mix the two types to lower the ingredient cost (because you know, macadamia nuts ain't cheap).

If you don't want to fuss, get store-bought vegan ricotta, like the one from the American brands Toffuti or Kite Hill.
Seasonings
Green onions – choose them with bright green and fresh stems. If you're on a low-FODMAP diet, as the white bulb is the sweeter part of the vegetable, you'll have to get rid of it. This is responsible for digestive disorders for people with sensitive intestines.
Maple syrup – maple syrup is classified according to color and flavor. Generally, the American classifications are:
Sophisticated grade or grade AAA, a pale amber or golden syrup with a delicate taste;
Grade A has a medium amber color with a rich taste;
Grade B is deep in color with a robust flavor;
Grade C is very dark in color with a pronounced flavor reminiscent of caramelized sugar or molasse.
No matter which one you choose, make sure you select one of these products and not the artificial stuff called maple-flavored syrup. It's true, it's less expensive, but often this product contains questionable substances (high-fructose corn syrup, among others), and the taste has nothing to do with it!
How to Make it Step by Step
Okay, some might call it a quinoa salad, but it's not necessarily. Since we have a mixture of several ingredients, I can see why. But actually, it's a bed of poppy seed quinoa topped with a salad of sweet potatoes and Brussels sprouts. Bah! Who cares! In the tummy, it'll be a beautiful stewing mush.
Ideally, the dairy-free ricotta cheese will have been prepared. After this, here's how you go about it.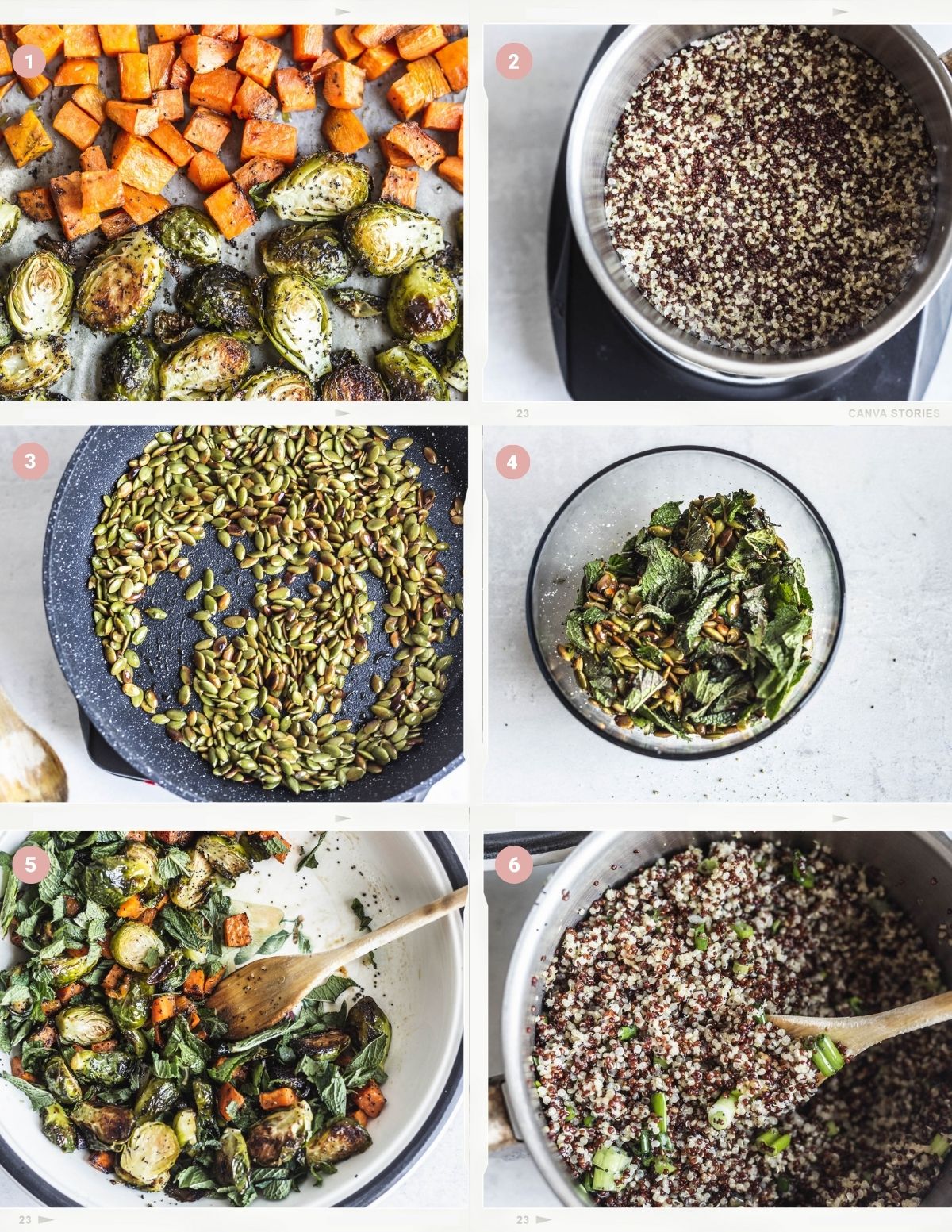 1 / Roast the vegetables;
2 / Cook the quinoa;
3 / Toast the pumpkin seeds;
4 / Make the pumpkin seeds and mint garnish;
5 / Drizzle the vegetables with maple syrup and apple cider;
6 / Season the quinoa and garnish with vegetable ricotta cheese.
The Keys to Success: My Top Tips
Having success with this recipe is easy if you select the best fresh ingredients.
The other important thing is...
Cook the quinoa to perfection
To do this, put one part of uncooked quinoa in two parts of water. Bring to a boil, salt generously, and add the quinoa. Simmer gently, cover, and cook until all of the liquid is absorbed and the grains are tender. Let stand, covered, for 10 minutes after turning off the heat.
Warning! Don't mix the quinoa during cooking. Just mix the grains lightly with a fork just before serving.
Other Creative Variations
If you like grain-based salads, take a look at the following recipes:
How to Serve this Dish
This healthy quinoa dish is very versatile. Just call it a grain bowl or Buddha bowl (trending term). You can really have fun with the ingredients. Change the sweet potato to something with the same color or change the quinoa with another type of grain (or pseudo-grain).
For example, make a dish of sweet potatoes, Brussels sprouts, and…
Butternut squash
Carrots
Chickpeas
Couscous
Farro
Brown rice
Also, if you want to omit macadamia nut ricotta cheese, you can replace it with cauliflower to contrast the multiple colors of the vegetables with the white.
Make This Meal Now
Quinoa can sometimes seem like bland food, but not in this recipe. You'll love the combination of quinoa with caramelized Brussels sprouts and sweet potatoes. In addition, this grain dances with other grains of different colors, red and black, for a crunchy and diverse experience.
It's really possible to prepare yourself a delicious quinoa meal in a short time.
The only real preparation here is to cut the vegetables, season them and let them cook (on the stove and in the oven). Then you mix the vegetables in the vinaigrette, and bam!
Suddenly, you'll eat healthily like Buddha, gourmet version.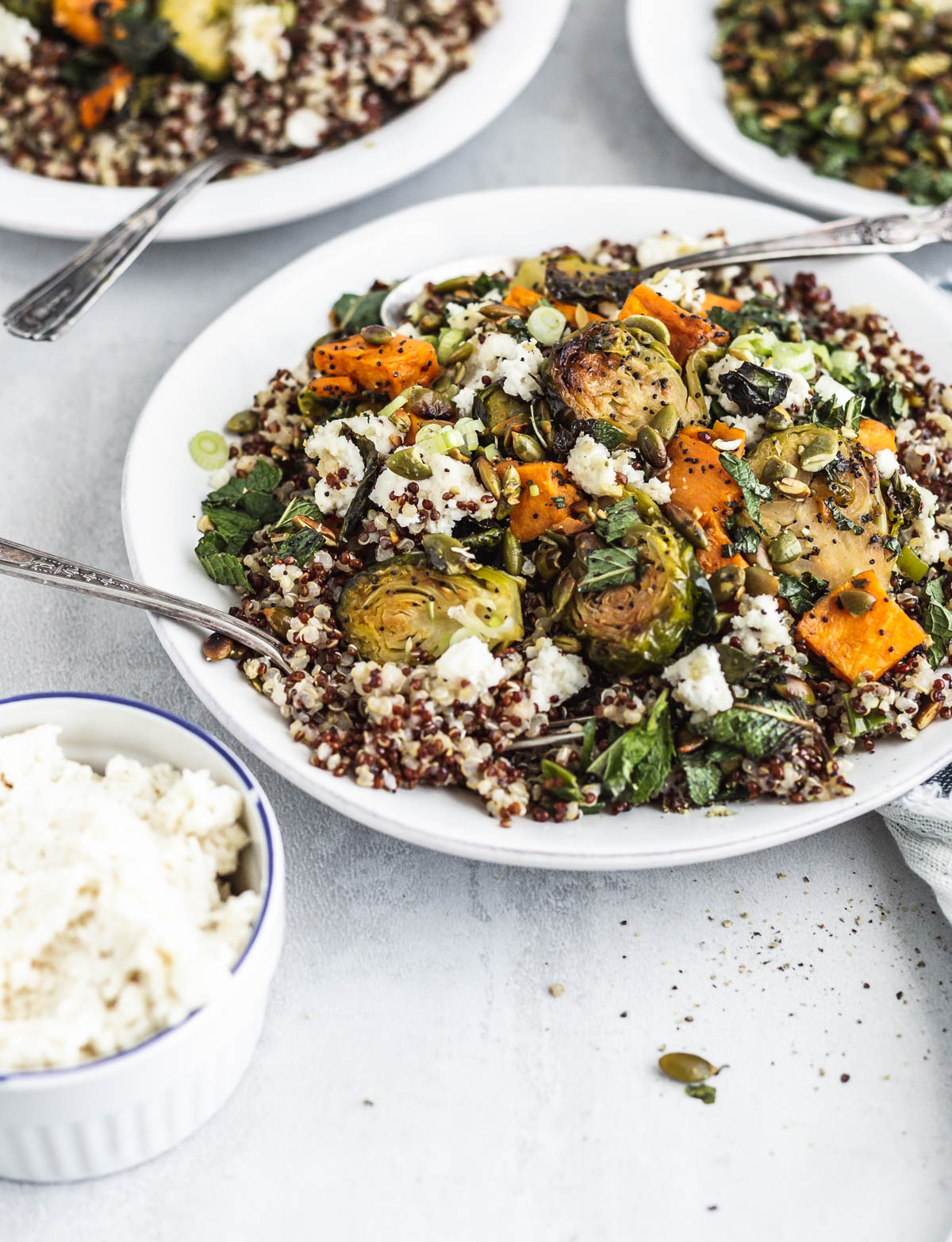 If you try this recipe, I want to know about it! I always appreciate your feedback. Leave a star rating in the recipe card right below and/or a review in the comment section further down the page. You can also follow me on Pinterest, Facebook, or Instagram. Sign up for my email list, too!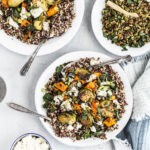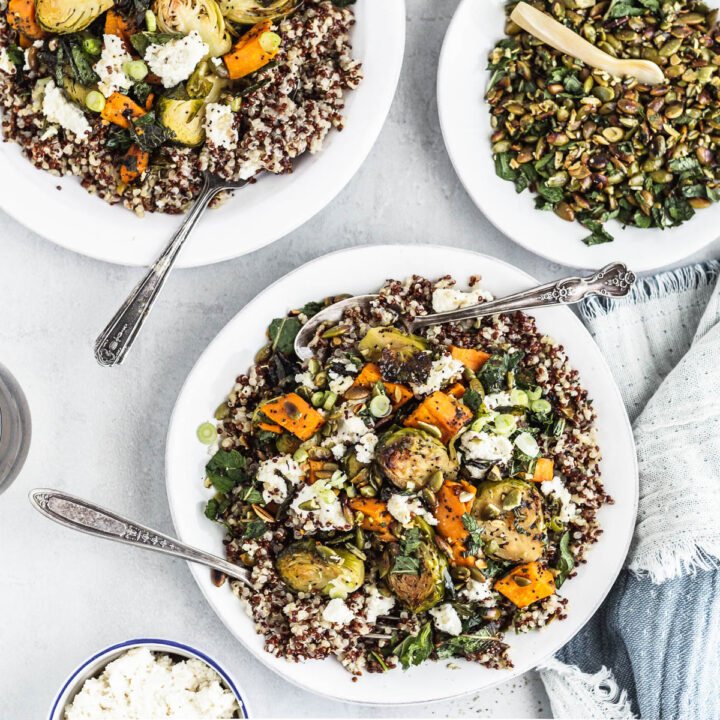 Maple-Glazed Roasted Sweet Potatoes, Charred Brussels sprouts, and Poppy Seed Quinoa
This colorful dish is worthy of a painting canvas! Lightly crispy sweet potatoes and Brussels sprouts—roasted until the edges are irresistibly caramelized—rest on a bed of crispy quinoa. A few spoonfuls of creamy plant-based ricotta are added to contrast color and texture, but it's totally optional. Then, flavors of maple syrup, mint, toasted pumpkin seeds, and poppy seeds mingle with it all for this vegan wonder.
Save Recipe
Saved!
Print Recipe
Pin Recipe
Ingredients
1 ¼

cup

quinoa

red and white, rinsed

450

g

sweet potatoes

(½ lb)

450

g

Brussels sprouts

(4 cups)

3

green onions

1

big bunch

mint

rinced

1

cup

pumpkin seeds

(100 g)

2

tablespoons

maple syrup

3

tablespoons

apple cider vinegar

divided

1

cup

macadamia or plant-based ricotta cheese

(optional)

2

tablespoons

poppy seeds

divided

Salt
Instructions
Preheat the oven to 450 ° F/230 °C.

In a medium pot, combine the quinoa with 2 cups of water and a pinch of salt and bring to a boil. Reduce the heat, cover, and simmer for 16 to 18 min until the quinoa is tender. Fluff the cooked quinoa with a fork and set it aside in a warm place.

While the quinoa cooks, cut the Brussels sprouts in half (or into quarters if they are large). Peel and cut the sweet potatoes into 1 inch (2 cm) cubes. Thinly slice the stems of the green onions (do the same for the white bulbs and save them for people who don't have digestive problems if you wish). Pick the mint leaves off the stems and roughly chop them. Discard the stems.

In a medium bowl, toss the Brussels sprouts with a drizzle of oil. Season with 1 teaspoon of poppy seeds, salt, and pepper. On a baking sheet lined with parchment paper, toss the seasoned sweet potatoes on half the baking sheet. Bake for 6 min.

Remove from the oven and add the Brussels sprouts on the other half of the baking sheet. Return to the oven and continue cooking for 15-20 minutes, stirring halfway through cooking, until the vegetables are golden and tender.

While the vegetables cook, in a large pan, heat a drizzle of oil on medium-high heat. Add the pumpkin seeds, toast, 2 to 3 minutes, stirring, until golden (beware! Pumpkin seeds may burst during cooking). Transfer to a cutting board, salt, and pepper immediately. When cool enough, roughly chop the pumpkin seeds.

In a small bowl, combine the toasted pumpkin seeds, half the mint, and 2 tablespoons of olive oil, seasoning lightly with salt and pepper to taste. In a medium bowl, add the maple syrup, remaining mint, 1 tablespoon of apple cider vinegar, roasted sweet potatoes, Brussels sprouts, and a generous drizzle of olive oil. Mix well.

Add 1 tablespoon of the remaining apple cider vinegar to the pot of quinoa, a generous drizzle of olive oil, and half the tops of the green onions (or the scallion bulbs for weakened intestines). Season with the rest of the poppy seeds, salt, and pepper to taste.

Divide the finished quinoa between your plates, garnish with half the ricotta. Place the roasted vegetables on top. Garnish with the remaining ricotta, remaining apple cider vinegar, roasted pumpkin garnish, and the remaining green tops of green onions as desired.
Notes
To cook the quinoa, put one part uncooked quinoa in two parts water. Bring to a boil, salt generously, and add the quinoa. Simmer gently, cover, and cook until all of the liquid is absorbed and the grains are tender. Let stand, covered, for 10 minutes after turning off the heat. Warning! Do not mix the quinoa during cooking. Just peel off the grains lightly with a fork just before serving.
Variants
Replace the sweet potato with Butternut squash or carrots.
Add chickpeas for more protein.
Replace the quinoa with couscous, farro, or brown rice
Conservation
Placed in a tight-sealed container, this grain bowl will keep up to 5 days.
Nutrition
Calories:
1554
kcal
|
Carbohydrates:
166
g
|
Protein:
49
g
|
Fat:
86
g
|
Saturated Fat:
14
g
|
Trans Fat:
1
g
|
Sodium:
200
mg
|
Potassium:
3059
mg
|
Fiber:
34
g
|
Sugar:
31
g
|
Vitamin A:
33820
IU
|
Vitamin C:
202
mg
|
Calcium:
458
mg
|
Iron:
17
mg
Get Your Free Plant-Based Eating Toolkit and More
Subscribe to my newsletter and unlock my plant-based course, nutrition charts, recipe secrets, and exclusive updates to prepare wholesome, varied & balanced meals effortlessly. All you need is a good appetite. Subscribe!