Did you know that the pumpkin symbolizes abundance, prosperity, and dreams ready to be realized? Whole, it represents the world we currently live in; the seeds represent your dreams—be it evanescent images created overnight or a deep aspiration.
On the other hand, each seed means a possible achievement in your life and a blessing ready to be given.
Here's the best: Since an average pumpkin can hold around 500 seeds, you can literally count the number of your blessings!
Oh! how bad i needed to believe it!
It had been almost three months, if not longer, that the desire to cook had faded, when one evening in October, as I was hosting my Parisian girlfriend at home, I decided to make pumpkin soup. The same one that I had prepared exactly a year earlier when she was leaving for the City of Light. She had enjoyed it so much so that, delighted, she asked me to pass the recipe on to her and had reproduced it many times.
In the evening, I consulted my old raw food blog—usurped by Indonesians who now posted half-naked girls there—to remember the recipe and, with resistance, I got down to the task. I threw in my stainless steel steamer basket, placed above a saucepan filled with boiling water, the previously cut pumpkin with garlic and onion. I let the whole thing cook for about ten minutes (a recommendation from Dr. Fuhrman, a doctor in favor of the plant-based diet, who says that steaming garlic and onion increases nutrient density).
Meanwhile, I roasted the pumpkin seeds in the oven, drizzled with tamari. In my blender, without thinking too much about it, I added canned coconut milk without guar gum, the now softened ingredients, and the cooking water. Then followed the harmony of flavors with miso (umami, the savory taste as described by the Japanese), maple syrup, nutmeg, and cinnamon—all three excellent pairings with pumpkin.
I finished with the salt and pepper and mashed everything. Oddly enough, I found myself in a state of maximum focus, full commitment, and satisfaction despite my detachment. I was in the zone, the flow, the total absorption by my occupation.
When you enter the flow, you open the key to total happiness. Throughout your whole being, you feel alive, connected to yourself, and at peace.
But the moment was short, and I came back to reality. I took off the blender lid to assess how my concoction tasted, and when I brought the first bite to my mouth ...
I was off the mark
The taste differed from that which, according to my memories, had so enamored me. The miso had stifled the other flavors, especially the pumpkin flavor. Of a darker brown than usual, the tasty paste was more intense to the taste, and I had put too much of it. Obviously, its taste varies according to the composition.
I decided to go on a different tangent.
I added ginger, then curry. A Thai-inspired soup, why not? (I knew it was a big mistake to invent a recipe on D-Day.) My perfectionism and my fear of disappointing others took hold of me. Obsessed and feverish, I kept tasting the soup with the teaspoon and adjusting it as I went, hoping to find the perfect taste again.
But at one point, putting a stop to my madness became urgent; otherwise, I would have stayed there all night, even if I was licking my lips with glee. Yes, my licks had, all the same, seized me with an enveloping warmth and titillated inexpressible well-being inside me. They had reconnected me with the love of this art that, in normal times, I love to share with my friends. This love, which, for months, had frozen in my veins and transformed into an incapacitating substance.
It was getting late, I had to let go, we had to get something in our mouths. And that's what we did. This is what the evening's menu consisted of:
Appetizer: roasted pumpkin seeds (oops, no, they had burned)
Starter: pumpkin soup
Main meal: sweet potato fries (baked 1 hour earlier) and tofu sautéed with teriyaki
Dessert: fresh fruit
The supper went well. Eventually, my girlfriend noticed that the soup was different, but unexpectedly she thought it was good. Phew!
But these little changes made it perfect.
When I remade my soup, I made a coconut cream from scratch with grated and unsweetened coconut flakes and cooking water (from the cooked pumpkin) to stay on the whole food theme. I had reserved part of it for the finish.
I also replaced the maple syrup with dates. Bye, bye concentrated sugar—although better than white sugar, maple syrup is still concentrated sugar—hello, fiber. Finally, to create a contrast of colors and textures, I sprinkled the soup with parsley and homemade roasted pumpkin seeds (better this time), and pumpkin seeds (the green ones).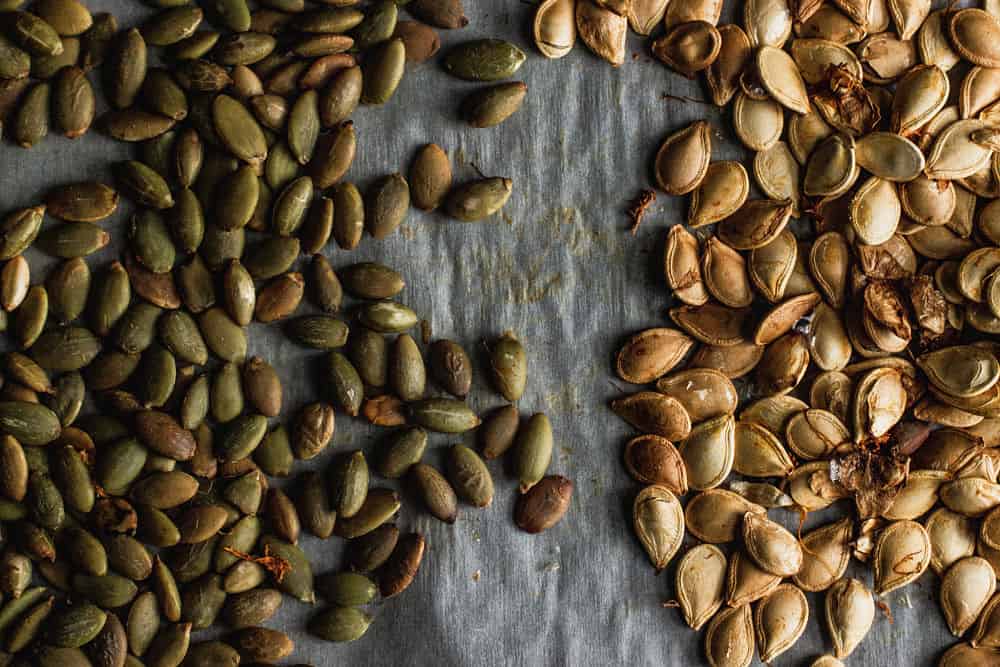 This soup is also good topped with pine seeds and roasted sesame seeds. Regardless, the result was exhilarating.
This ocher-yellow soup has it all. The very moment the bite mixed with parsley, coconut milk, and seeds caressed my palate, I felt comforted by the texture cozy and thick. It felt like I was wrapped in a velvet sheet. There are notes of coconut, of course, and aromas reminiscent of the warmth of autumn.
Get the recipe here !