Oh Bas-Saint-Laurent, we seem to be playing the hard-to-get game, but I must admit, you ended up charming me all the same. We meet on the shore in Trois-Pistoles, and you offer me pure air, magnificent sunsets, and peace of mind.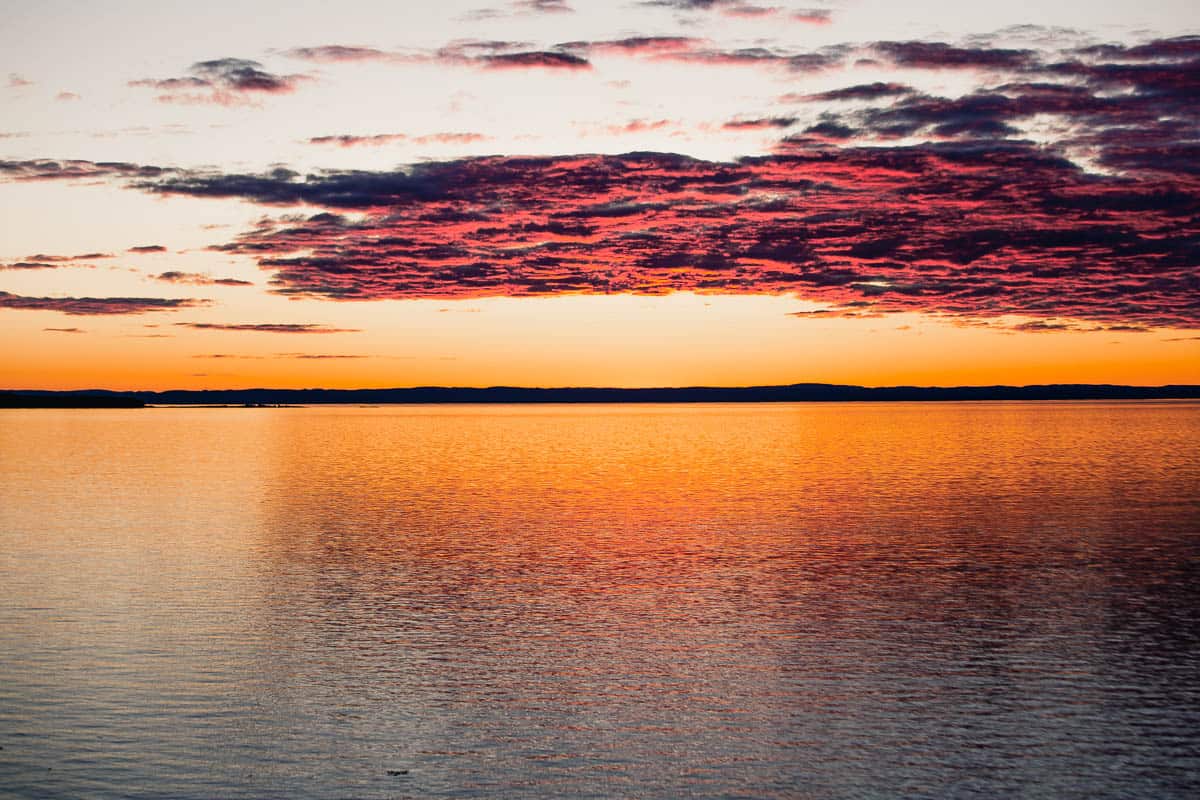 You waltz your waves on the rocks every four hours, and I watch them tenderly, knowing full well that swimming in your arctic waters would turn me into a stone statue. You always wait for me with infinite patience, even when I'm stuck in an absurdly long line of vehicles of several kilometers, extending from the Fromagerie des Basques on Notre-Dame-des-Neiges, at the Highway 20 exit.
We arrived at my in-laws' chalet on a Saturday evening after a disorganized departure (on my part) and wandering strolls in Montreal. After seven years of regular visits, the cottage in Trois-Pistoles has become my place of soothing and healing, with its convex floor in the living room, its rooms merged into one (for example, a sink in the bedroom), and its straight view of the St. Lawrence River. We go there at least three times a year.
Not long after our arrival, my in-laws, my darling, and I sat down with a convivial meal and a glass of rosé. (My little one is being taken care of by his father in Paris.) After a quiet evening, we went up to our room, got ready to sleep, and threw ourselves into our semblance of a king-size bed, two small beds pushed together like Siamese twins.
But we sleep very well there.
As I sleep upright, I never slump into the slot. And waking up in this bedroom is like feeling the soft caress of the hand of a tender and loving mother on the cheek. The light and brisk winds slip through the windows, brush our faces, and leave their scent of salty air in their path.
We had moments of sunshine during the three days that we stayed there, but the sky clouded pretty quickly, and the rain then poured down on us. This prompted me to stuff myself with food literature on my new e-reader.
Then, we went to the Auberge Mange-Grenouille in Bic village. The small white front door, reminding me of Alice in Wonderland, set the tone. Under the warm and subdued lights, we were welcomed in a warm atmosphere and a heterogeneous, burlesque, and theatrical decor. I felt like I was part of a 17th or 18th century still life canvas.
On either side were the waiting rooms with sumptuous sofas. Each room contained an upright piano with all kinds of antique decorative objects on them: busts, old books, and small terracotta plant pots. In the left corner, khaki statues of a man dressed as a senior military officer and a woman in an evening gown stood in front of the wall painted with a greenish landscape. The place was filled with huge flowerpots and flowering branches. Next came two dining rooms, large rooms with solid wood tables and overstuffed chairs.
The one at the back, surrounded by large windows, opened directly onto the picturesque garden and gave the impression of being in a treehouse perched high in communion with nature. In the corners, slender white birch trunks crossed the floor, and flowering branches hung from the ceiling. And to accentuate nature's expression, two java finches chirped in a cute little cage under gold-colored cherubs, which, tilted down, floated in the air with trumpets in their hands.
Everything was so enchanting.
And other things enchanted us even more.
The next day, after burning two hours of energy and calories on the steeply climbing trails at Parc régional du Bic, we discovered two large, bright red containers that were serving street food.
It was the Cantine côtière, Chez Saint-Pierre restaurant's new endeavor to adapt to the Covid-19 crisis's constraints. The co-founder Colombe St-Pierre is an award-wining chef who was named chef of the year at the last Gala des Lauriers de la gastronomie québécoise (2018).
Mr. Agréable ordered a lobster roll with shrimp, a sort of club sandwich typically garnished with coleslaw, mayonnaise sauce, and seafood; his sandwich had a fennel salad instead. I opted for homemade fries and vegetable antipasti.
At the inn, I went to pick up some kitchen accessories bought earlier in a shop, then we settled down in its garden to enjoy our meals.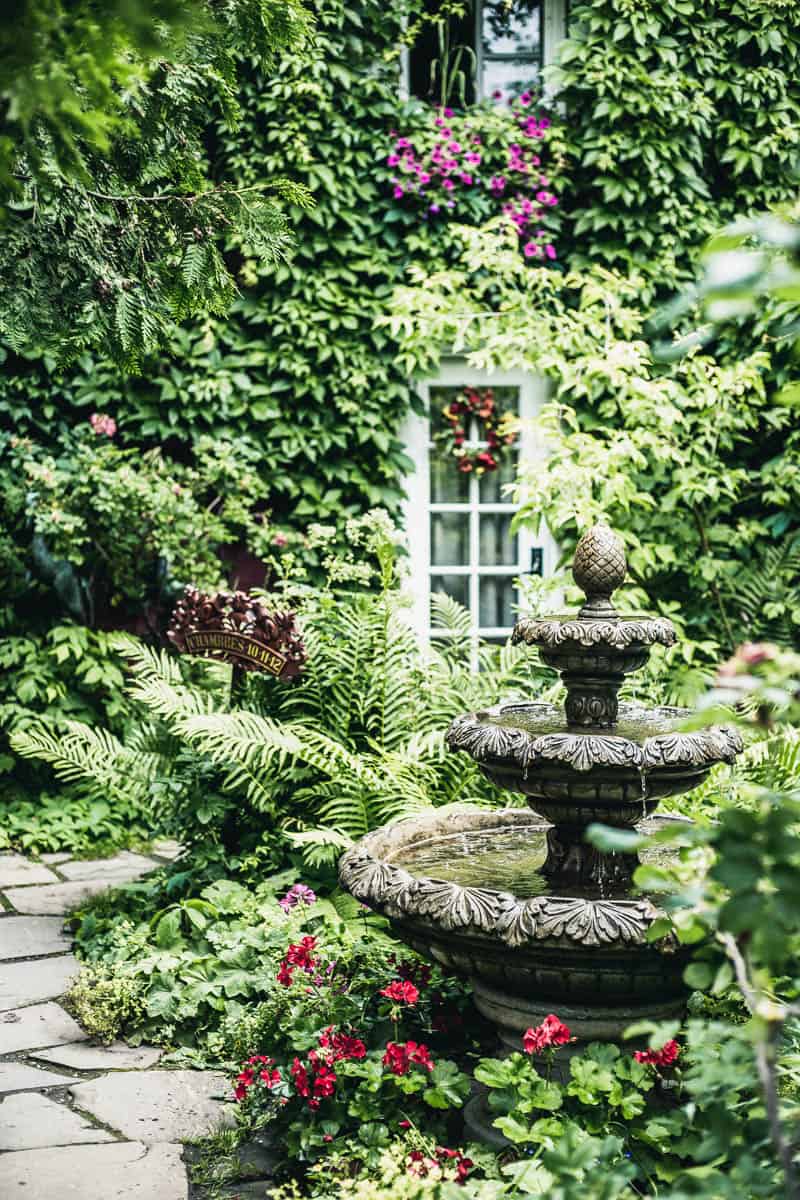 When Mr. Agréable unpacked his lunch, I was jealous to see his sandwich so beautifully presented: his hot-dog bun tainted in black ink was filled with a dripping pale green sauce, shrimp, fennel ribbons twisted like streamers, all topped with pink flower petals.
But my choice did not disappoint.
The tomatoes, almost whole, were tasty and perfectly caramelized. With each incision of my teeth on their fragile skin, their juices exploded up to my throat. The zucchini melted in my mouth. The fries had a rustic taste, and the accompanying ketchup sauce, amber-colored, was sweet on the tongue. The flavors were perfectly balanced. It was not too sweet, not too sour. Despite my humble choice of food, several moans ensued.
After this two-day stay, we moved towards Kamouraska village. But first, we hunted for fresh strawberries and rarities in antique shops.
And we had achieved our goals.
We had a 1.5L cardboard basket of passionately red strawberries, transparent brown retro water glasses, and a few miscellaneous items for my photo ops.
At Auberge Le 112, in Saint-André de Kamouraska, the welcome was not warm, compared to the previous inn. The hostess looked horrified by our early arrival and our basket of bloodthirsty strawberries, risking to soil the crisp white sheets in the room. We placed our provisions in a fridge, stashed in a room next to the dining room by her indication. Then, Mr. Agréable brazenly dropped his luggage in the lobby before leaving.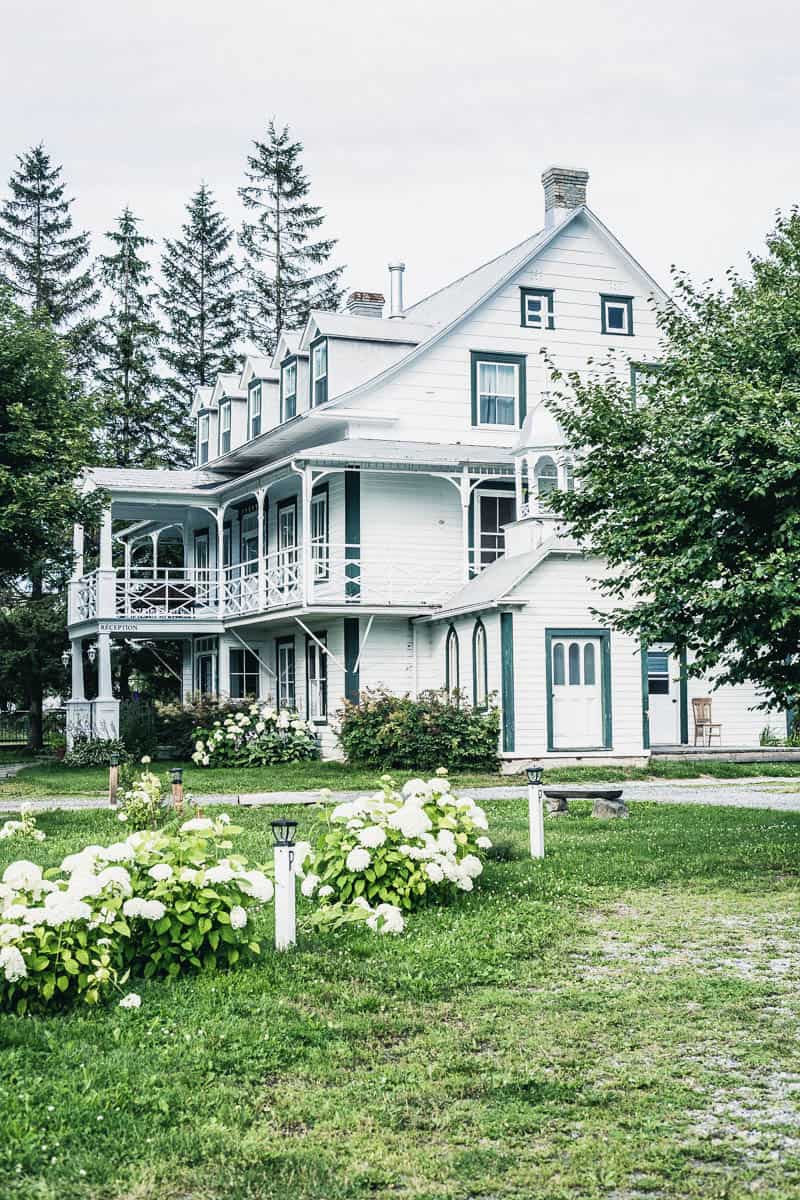 Failing to find attractive restaurants, we headed to the heart of Kamouraska, which was buzzing with life. Like flairless and lost paparazzi, we tried to spot the home of a Quebec actor-slash-director. We had heard that he owned a home in the region. A salesperson in a boutique showcasing Quebec's crafts even boasted that it was at the main road's bend. We looked at one house perched on top of a hill and determined that it was it. (We later found out that he was wrong.)
We then moved to the Café du Clocher.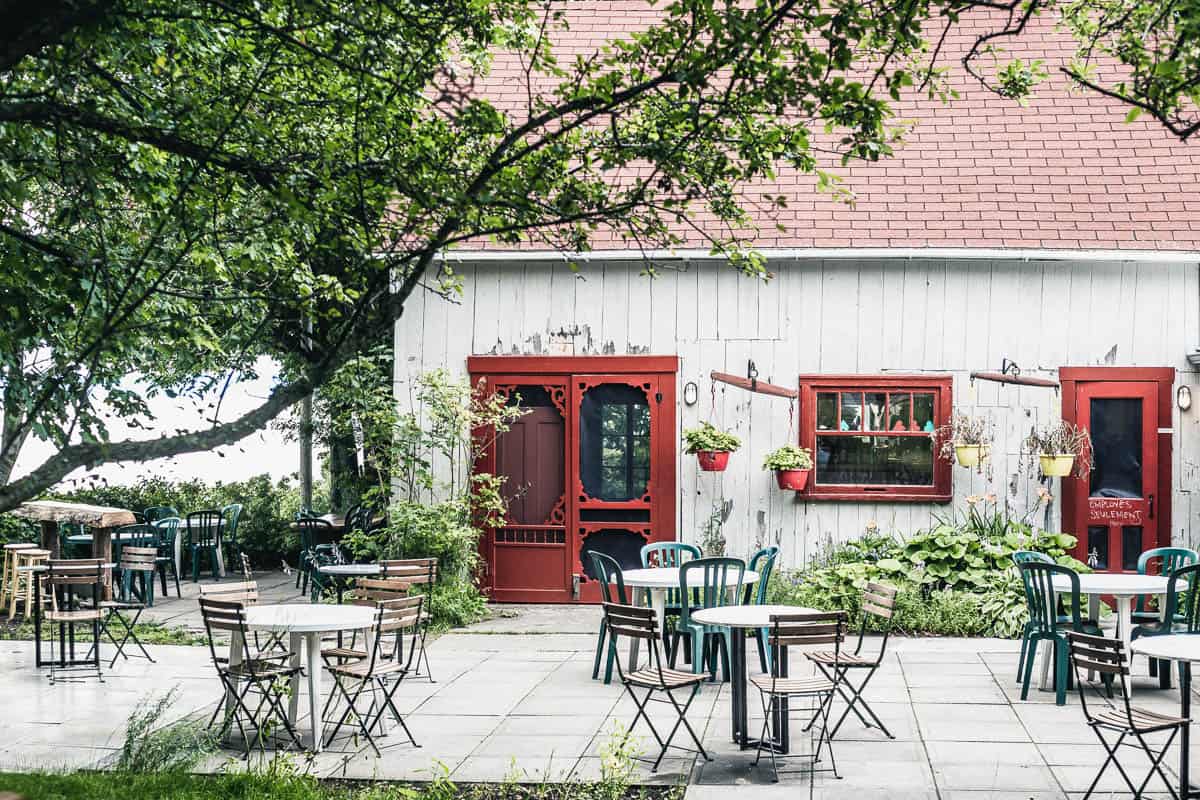 Sitting at the corner of a terrace to admire the coastline, we had a late lunch, each eating lentil soup, a veggie-pâté sandwich for me, and a lobster roll with crab this time for mister.
It was pleasant and sunny, and after a while, we trotted over to the Niemand Bakery, where a line stretched down the entire alleyway of the Victorian house. We found Denise Pelletier, the baker, closing the gates and warning stray customers of the impending closure and assured unavailability of her famous multigrain bread within the next few days.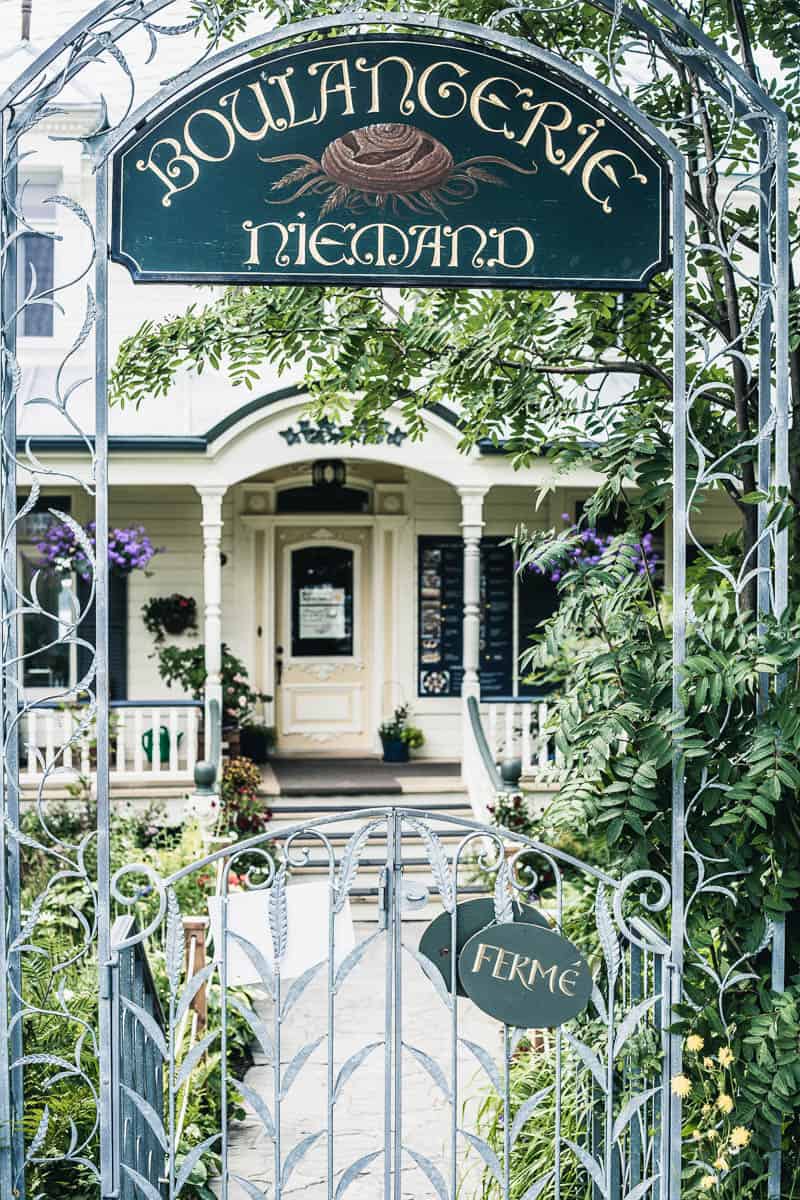 Humans operate by imitation, so we joined the lineup. We tried to bribe the baker to give us her sourdough starter to reproduce at home. Despite her interest in my ethnic big teardrop earrings and consideration for a fruitful exchange, it wasn't enough to spellbind her.
But what luck we had!
She gave us the very last loaf of bread before she could make more two days later.
We entered a last antique shop to complete our walk, where I bought an old flour sifter with a crank in a kind of metal cylinder. I was hanging out inside the store, hoping to find something unique, while Mr. Agréable was out faster than me.
Aside from his lack of interest in the proposed products, he was outraged by the sight of a rococo lamp made up of a black man holding a lampshade like an umbrella. When I asked the salesman in all lightness, mischievous, what the lamp with a negro as a foot lamp was, he stammered, awkwardly groping the neighboring lamp—a kind of statue of liberty—while giving its specificities with its back turned.
I pointed out the said lamp and inquired about its popularity. "This? Oh yes, it's very trendy, he stammered. People are snapping it up in online marketplaces and paying double the price." It was captivating.
It's a shame that I missed taken a picture of it to show it to you. I later tried to find it on the internet, but I couldn't find any trace of this thing.
In the car before heading to the inn, we took a bite of our gourmet treasure.
My thumb pierced a crisp, solid surface and sank into a spongy and moist crumb so wet I was surprised. This triggered my libidinous impulses—the texture was so damp and enveloping. I carried a wildly ripped piece to my mouth, and the crumb tasted perfectly toasted, slightly tart, nutty, with complex and subtle aromas. The freshness of this bread was on point.
And with good reason!
Kneaded and shaped by hand, Boulangerie Niemand's bread is well baked in a deck oven. And the wheat or rye grains from the region are stone-ground in their mill.
Our day ended with our return to the inn. The hostess accompanied us to our room, with a dissuasive and aloof attitude. Was it the fear of contracting the COVID?
Anyway, the refined charm of the room's rustic-meets-modern interior design compensated for her questionable reception. A few water features, a black painted clawfoot tub with sparkling silver faucets and a white pedestal sink, stood against a wall opposite our sleek four-poster bed.
After a delicious nap in our cozy bed, we walked through the inn's front yard under a now cloudy sky towards the central kitchen and had a modest but convenient supper of multigrain bread and strawberries. Then, we ended our evening with relaxing activities. I slipped into a bubble bath listening to Chill & Soul music on Spotify while Mr. Agréable feasted on a playful read.
Shortly after, we had turned off the lights hoping for the following day in the Bas-Saint-Laurent to be even more charming.
To be continued…