My week in the Bas-Saint-Laurent region was not just about flitting from one place to another and spending my time discovering the area. I had important things to do.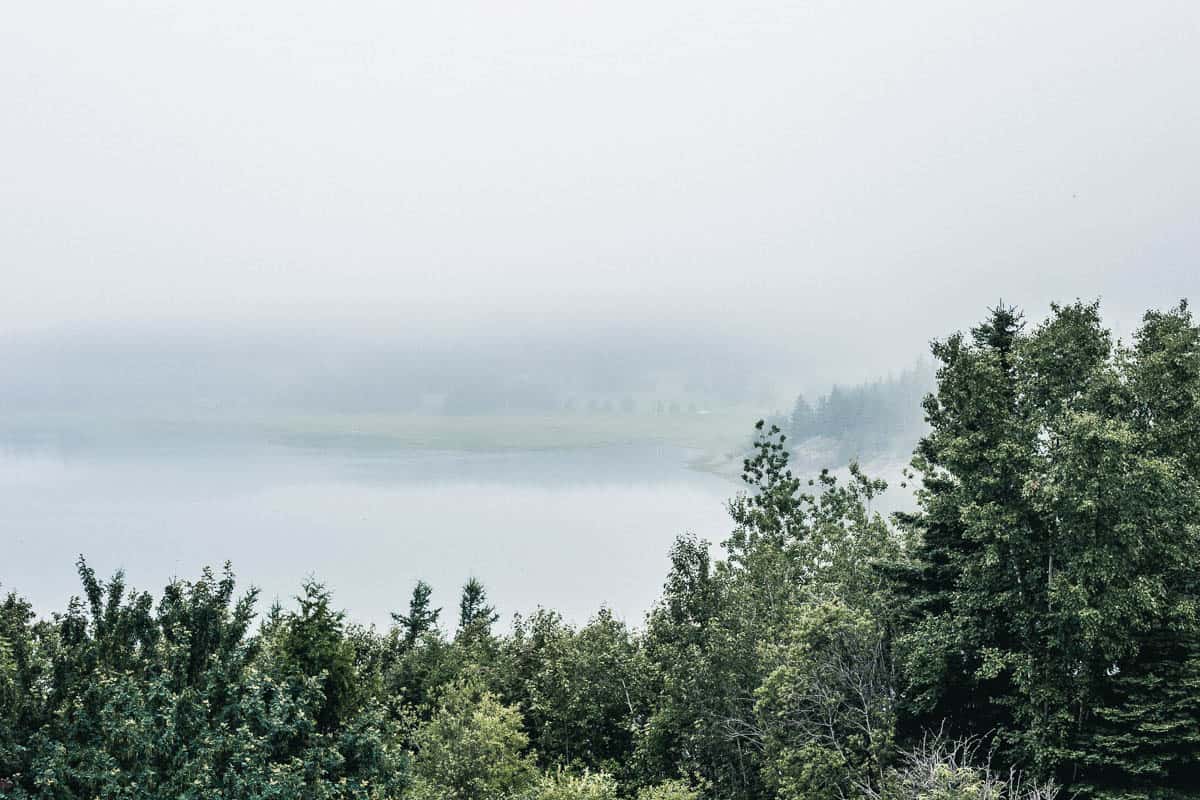 My first mission, dear guest, was to give Mr. Agréable support, who was giving it to his parents. A worrying situation had arisen. Over the past month, my stepfather's cognitive state had dramatically deteriorated in an unexplained way. For a month, he had been fading at home.
This expansive ninety-year-old, this man who could monopolize a conversation by spouting his prewar memories, political speeches, and so on, was now giving laconic answers, dozing in his chair all day and had lost his appetite. He had been suffering from Alzheimer's disease for ten years—fortunately, in a rather mild way—and now, we were wondering if his days were numbered.
Michelle, an elegant woman with short hair and constantly red-painted nails, spent most of her days physically striving to help her husband, this tall man of six feet, to move around, dress, and bathe. She was busy changing the bedding due to nighttime accidents. She was saddened to feel lonely by the lack of lively exchanges.
So she was impatient to see us.
If it's true that Jim had weakened, I never ceased to admire the tenderness, the concern, the love, inexhaustible, that my mother-in-law squandered. When he had been dozing in his straw-yellow swivel chair for a long time, she would shout cutely at him: "Coucou!", and her husband's velvet eyes widened happily. Sometimes she would tell him that as she leaned in and gave him a loving kiss on the forehead. I could see his face light up, and his smile broadening instantly, as his trembling hands and slender fingers took her face.
After 60 years of marriage, these two looked like lovebirds.
My second mission was intentional.
It consisted of sliding my demi-glace sauce into any dish—or any dish—so I could taste the result of my labor of the week before. So, I brought one of my jars that I was planning to leave with my mother-in-law as soon as I finished my cooking experiences.
Wait, I have to share something with you. I'm a firm believer in coincidence.
A theme followed me throughout this stay. The mushroom theme. Mushrooms haunted me everywhere: in my dreams, in the only available vegan meal at the Mange-Grenouille inn in Bic, in my hike in the forest and other impromptu meals.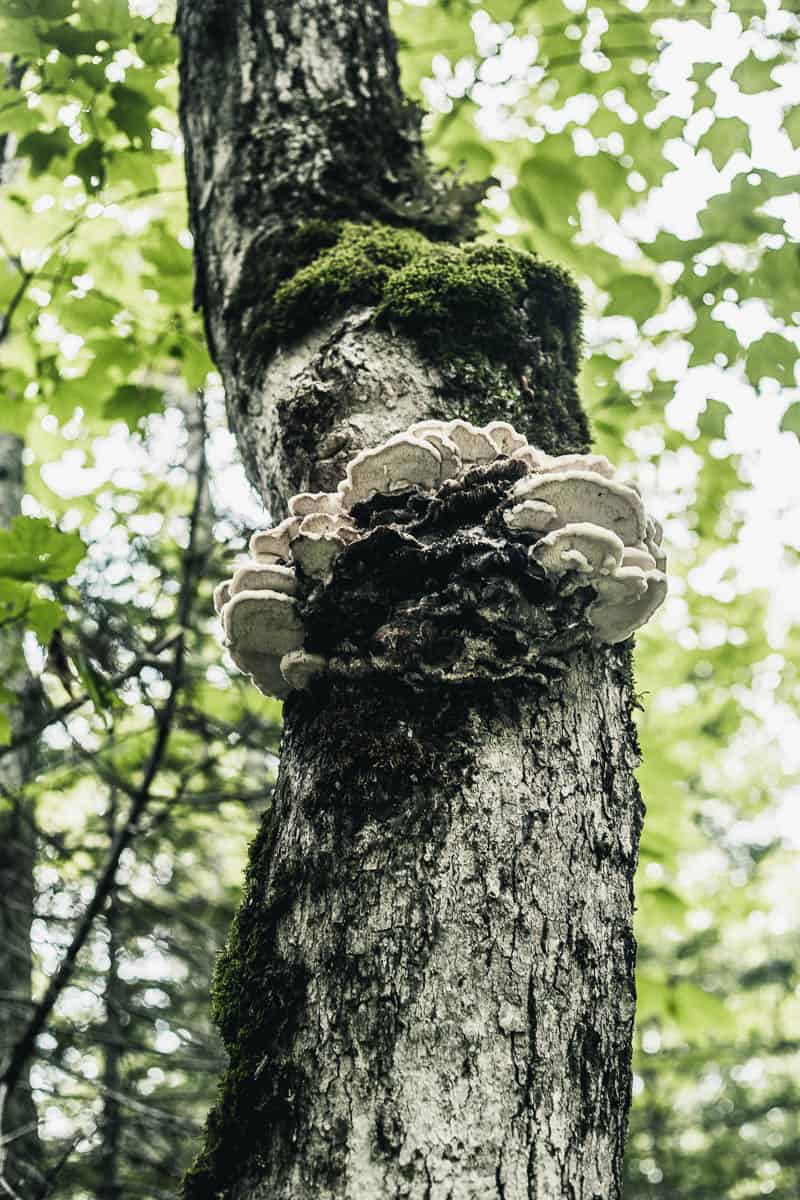 It was enough to make a girl believe she was madly being hunted down.
Well, I ended up performing what the fungal spirits were blowing at me on the second night of my arrival.
My shiitake mushroom demi-glace was impatient to stay in her little Mason jar and never missed a single opportunity to look me straight in the eye every time I opened the fridge door.
That night, Michelle had made snow peas, which had been soaked in a pot of water for a few hours. Thanks to the provisions I had brought from home, I sautéed red peppers and onions in a pan, added the snow peas in the dance, and incorporated the brown gelatinous sauce. At the first drop, it sizzled on the black surface. When the vegetables were done sautéing, I transferred them to a round baking dish that I brought to the table among the plates.
Despite the complexity of the situation, the meal went off with grace.
Now we didn't want to be shamefully accused of parricide. So Mr. Agréable and I were sitting at the table's ends, opposite the elders, to respect social distancing just as we had done the day before. We started with rosé and Vichyssoise-style leek soup, but without cream and without chicken broth.
Jim, haggard-eyed, was sitting in front of his plate and eating very slowly, and Michelle was delighted to finally see him eating more than usual. The conversations with him were quite mysterious.
Sometimes he'd be asked about some memory, but he'd always respond by saying with his quavering voice, yes, sure that's it, that's what I probably said earlier. And when Mr. Agréable asked him:
— So, dad, what was the best time of your life?
He slowly lifted his head, looking at his son, and a long pause ensued.
— It must have been when you were ambassador, right? He continued. Your meeting with Fidel Castro when we lived in Cuba must have been a highlight!
But the ex-ambassador was walled up in silence, and it felt like his story had suddenly evaporated from his memory. After a few moments, he replied:
— Well... I'll have to think about it.
No matter the question requiring to fish out in the reminiscences of a distant past—even not too distant—Jim sheepishly gave a simple and sure answer and never said I do not remember.
Mr. Agréable and Michelle let go, and in the end, only three of us were talking.
The second topping of sauce was in sight.
On the third night, lamb was offered for the omnivores with a green salad for everyone. I bypassed the meat meal by sautéing cubed tofu in a splash of oil, then, once golden, in tamari. Then came the demi-glace.
To my expectation, the sauce crackled in the pan as soon as it came in; but to my surprise, mixed with the black sauce, the steam rose, bathing my face in a hot and intoxicating scent, then filling the air with heady smoke.
Mr. Agréable used it to coat the cauliflower first steamed, then sautéed. The menu was complete.
This time around, we weren't asking Jim questions that were too many compromising. If he was called upon, it was to keep his head above water like a person treading water in the middle of a vast ocean.
While Jim had invisible blinders, I only had eyes for my tofu, of which the sauce was glistening on one of the square surfaces. I stuck my fork into the soft dice and stuffed a few pieces into my mouth. It was incredibly tender, with a meaty flavor tinged with salt. It was so uplifting that for a moment, I disappeared into the flavor.
And so, at this very moment, I let go, and there's was only two of us talking.
Now I was longing to put my sauce on something else, like a dog with its tongue hanging out waiting for the next dish.
In fact, I had only one idea in mind. A single obsession that I needed to satisfy.
I desperately wanted to coat the sauce on some pasta.
Unfortunately, I couldn't satisfy my desire.
After our three other days of excursion in the region, we returned last Friday to Trois-Pistoles to end our stay. So far, our only concern was to give Jim the necessary care.
He had received an assessment from a nurse who strongly recommended that the family bring him to the emergency room as soon as possible for observation. This is what we ended up doing. You can quite understand that I didn't feel very creative.
This is how my adventures in the Bas-Saint-Laurent region ended, dear guest. But if you ever decide to travel to the area, let yourself be tempted by the gourmet treasures at Bic (Chez Saint-Pierre) and Kamaouraska (Le Café du Clocher).
We returned to Montreal last Sunday in stormy rains with the loot of our trip: sourdough bread and antique finds.
We called Michelle when we got back, and Jim was still in the hospital.
But she announced to us the good news. My stepfather had contracted a urinary tract infection, which put him in a state of delirium. It turns out that anything can upset the cognitive state of an elderly person with Alzheimer's. After the right medication, he would return to his normal state, we were reassured.
A few days later, good old Jim had's talkative nature returned.
Now I'm home and can happily focus on my next assignment.