Yep! So far I'm satisfied with how spring is going! Lovely buds, tulips, sunshine…. And asparagus, asparagus, asparagus... Are you excited? I am.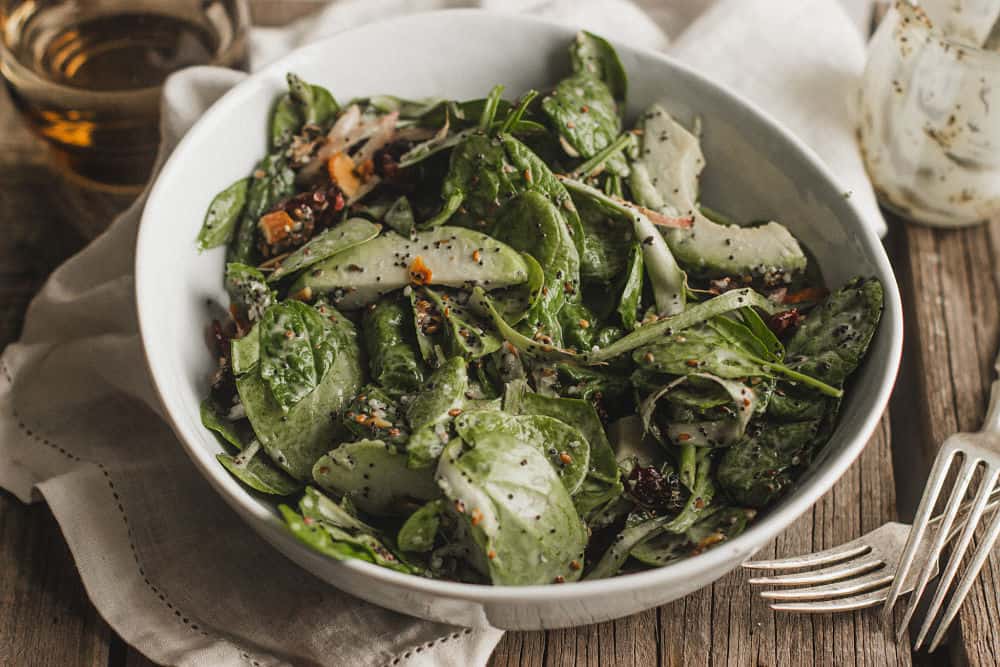 Well, I have to admit, it wasn't so nice in the beginning. Not in my part of town, anyway.
We've had some weird weather. Below zero temperatures (in Celsius so for you it's below 32° F), cloudy skies, and freezing rain! Yeah, freezing rain in mid-April! Crazy!
So no matter how much I wanted to celebrate it, I just couldn't because it felt like winter.
Anyway, to embody this weird climate, I created this recipe — that, oh! gosh! I wanted to post in April. In this recipe, I mixed ingredients that normally characterize both seasons: cranberries (= winter) and asparagus (= spring) in a green salad! Sorry, I know the cold weather is really far behind you. This can still be a spring or even a summer recipe.
So I bring you my cranberry spinach salad recipe. I must say the results were astounding. I created a fresh salad that I'm sure will bring more warmth to your hearts.
2 Little Things That Will Give You The Best Finishing Touches on this Spinach Salad
What makes this cranberry spinach salad special is the toasted nuts and seeds and the raw asparagus (yes, raw, you'll see what I mean in a minute).
Let's start with the toasted nuts and seeds. When I got ready to prepare it, I thought of toasting them both together to save some time, cuz you know, we're all busy and all.
But that would've been a big mistake. Surprisingly, I learned that the sesame seeds brown quicker than the almonds. Sesame seeds take about 3-5 min to do so whereas almonds take about 8 minutes.
So don't try to outsmart them. Toast the almonds in the oven on a cookie/baking sheet first, then toast the sesame seeds in a skillet.
Another important thing! This salad includes raw asparagus. Not in full form, oh, no! That would taste… odd, maybe. They're in ribbons and their taste is more subtle this way.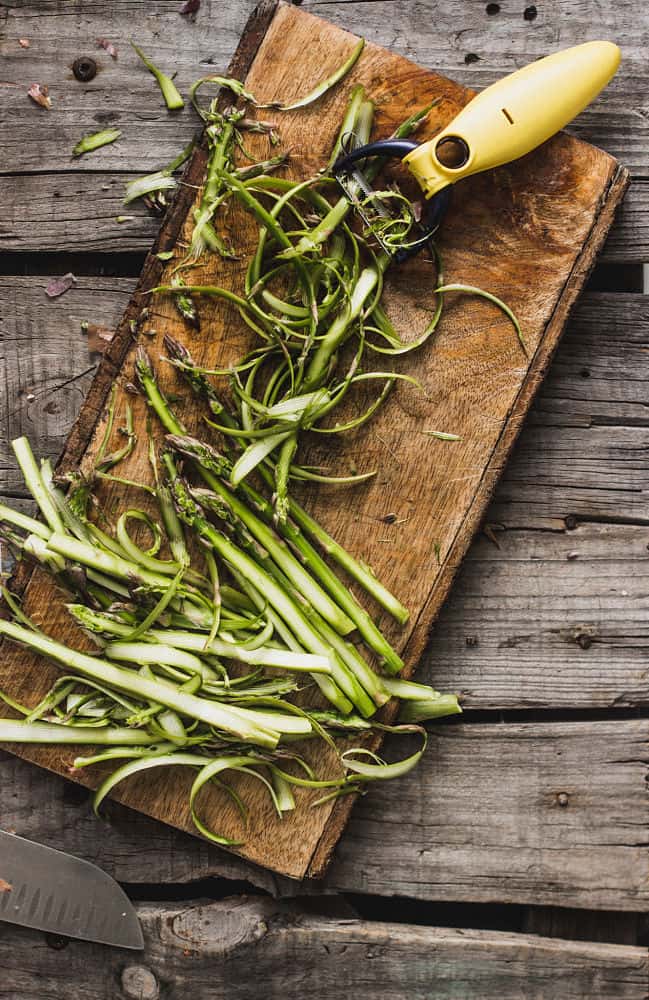 So you'll need to have a good vegetable peeler. Well, one that fits perfectly for the job.
Usually, I use a Y-head vegetable peeler for everything. I'm so happy with it, jump-up-the-ceiling happy that I could bring this baby anywhere I go and tell people how much my peeler is the bomb.
But unfortunately, it didn't work so well when it came down to shaving the asparagus. In the beginning, it worked great but as I getting to a lower level, I had a hard time. I don't think it was the peeler per se, but the tips that hold the blade. You see, these are a little bit more prominent, meaning they're not at the same level as the blade, consequently, they stop you from shaving when the asparagus gets thinner.
So you might want to use a swivel peeler for this job. Or maybe not cuz it might give you the same problem. But use one that has tips that are the same level as the blade, if that exists.
Or, I have a trick for you: put the thinned asparagus on the narrower side of a small wooden cutting board and do your thang!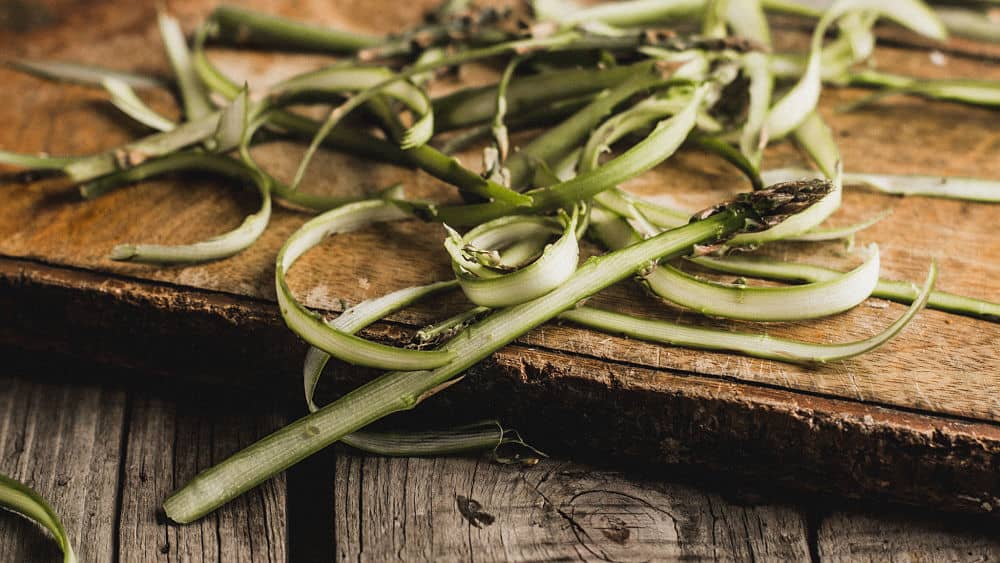 A High-Protein Salad with Toasted Crunchy Goodness
So like I said, you know spring is all about asparagus, right? I just had to post an asparagus recipe on the blog before the end of the season.
I remember creating a couple of years ago a salad with asparagus that I really loved. It involved a super yummy dressing with Dijon mustard and nutritional yeast.
I know Dijon goes well with asparagus and so I knew I'd have a clear winner.
I wanted to make a salad that would be a filling and uber nutritious. The cranberry spinach salads I saw online were drenched in vegetable oil and white sugar. What's the point of eating healthy if you're going be adding these two high-calorie ingredients? Might as well buy a salad dressing from Kraft.
So to make this salad healthier, I replaced these two bad guys with better alternatives.
I replaced the white sugar with honey (you can use agave nectar as well for the vegan version) — mind you, sugar is sugar no matter the source; there's no healthy sugar. But if you're going to be using sugar, choose the lesser evil, mmmokay?
And I replaced the vegetable oil with olive oil. I thought of doing half olive and half flaxseed oil to add a good source of omega 3s, but I decided to keep it simple in the end. Flaxseed oil also has this subtle peculiar nutty taste, which I thought might not work with this salad. But go ahead if you want. Flaxseed oil is amazing.
To make it a filling salad, I added plant protein sources, like poppy seeds, sesame seeds, hemp seeds, and almonds. These also bring good fat. I added avocado, another good fat.
The toasted sesame seeds bring warmth to the salad. I initially wanted to add them to the salad dressing but I ended sprinkling them on top of the salad. Oh! Oh! Can I talk to you about the dressing? It's simply the bomb, OMG. The nutritional yeast brings roundness and the Dijon, well, who doesn't love Dijon?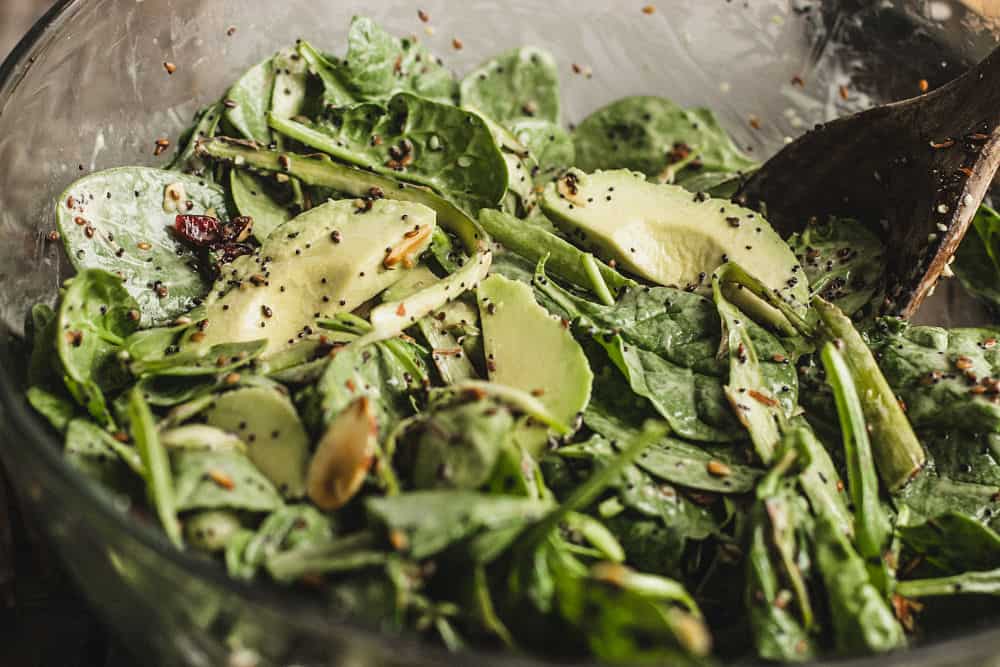 The cranberries bring the sweetness and chewiness and add a beautiful color contrast to the salad. The toasted almonds bring some crunch. This salad's got the perfect blend of sweet + savory + toasted crunchy goodness and you'll love every last bite of it.
As you can see, I used many types of seeds (poppy, sesame, hemp) to add protein sources, but you don't have to. You can remove the poppy seeds if you want to — their flavor is really subtle or non-detectable, really. You might find it too crunchy for your taste, so it's really up to you. You can also replace the hemp seeds with savory tempeh, sliced or cubed, on top of the salad. There are so many ways you can play around with this salad.
Last but not least, there's no particular order in which you add the seeds. They can be added to the salad before pouring the salad dressing, mixed in with the salad dressing, or sprinkled on top at the end. And to save a few steps, you can use store-bought toasted sesame seeds and non-toasted sliced almonds.
But you'll be missing out, though! For sure!
Make this Now
Sometimes, you might be looking for something fresh that brings you a lot of warmth. This salad is perfect for that.
Prepare the star ingredients properly, the toasted seeds and nuts and the shaved asparagus, and you'll have a killer meal.
And you'll also have a filling salad that will satisfy all your nutritional needs.
So bring up the heat, concoct a banging salad dressing, and make your spinach salad taste better than ever before.
Cranberry Spinach Salad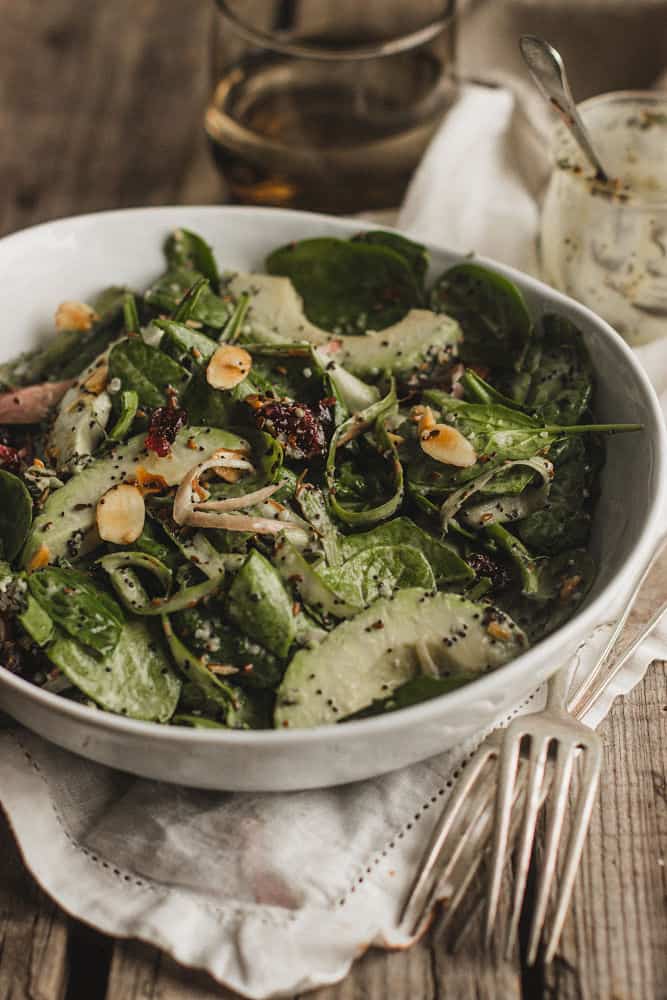 If you try this recipe, I want to know about it! I always appreciate your feedback. Leave a star rating in the recipe card right below and/or a review in the comment section further down the page. You can also follow me on Pinterest, Facebook, or Instagram. Sign up for my email list, too!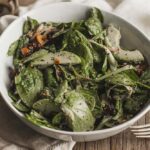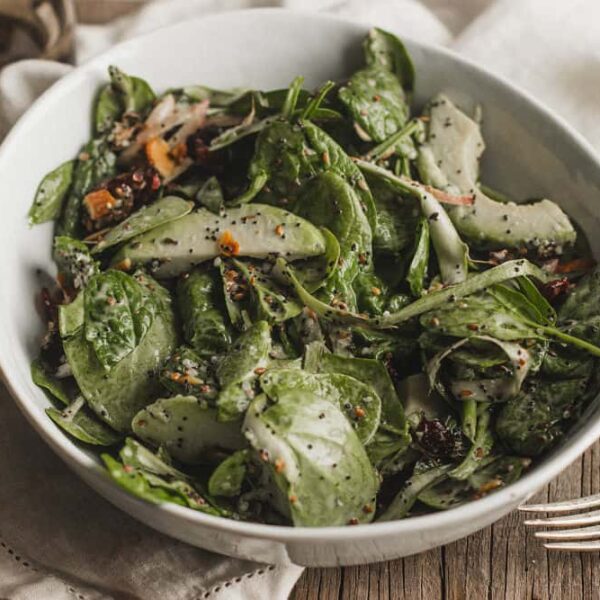 Spinach Cranberry Salad with Toasted Sesame Vinaigrette
This Between Seasons Salad offers the best of both worlds with spring's harvest of asparagus and fall/winter's favorites berries — cranberries.
Save Recipe
Saved!
Print Recipe
Pin Recipe
Ingredients
8-10

cups

spinach

1

bunch

asparagus

cut into ribbons

½

cup

cranberries

2

tablespoons

shallots

or onions minced

1

avocado

sliced

2

tablespoons

hemp seeds

Optional

¼

cup

almonds

toasted and slivered (Notes)
Salad dressing
¼

cup

extra-virgin olive

¼

cup

lemon juice

2

tablespoons

honey

or agave syrup

1

tablespoon

Dijon mustard

2

teaspoons

nutritional yeast

½

teaspoon

garlic

(about 1 clove)

Salt to taste

2

tablespoons

toasted sesame seeds

(Notes)

2

tablespoons

poppy seeds

(Optional)
Instructions
Make the salad dressing: In a small blender or hand blender, blend together the olive oil, lemon juice, honey, dijon, nutritional yeast, garlic, and salt until smooth. Stir in the sesame seeds and optional poppy seeds until mixture is well blended. Set aside.

For the salad, add the spinach, asparagus, almonds, cranberries, shallots, and optional hemp seeds to a salad bowl. Drizzle dressing over salad and toss. Add avocado and toss gently. Serve immediately.
Notes
If the nuts and seeds are in their natural state, put the sesame seeds on a skillet and toast for 3-5 minutes, stirring occasionally. Put the slivered almonds on a baking sheet and toast for 8 minutes.
Nutrition
Calories:
429
kcal
|
Carbohydrates:
28
g
|
Protein:
12
g
|
Fat:
33
g
|
Saturated Fat:
4
g
|
Polyunsaturated Fat:
8
g
|
Monounsaturated Fat:
19
g
|
Trans Fat:
1
g
|
Sodium:
99
mg
|
Potassium:
995
mg
|
Fiber:
11
g
|
Sugar:
13
g
|
Vitamin A:
6601
IU
|
Vitamin C:
36
mg
|
Calcium:
238
mg
|
Iron:
7
mg
Get Your Free Plant-Based Eating Toolkit and More
Subscribe to my newsletter and unlock my plant-based course, nutrition charts, recipe secrets, and exclusive updates to prepare wholesome, varied & balanced meals effortlessly. All you need is a good appetite. Subscribe!