The radicchio salad is very appetizing but also very nourishing and cleansing. As well as radicchio, it has endive and arugula to keep your cells happy and degenerative disease-free!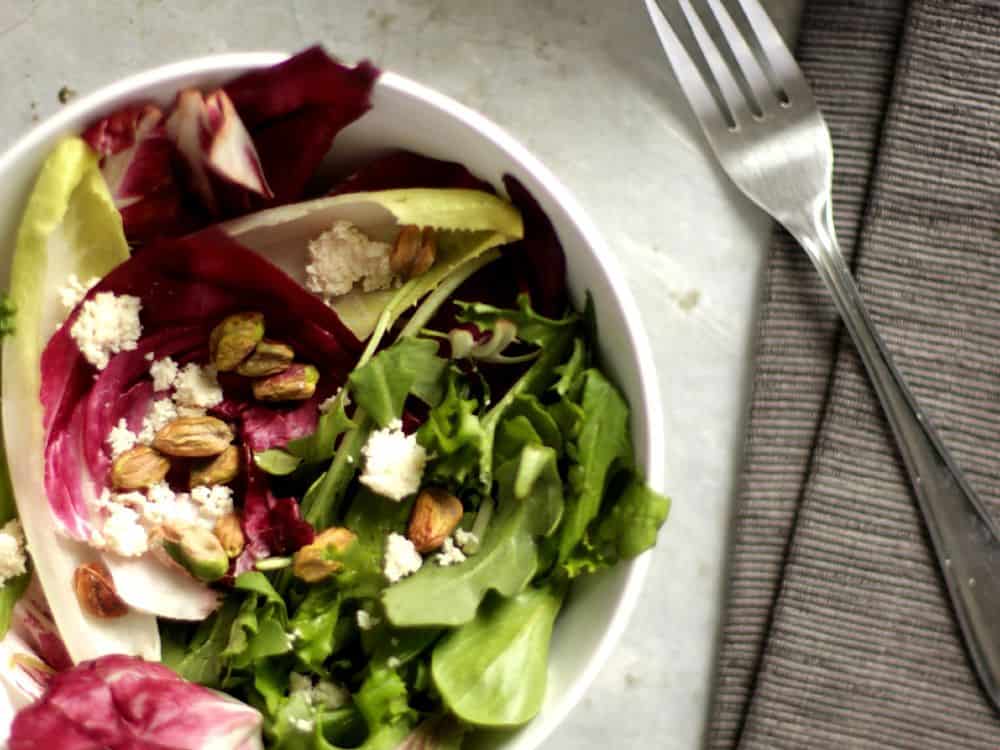 What's the Difference between Radicchio and Red Cabbage?
Maybe you think it's some kind of strange red cabbage. Maybe you've already wondered if you've put red cabbage disguised as radicchio inadvertently into your recipes. Maybe once, you've asked the cashier what the difference was, and she didn't know any more than you did.
No kidding! I already heard a story like this.
Once, someone went to the cash with one radicchio, and the cashier entered the red cabbage's code of out of ignorance. Because red cabbage and radicchio sometimes look alike.
But when it comes to price, the radicchio costs five times as much. And when it comes to taste, they are as different as parsley and cilantro.
Keep reading to know even more differences between the two and why it's worth using this purple Italian leafy vegetable in your recipes.
How to Differentiate Radicchio and Red Cabbage
The next time you are in the grocery store, and you have no idea which vegetable to choose, know this:
Radicchio
As part of the chicory family, it's often called Italian chicory. This explains its pronounced and bitter taste.
It's compact like red cabbage, but its leaves are thinner and softer, unlike the firm, waxed texture of red cabbage leaves.
It's burgundy red with white streaks.
It's light when you hold it in your hand and soft to the touch, so the price can vary between $2-$4/lbs.
Red cabbage
As part of the cruciferous family, it's another variety of cabbage; its flavor and texture are similar to those of green cabbage.
It is, in fact, more purple than red, and its color is uniform. It's more massive and firm and has a waxed texture. The price is usually below $1.40/lbs.
Why Use Radicchio?
If ever the price of radicchio puts you off and you try to be smart by choosing red cabbage, you'll be making a big mistake (ok, maybe not so big).
Both have their places in the kitchen but are not interchangeable. Red cabbage is best used in shredded cabbage salad, and radicchio is excellent in mixed salads.
If you're looking for an Italian salad with a strong taste, you'd better go with radicchio. Because of its bitterness, it blends well with acidic ingredients, such as citrus or lemon vinaigrette with sweet ingredients.
Nutritionally, radicchio is as nutrient-rich as red cabbage, so I won't compare the two.
The Triple Power of My Mix Salad
The following salad is very appetizing but also very nourishing and cleansing. I mixed radicchio leaves with endive leaves and arugula to increase the healing properties of the mixed greens.
Endive belongs to the same family of radicchio, which purifies the blood, stimulates the immune system, and acts as a diuretic. Arugula belongs to the cruciferous family, which is known for its anti-cancer properties. It cleans heavy metals (chelation properties) and removes pesticides and herbicides from the body. It's also rich in protein.
To prepare this recipe even quicker, you can add a mesclun salad to your radicchio leaves to enjoy the same benefits.
For my next recipe, I initially wanted to add an exotic and sweet taste by trying to recreate pomegranate molasses, often used in Middle Eastern cuisine. The goal here was to cut the bitterness of the dish. I extracted the pomegranate juice that I had mixed with the maple syrup previously, and then I made my vinaigrette.
Yeah, I could've alternatively used store-bought pomegranate molasse. But you know, I wanted to stay on the whole food side. Not a biggie if you use it.
But after I remembered my main motto: help people prepare simple and quick dishes. So to stay in the whole food arena, I opted for raspberries. Raspberries have the same sweet and sour taste and are just as delicious and as antioxidant-packed as pomegranate.
Endives and pistachios give the crunchy side. The lemon raspberry vinaigrette brings freshness and sweetness to the mouth. As a finishing touch, I added my almond ricotta to provide an exquisite and comforting sensation.
If you want to have a pleasant tasting experience, even if the radicchio is more expensive, it's totally worth it.
Radicchio Salad with Lemon Raspberry Vinaigrette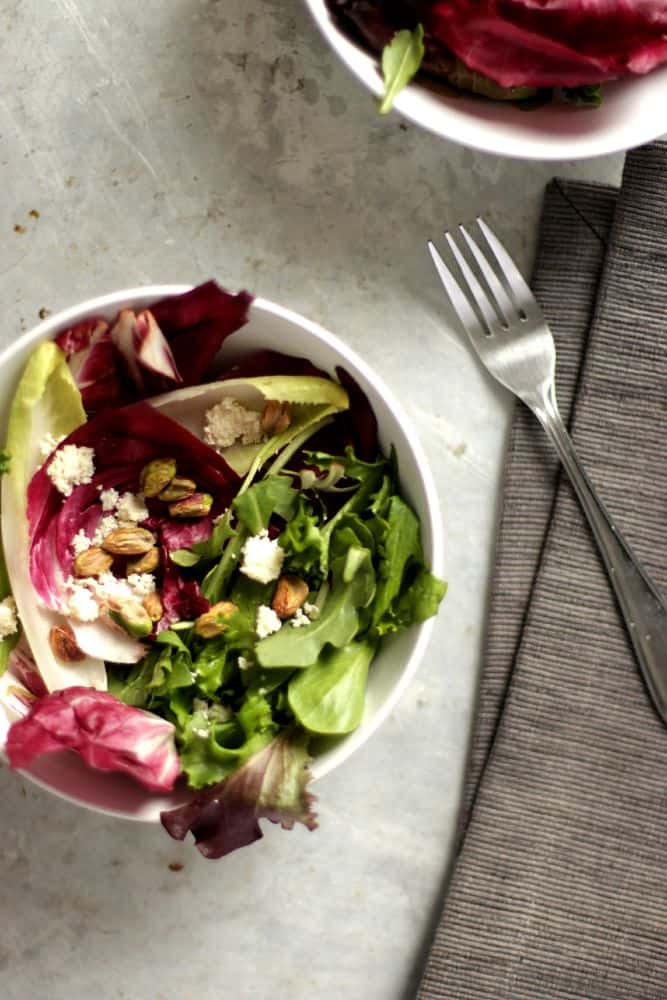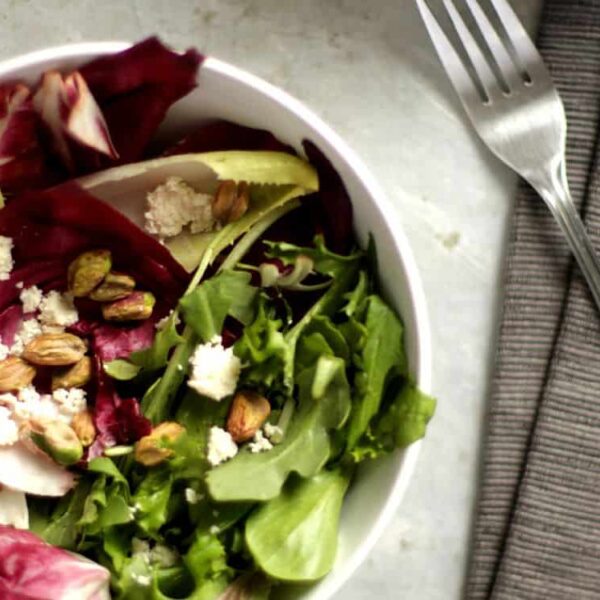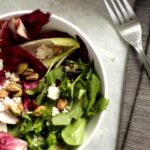 Print Recipe
Curative Radicchio Salad to the Power of 3
Servings:
2
portions as a side or 1 portion as a meal
Ingredients
Salad
2

big handfuls

arugula

1

radicchio

leaves removed

1

endive

leaves separated

¼

cup

almond ricotta cheese

1

handful

pistachios

coarsely chopped
Lemon raspberry vinaigrette
2

tablespoons

olive oil or water

2

tablespoons

lemon juice

1

tablespoon

maple syrup

¼

cup

frozen or seasoned raspberries

½

small crushed garlic clove

Pinch

salt
Instructions
To make the vinaigrette, place all the ingredients in a high-powered blender and blend until smooth. Set aside.

To make the salad, place the arugula, radicchio, and endive in a mixing bowl. Crumble the almond ricotta over the salad. Top with vinaigrette and mix well. Sprinkle with pieces of pistachios.

Serve immediately.
Notes
Placed in an airtight container without the vinaigrette, this salad will keep for four days.
VARIATIONS
Add sunflower sprouts and replace the pistachios with pine nuts.
Make This Now
If you try this recipe, I want to know about it! Leave me a comment below or share it on Instagram. Tag @biting.into.life with the hashtag #bitingintolife.
Enjoy!