Warm, sweet, and creamy, spinach artichoke dip is always a huge hit! No chips break when you pick it up! This healthy vegan side dish is oven-baked, requires less than 10 ingredients, and takes 30 minutes to make.
It's a surefire crowd-pleaser, even if it's dairy-free. We don't miss the cheese! The result is creamy goodness and gets a perfect score for comfort food.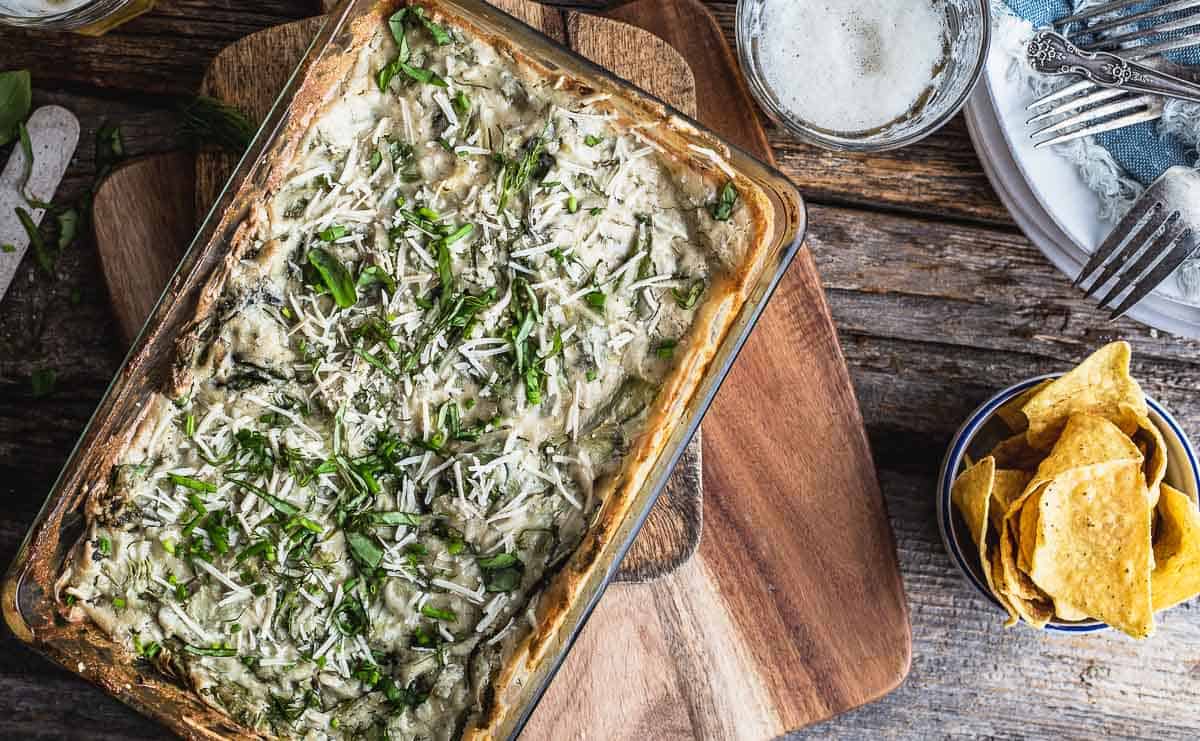 Jump to:
Why this Recipe Rocks
In Quebec, the artichoke harvest takes place very quickly (August and September). So, compatriot, you're on the clock. Admittedly, they're a bit complicated to prepare, given their thorny green spines and hairy chokes.
But for the pragmatic 🙋♀️, I suggest making this dip using canned artichokes, jarred in brine, or marinated in oil. Trust me; it's so much faster and easier to prepare!
This creation is my vegan version of this classic recipe. The original recipe gets its creaminess from sour cream, cream cheese (think Philadelphia), heavy cream, or mayonnaise. And, cooked on the stovetop or in the oven, it usually includes Parmesan and mozzarella cheese.
In mine, its insane richness comes from cashews.
The best thing? It's entirely made from whole ingredients. So there's no need to get fancy products, like vegan cream cheese, vegan mayonnaise, or vegan sour cream.
Marbled with spinach mixed with chives, basil, and dill, this champagne-yellow dip is slightly reminiscent of a ranch dressing. It's just right: refreshing—thanks to the lemon flavor—impossibly rich and, in a word, festive.
My imagination goes wild and goes beyond simple crudités or chips. I'm thinking slices of toast topped with grilled vegetables, friend, tomato sandwiches, fancy crispy fried tofu burgers with coleslaw and pickles. I'm thinking picnics, BBQs, poolside parties. Labor Day weekends, family reunions at Thanksgiving, winter holiday parties. I can't wait.
What Goes in it?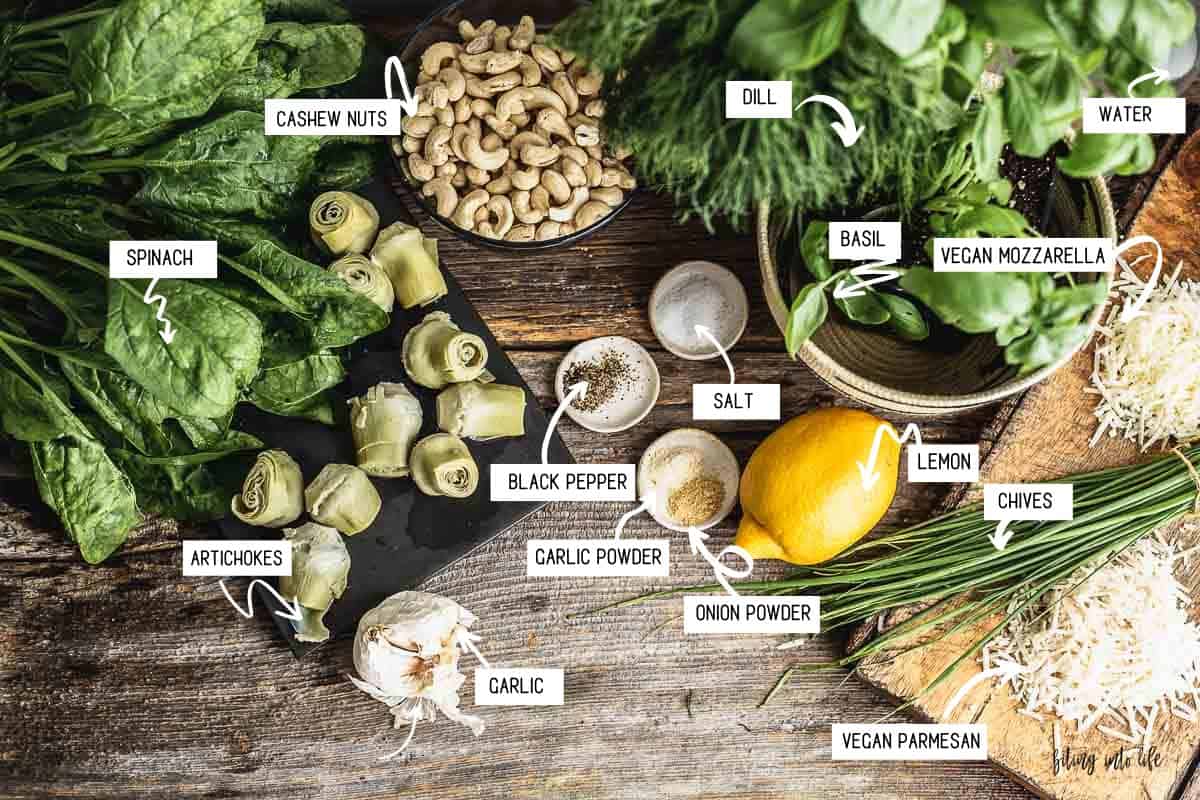 Notes on some of the ingredients
Artichoke hearts. If available, I like to get a can of these quartered vegetables because they're already cut into quarters and are usually cheaper than medium or large ones. You can also get them jarred in brine or marinated in olive oil. Finally, frozen artichokes work well, too; just let them thaw before chopping.
Spinach. I preferred to buy fresh spinach for this oven-baked recipe, as frozen spinach would release too much moisture. However, I've noticed it in most stovetop recipes. In this case, you'll need to thaw them and squeeze as much excess water as possible into a towel or paper towel.
Raw cashews. For optimal flavor and texture in this dairy-free cream cheese, I recommend using them. They provide the essential fat for this dish, namely butter or oil, cream, and cheese.
Garlic. It really spices up the taste of the dip. Forget the chopped garlic in a jar. I used garlic powder for the creamy cashew mixture and fresh garlic in the rest of the dish.
See the recipe card for exact amounts.
Simple Swaps and Add-ins
Increase the pleasure with macadamia nuts instead of cashews. They're more expensive, sure, but they offer an exquisite buttery taste. You can completely substitute them for cashews or go half and half.
Enhance the cheesy flavor with nutritional yeast. This is completely unnecessary. But it's a plus.
Replace the water with almond or cashew milk. Ditto. Some recipes on the web add it, but mixing the cashews into the water makes nut milk right off the bat, and, in my humble opinion, its homemade taste is far superior to store-bought.
Put umami flavors in it with miso. It will give a more pleasant mouthfeel.
Color the top with grated vegan parmesan cheese and mozzarella cheese. I found commercial ones in my local grocery store, so they should also be available if you live in the city. You don't have to renounce them!
Cheer it up to make it spicy. Sprinkle the dip with cayenne pepper, red pepper flakes, or mix in some hot sauce, Sriracha, or Tabasco.
Special Diets Corner
If you have dietary needs, here are some ideas to make this dish...
Low-FODMAP. Whipped coconut cream or full-fat coconut milk could replace cashews and asafoetida, the taste of garlic and onion.
Low-fat. I'd use coconut cream again or oat milk thickened with tapioca starch (aka tapioca flour) or arrowroot (thickening agents).
Nut-free. I would swap out the cashews for seed milk, like sesame or sunflower milk thickened with a thickening ingredient mentioned above, soy-based vegetable mayonnaise, or silken tofu used in my chocolate mousse.
How to Make this Vegan Spinach and Artichoke Dip Step by Step
If you're making this recipe from scratch with fresh artichokes, a decent amount of prep work is involved. But that should never stop anyone... except for today. 😜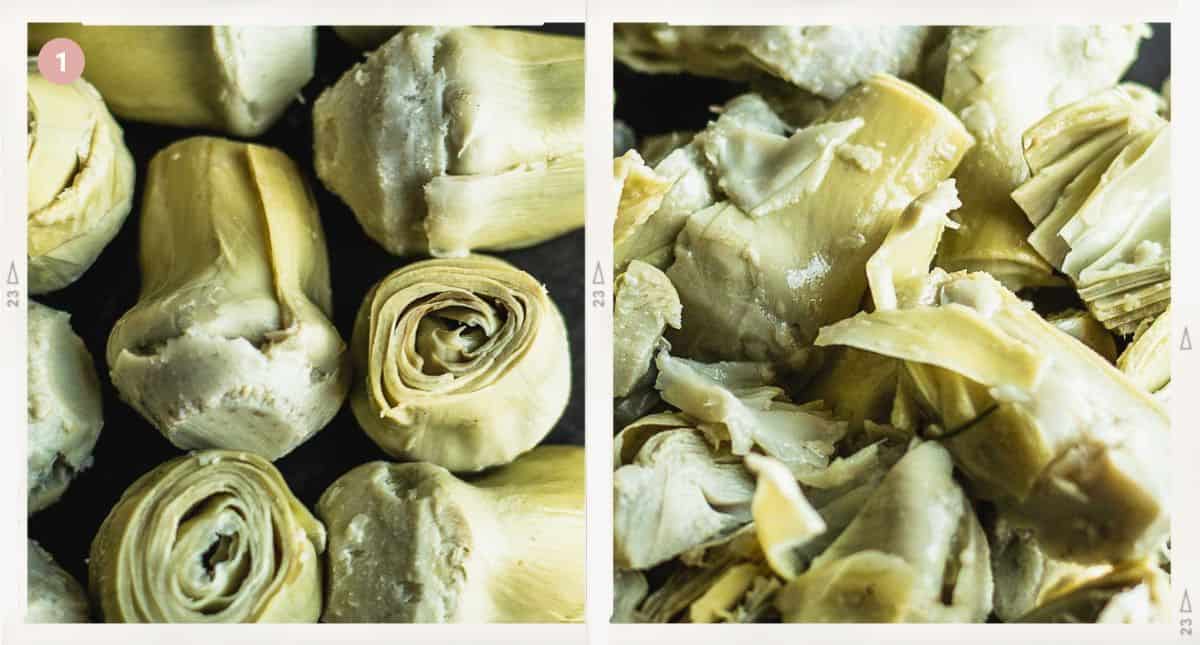 Let's dive right in. This recipe begins by soaking the cashews ① to make a cashew-based cream ②. I continue by placing the ingredients in a large mixing bowl or directly into a baking dish ③, which I combine with the cream ④.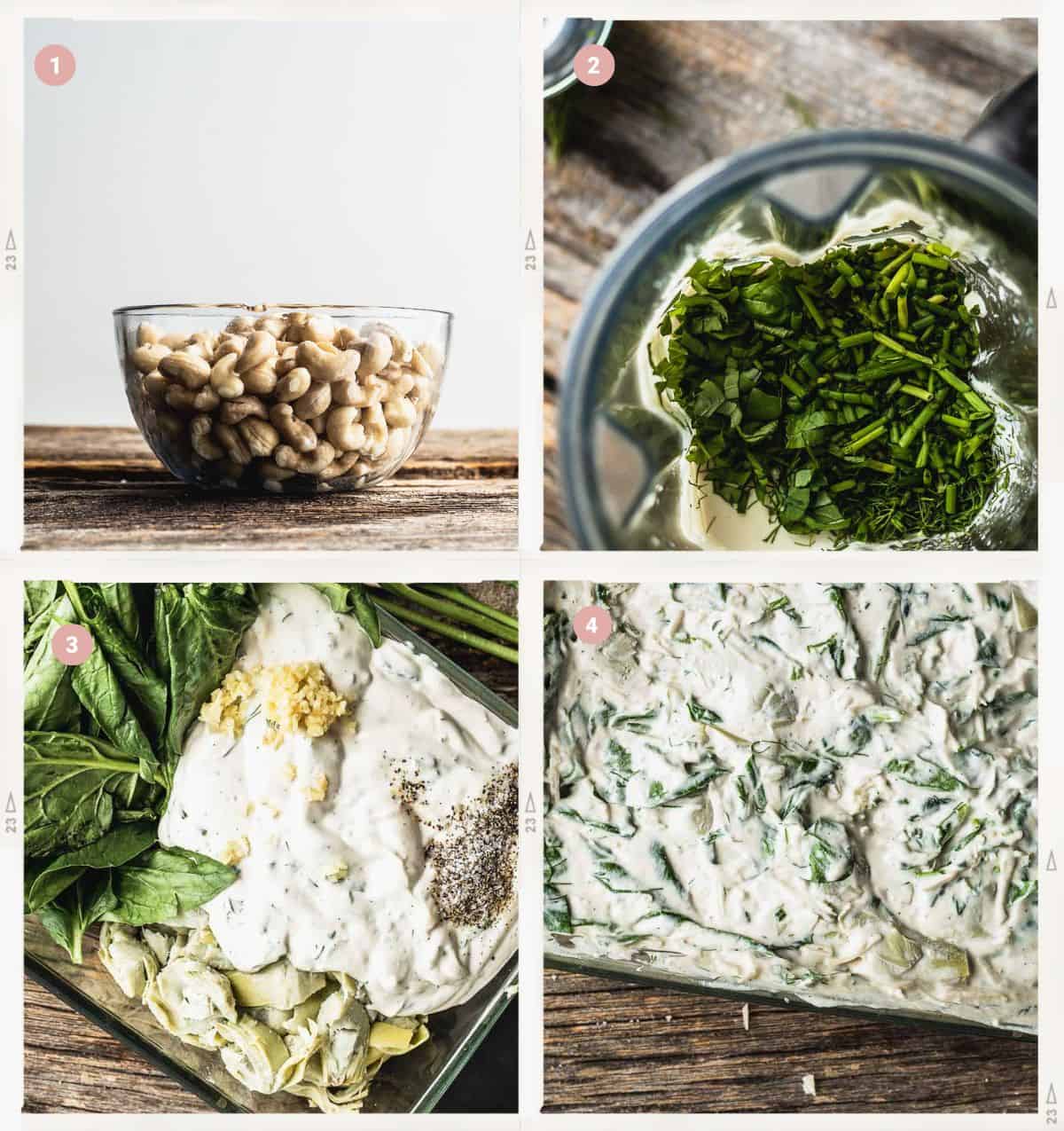 I finish by flattening the surface of the dish, which I finally put in the oven. If I'm tempted (and I was), I can add some store-bought vegan shredded cheese on top ⑤ to get a golden crust ⑥. Simple, isn't it?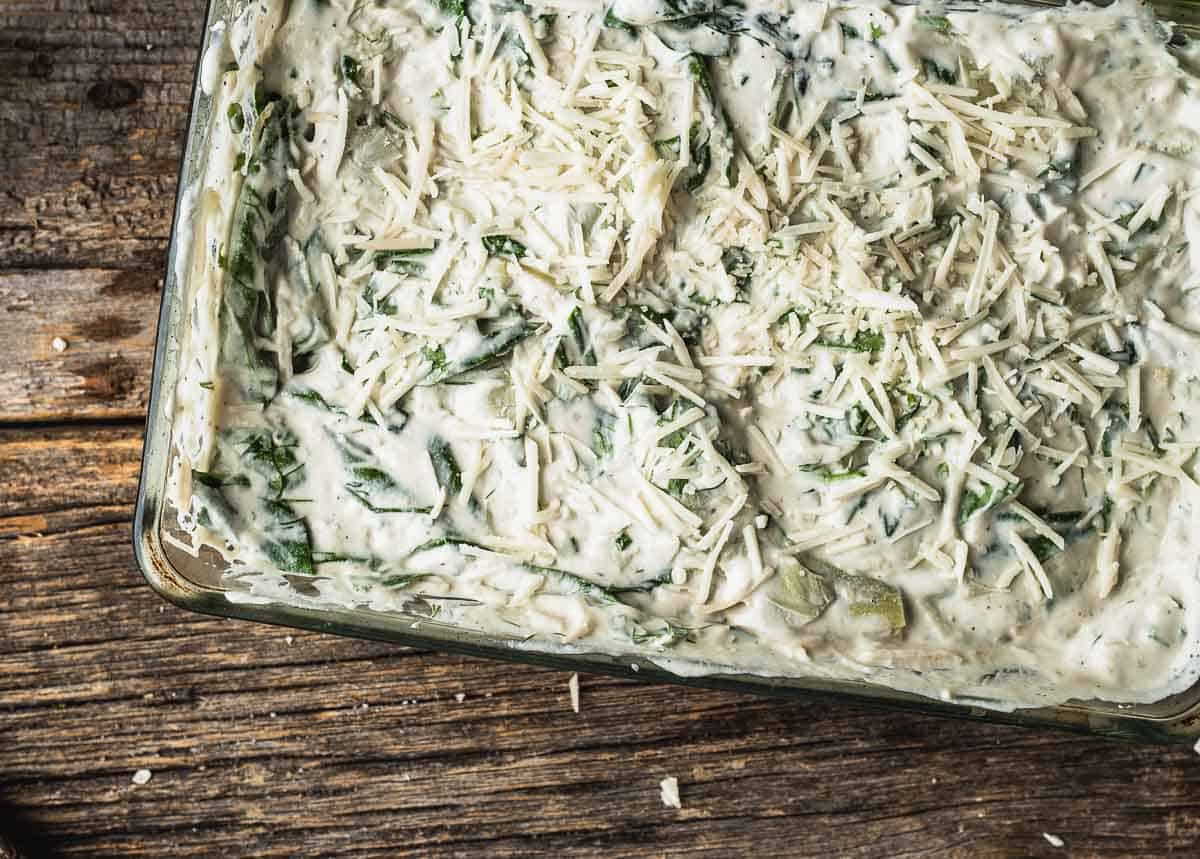 The Keys to Success: My Top Tips
Avoid frozen spinach
Fresh ingredients are always preferred! They have good moisture content and wilt perfectly in the dip without being steamed first. Sometimes, frozen spinach can be quite bland. And if it's of poor quality, it can disintegrate when squeezed of excess water after thawing.
Also, they tend to be very runny when cooked in the oven. You won't have to wonder later why you got the excessively shredded and soggy spinach and artichokes dip.
On a better note, frozen spinach works best in stovetop cooking.
The garlic taste comes down to the details
Forget minced garlic in a jar and mince the garlic yourself! It's a little more work, but it's worth it. If you're in a hurry or lazy, ½ teaspoon of garlic powder will give you the garlic flavor you need.
Wrong texture, weird twist
Make sure you blend the cashews well. You don't want to have a grainy composition. A high-speed blender works great.
If the texture of your spinach and artichoke dip is too thick, you'll probably need to add a little bit more water.
The order of the added ingredients matters
Make sure you add the fresh spinach to the baking dish first, then all the other ingredients on top. This will help contain it better.
Essential equipment
High-speed blender. It grinds and smoothes cashews better than a food processor, which may leave you with lumps or a grainy texture.
Measuring cups. I really like the ones with different volumes in Pyrex or metal.
Measuring spoons.
Citrus juice squeezer. I have a sturdy one with a handle that I like. But something made of glass or wood is fine too. Or, simply use the fork and scoop out the seeds by putting your hand underneath.
Chef's knife, 8". I can't get enough of my dimpled Japanese knife. It's the extension of my arm (and that's how you should feel).
Rubber spatula. It helps with scraping the edges.
What to Serve this Dish with
This creamy dip goes well with anything crunchy:
Sliced and toasted bread
Baguette bread
Corn or tortilla chips (okay, potato chips too)
pita bread or pita chips
Crackers
For a wow effect, place it in an edible bread bowl. It hits right at home on…
Any vegetable sticks or crudités: carrot, celery sticks, broccoli, red bell pepper, whatever
​​Sliced cucumbers
Fingers and anything else you'd like to dip into them!
Finally, spread it on a tartine or incorporate it into a sandwich or burger.
More Recipes with Dairy-Free Alternatives
Try these other tasty recipes:
Answers to Your Burning Questions
Should I use fresh spinach?
The short answer: yes. Especially for this recipe, which is oven-baked. However, you don't have to get it in bunches. You can buy a sealed plastic bag of pre-cut, pre-washed spinach. A 5 oz. package will do. Otherwise, use half of an 8-10 oz. package.
Can spinach and artichoke dip be made ahead?
Yes, this is actually a very convenient option for your next party or family gathering. It's best made the day before. It's one of those dips where the flavors develop better with time.

The next day, assemble it as directed on the recipe card, but just before cooking, cover the dish with aluminum foil (to trap the smell of garlic) and refrigerate.

Uncooked, it will stay good for about 2 days.
About an hour before cooking, place the artichoke dip on the counter to come to room temperature.
Can you freeze the spinach artichoke dip?
Definitely! To freeze spinach artichoke dip, let it cool completely, cover tightly, or transfer it to an airtight freezer container for up to 3 months. It can be reheated in the oven until hot to your liking. Leftover vegan spinach artichoke dip is even better.
Can you make this vegan spinach and artichoke dip on the stovetop?
Yes! Sauté the onions or garlic in a large skillet over medium heat, then add the creamy nut mixture with all the other ingredients, stirring until heated through and slightly reduced in volume, 8 to 10 minutes. Optionally stir in plant-based cheeses until melted.
How to Store this Dish
How long does spinach and artichoke dip last? Cooked, I would say at most 5 days in the refrigerator. Cover with cling film or store in an airtight container. The best part? It makes a great leftover dip.
Make this Dish Now
All you need to make this healthy spinach dip are simple, accessible, and whole ingredients. You can easily customize it to your tastes and preferences in this simple recipe.
This vegan spinach artichoke dip recipe literally takes three steps and a handful of ingredients: prepping the creamy base, assembling, and cooking in the oven. Be sure to read my tips above for the best results.
Serve it with any crispy food and enjoy the smooth, divine texture. Paired with well-selected herbs, it is slightly reminiscent of the taste of Ranch dressing.
This warm spinach artichoke dip will become your favorite dip, your favorite appetizer, or even, for any special occasion.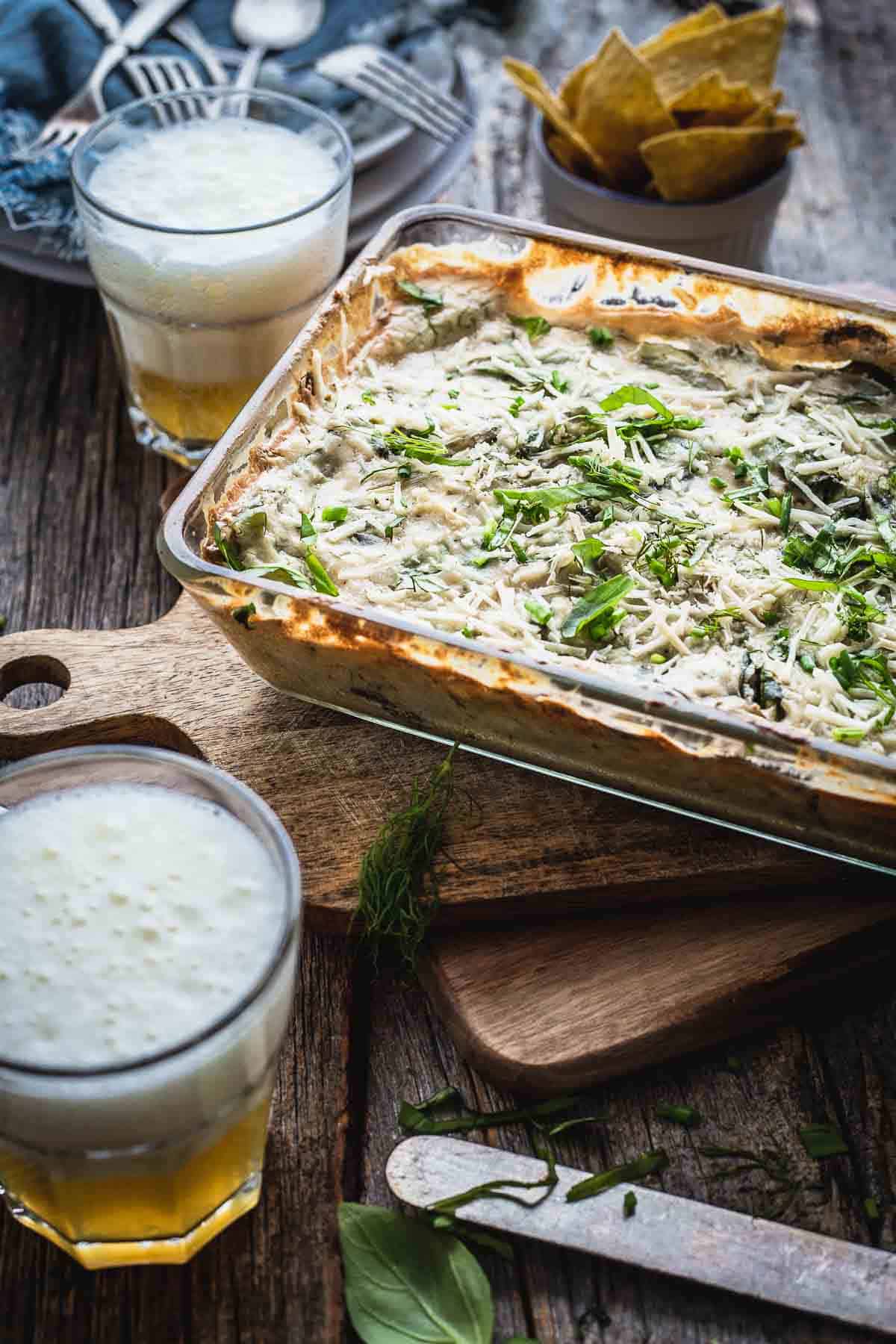 Watch How it's Done
Watch the recap with this Healthy Spinach Artichoke Dip Web Story. It's done in the blink of an eye!
Or take the time to make it your own with the video below.
[Video coming soon!]
If you try this recipe, I want to know about it! I always appreciate your feedback. Leave a star rating in the recipe card right below and/or a review in the comment section further down the page. You can also follow me on Pinterest, Facebook, or Instagram. Sign up for my email list, too!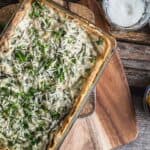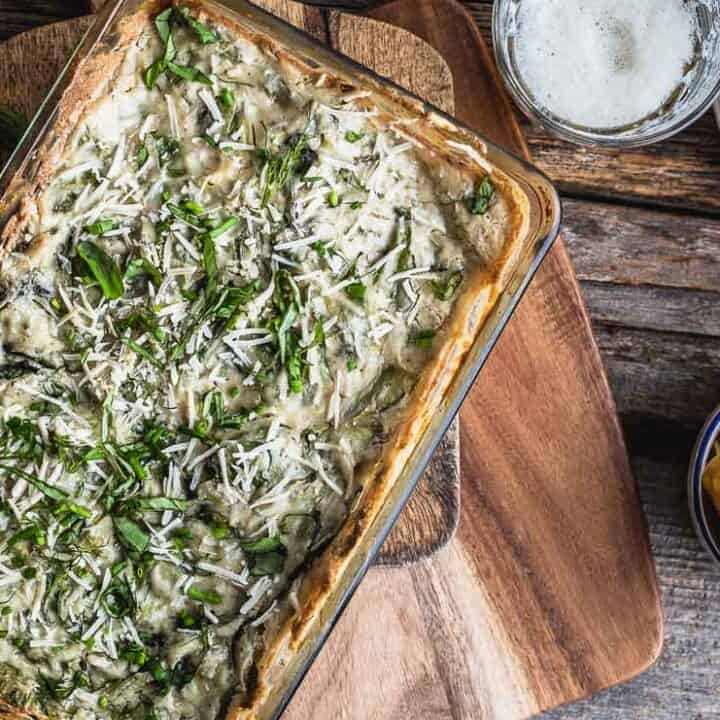 Dairy Free Spinach and Artichoke Dip Recipe
Use fresh spinach for this oven-baked dish. Some use chopped spinach or not. Cashews play the role of the handyman: they replace cream cheese, sour cream, and mayonnaise at the same time. And to taste, crunchy fresh vegetables or any type of chips are essential to increase the pleasure of this healthy dip.
Save Recipe
Saved!
Print Recipe
Pin Recipe
Equipment
Measuring cups.

Measuring spoons.

Citrus juice press.

Chef's knife, 8".

Rubber spatula
Ingredients
1¾

cup

raw cashews

soaked for 5 mins, rinsed, and drained

2

cups

water

or more

2

tablespoons

lemon juice

½

teaspoon

garlic powder

½

teaspoon

onion powder

¼

teaspoon

salt

2

tablespoons

fresh chives

or green onions, chopped

1

tablespoon

fresh basil

(optional)

1

tablespoon

fresh dill

(optional)

4

cups

fresh spinach

(about 5 oz)

1

14oz-can

artichoke hearts

drained and coarsely chopped

3

cloves

garlic

finely chopped

Salt

to taste

Freshly ground black pepper

to taste

1

cup

vegan Parmesan cheese

(optional)

1

cup

vegan mozzarella cheese

(optional)
Instructions
Preheat the oven to 350°F.

Prepare the homemade cashew cream cheese: soak cashews in 2 cups in hot water for 5 minutes. Drain. Place all ingredients except herbs in the blender and blend until smooth. Stop occasionally to scrape down the edges with a rubber spatula. Add chives, basil, and dill, and pulse or mix with spatula.

Place spinach, artichoke hearts, and garlic in a large bowl, a 9x9 baking dish, or medium cast iron skillet. Transfer the dip to ingredients and stir until ingredients are well combined with the optional cheeses, the parmesan and half the mozzarella. Spread in an even layer.

Top with the rest of the optional vegan mozzarella and bake for 20 minutes. Then broil the top for 1-2 minutes until golden.

Serve warm, ideally on chips.

Placed in an airtight container, this Dairy-Free Spinach and Artichoke Dip will keep for up to 4-5 days.
Notes
Avoid frozen spinach: it works best when cooked on the stovetop. Fresh spinach has good moisture content and wilts perfectly in the dip without steaming first. Frozen spinach can be quite dull tasting, disintegrate when squeezing out excess water after thawing, and be very runny when baked.
The taste of garlic comes down to details: forget the minced garlic in a jar and mince the garlic instead! Otherwise, ½ teaspoon of garlic powder will provide the garlic flavor needed.
Wrong texture, weird twist: blend the cashews well, so you don't get a grainy composition. If the consistency of the dip is too thick, add a little water.
The order of the added ingredients matters: make sure to add the fresh spinach to the baking dish first, then all the other ingredients on top. This will help contain them better.
Variations
Make an easy spinach and artichoke dip (dairy-free, mayo-free, vegan)...
With macadamia nuts: replace cashews or make half and half.
With a cheesy taste: add nutritional yeast. with increased umami: add miso.
Au gratin: cover with grated vegan Parmesan and mozzarella cheese.
Spicy: sprinkle with cayenne pepper or red pepper flakes or mix in hot sauce, Sriracha or Tabasco.
Low-FODMAP Spinach Artichoke Dip. Replace cashews with whipped coconut cream or full-fat coconut milk and garlic and onion with asafoetida.
Low-Fat Spinach Artichoke Dip. Use coconut cream again or oat milk thickened with tapioca starch (aka tapioca flour) or arrowroot (thickening agents).
Nut-Free Spinach Artichoke Dip. Swap out the cashews for seed milk, like sesame or sunflower milk thickened with a thickening ingredient mentioned above, soy-based vegetable mayonnaise, or silken tofu.
Nutrition
Calories:
2055
kcal
|
Carbohydrates:
138
g
|
Protein:
54
g
|
Fat:
150
g
|
Saturated Fat:
34
g
|
Polyunsaturated Fat:
18
g
|
Monounsaturated Fat:
55
g
|
Sodium:
3017
mg
|
Potassium:
2313
mg
|
Fiber:
19
g
|
Sugar:
15
g
|
Vitamin A:
11821
IU
|
Vitamin C:
54
mg
|
Calcium:
416
mg
|
Iron:
22
mg
Get Your Free Plant-Based Eating Toolkit and More
Subscribe to my newsletter and unlock my plant-based course, nutrition charts, recipe secrets, and exclusive updates to prepare wholesome, varied & balanced meals effortlessly. All you need is a good appetite. Subscribe!