You don't think it can be as decadent as the traditional version?
You'll think otherwise when you swallow my no-bake chocolate pecan pie.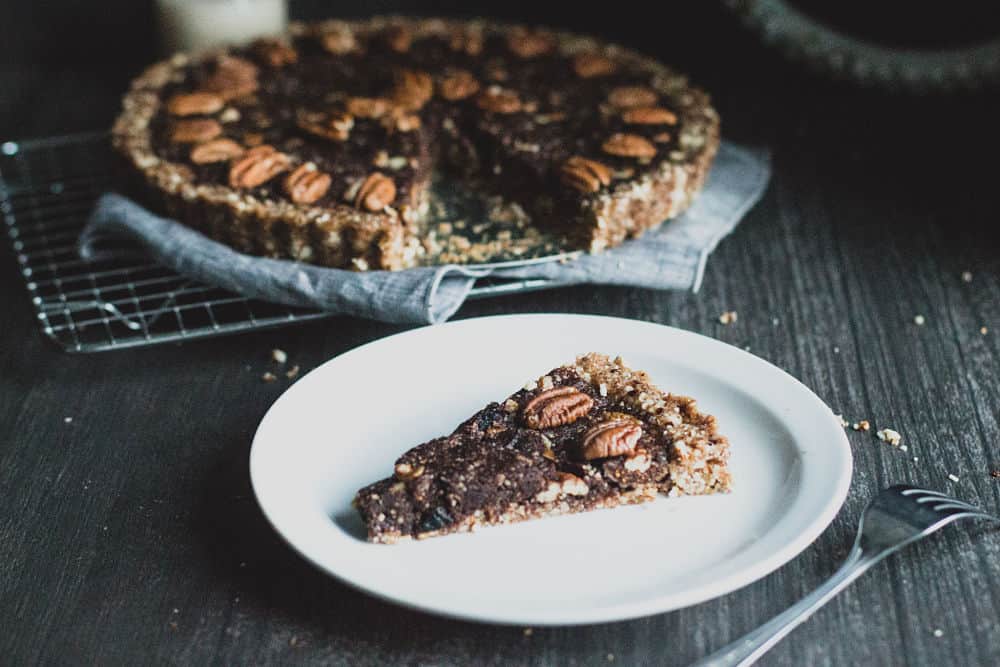 Sweet, rich, melting... those are the things that make your eyes roll when you indulge in a sugar pie.
To this, add chocolaty and caramelly... and OMG! You're a goner! You're in another universe, you're in heaven.
The problem is, making this type of pie has a couple of downsides.
Primo, it requires that you be patient (two hours on average to bake it). And second, it's suicidal.
Yeah! it's suicidal because eating this type of pie involves the ingestion of ingredients that will bring your insulin level and your scale's weight indicator to the roof.
So how can you indulge in this treat without the harmful effects and, above all, without the guilt?
Don't worry. I have the solution that will satisfy your fantasies.
What Makes Chocolate Pecan Pie so Special
Chocolate pecan pie is basically a sweet and melting topping that includes lots of chocolate, pecans, sugar, corn syrup, butter, and eggs. It's native to the southern United States, where pecans grow plenty.
A little bourbon or rum is often added to the filling. This enhances the slightly sour-sweet, almost caramel-like pecan flavor and also counteracts the pie's sweet taste. Pecan pie is probably the most famous dessert there.
But its history is nebulous.
Some say the French invented this sweet pie after settling in New Orleans as they were introduced to pecans in the 18th century. Others say it appeared in Alabama in the 19th century, but there's no evidence.
It's also believed that the economist of Karo house — a company specializing in the manufacture and distribution of ready-to-eat products — created this recipe in the mid-1920s. That's because the pie often contains Karo (corn syrup).
In short, what we know for sure is that the company really popularized in the 40s and 50s and since then, it's been an integral part of the of Southern American culture. We can find several variants of it: caramel, cinnamon, peanut butter...
Anyway, who cares where it comes from! We thank the inventors for creating such a delight, which is especially shared during the holiday season.
A Quick and Reinvented Pecan Pie
In the traditional version, the filling is what makes the pie yummy.
You have to prepare the dough first. I'm not a baker at all, so I won't explain how to make it. All I know is that it can take about 1-2 hours. Then you need to roast the nuts. After, you prepare the filling — you melt the chocolate and the mixture with the other ingredients (eggs, corn syrup, sugar, cocoa powder, bourbon, and salt). Finally, you decorate the top with nuts and cook for 45 minutes.
My no-bake, raw version takes at most 30 min. It includes the crust and the garnish.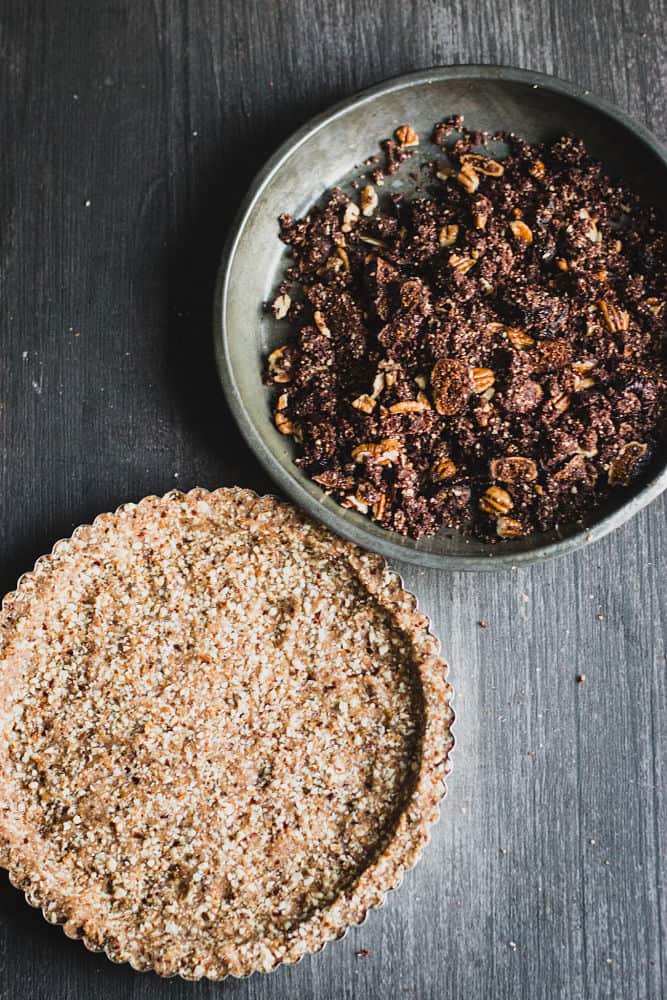 And the best part? You won't find eggs, refined sugar, dubious chocolate products, or corn syrup. This pie contains 98% whole, natural and nourishing ingredients (nuts, dried fruits, and raw cocoa) and…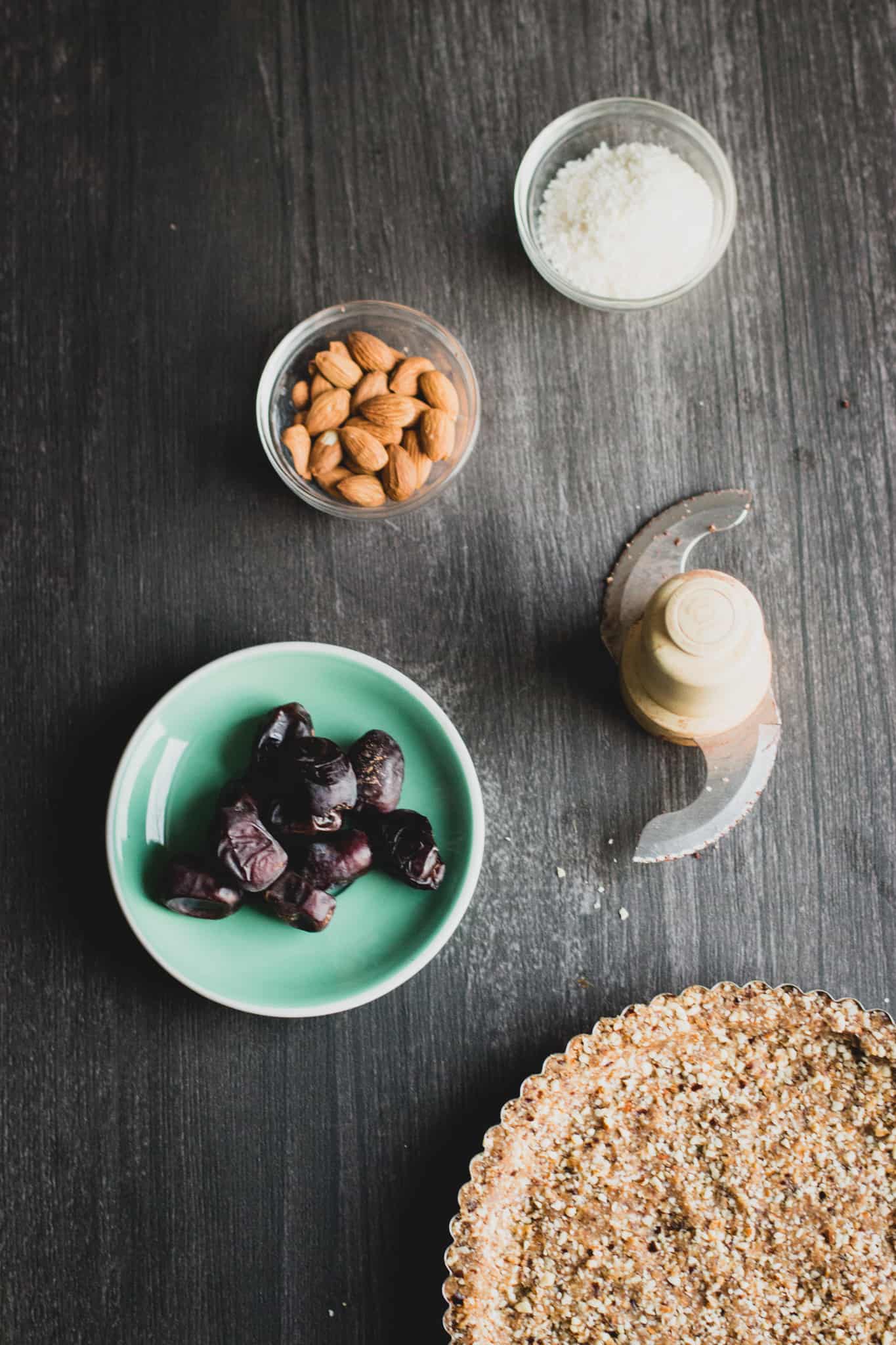 … it includes 2% maple syrup and an ingredient that is not the most whol-y.
Rum.
Oh! No, you didn't! I totally did. Come on! I don't think 2 teaspoons rum will kill your brain cells that much. Ok, maybe a tiny little bit. Here, I made an exception to stay faithful to the theme and for another reason that I'll explain shortly.
For the texture, when I saw that the original recipe required mixing nuts and cocoa/chocolate, I immediately thought of my brownie recipe. I followed that recipe and added figs to add a soft and melting side.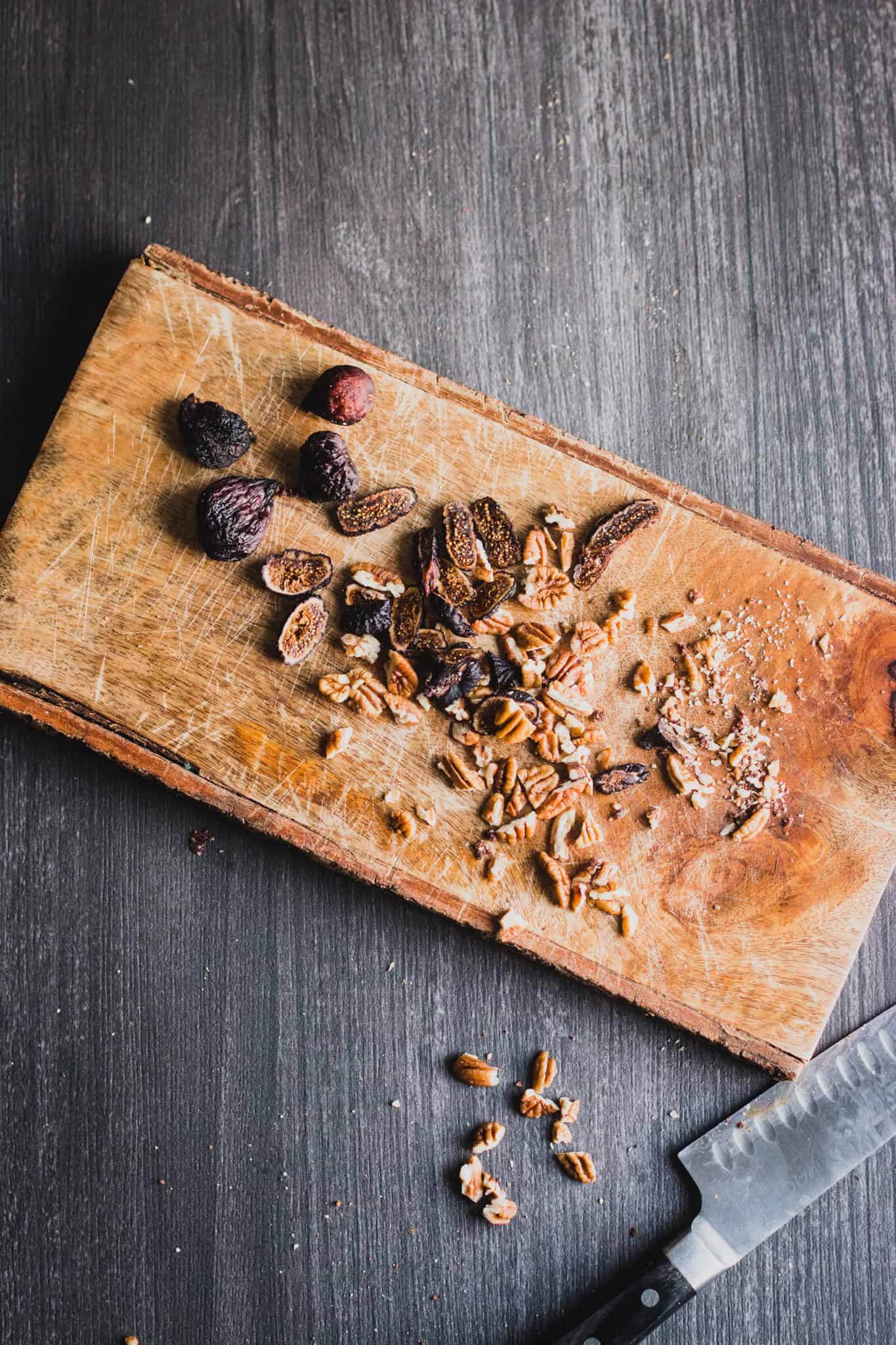 Then I replaced the corn syrup of the original recipe with maple syrup to bring a little more moisture. For the crust, I used nuts. I confess I hesitated first because I felt there were too many nuts. And then I thought: well it's like eating an energy ball or bar in a different form. To lighten it up a bit, I added some grated coconut. As far as alcohol is concerned, at first I wanted to put some rum extract.
But when I looked at the ingredients at the grocery store, I immediately got turned off.
The Case of Forbidden Ingredients
Yeah… My eyes stopped at "propylene glycol" and it was the end of it.
Forgive me, but I didn't like the idea of putting windshield washer in my food. Just like ethylene glycol, glycols found in most edible products are the active ingredient in several surprising products.
For example, here's what Health Canada has to say about ethylene glycol:
In lesser quantities, ethylene glycol may also be used in asphalt emulsion paints; as a coolant and heat transfer fluid; in low-pressure laminates; in brake fluids; in glycol diacetate production; in low-freezing dynamite; as a solvent mixture for cellulose esters and ether; and in cellophane, cosmetics (up to 5%), lacquers, alkyd resins, printing inks, wood stains, leather dyeing, textile processing, humectants, ballpoint pen inks, detergents, solvents, polyurethane foam, medicinals, adhesives and other products (ATSDR, 1993; Lewis, 1993). The quantities used in Canada for each of these products is not known.
Some people think that these components don't pose a great health risk, but I prefer to abstain. Thousands of studies have already shown their toxicity. (Source)
Ok, so organic rum extract was definitely a better option, but I couldn't find any.
So I opted for real rum. Here. End of story. I wanted Barbancourt rum (which comes from my parents home country) but I didn't have any (pain).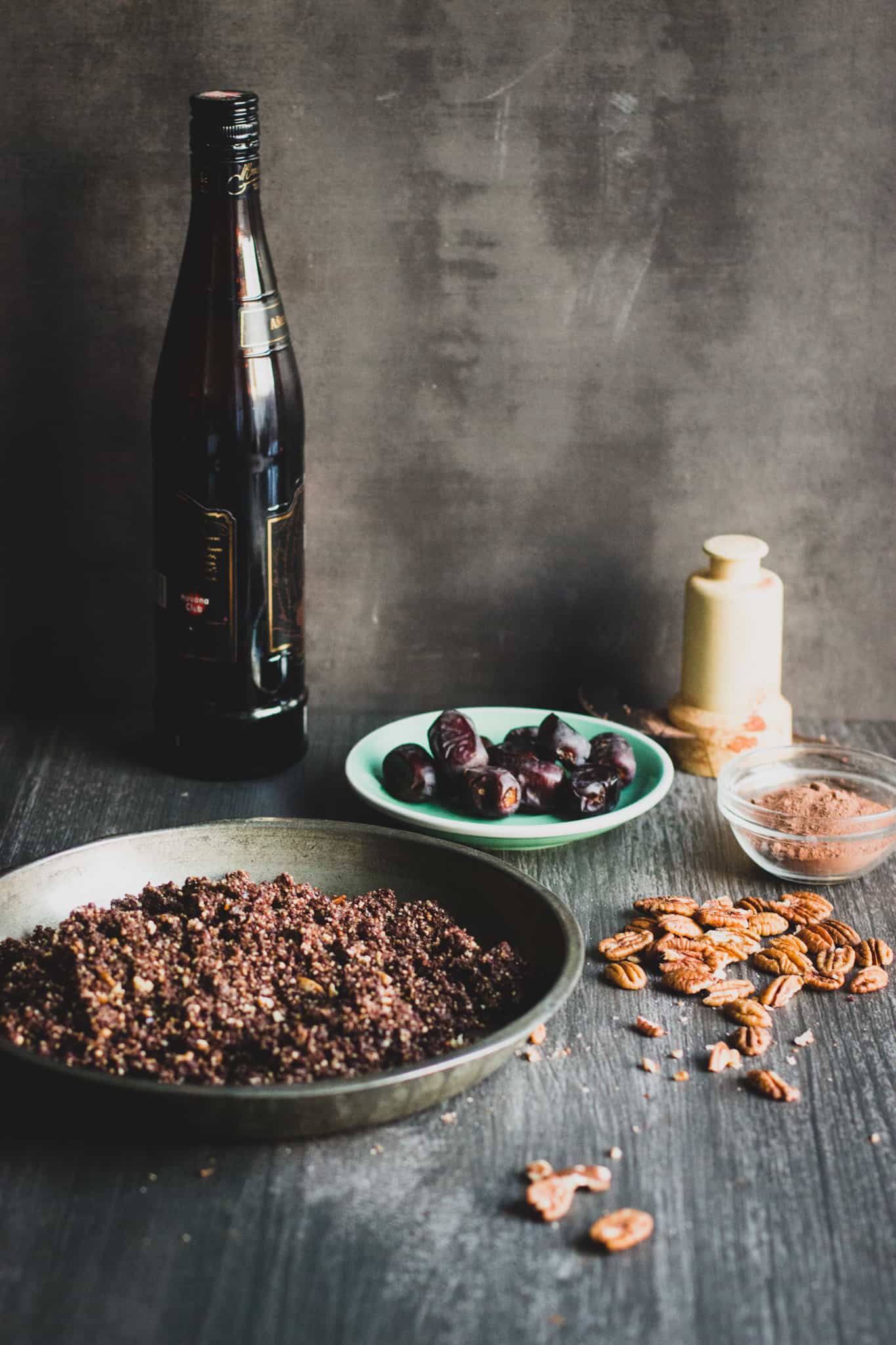 Anyway, rum won't be responsible for making you lose your mind; the taste of chocolate and the melting texture will.
All in all, this pie is simply lu-xu-rious. And wait a second, VERY rich. So don't go crazy stuffing your face with it.
You're not supposed to take more than one slice. No more than a small slice, ok?!
Divine Chocolate Pecan Pie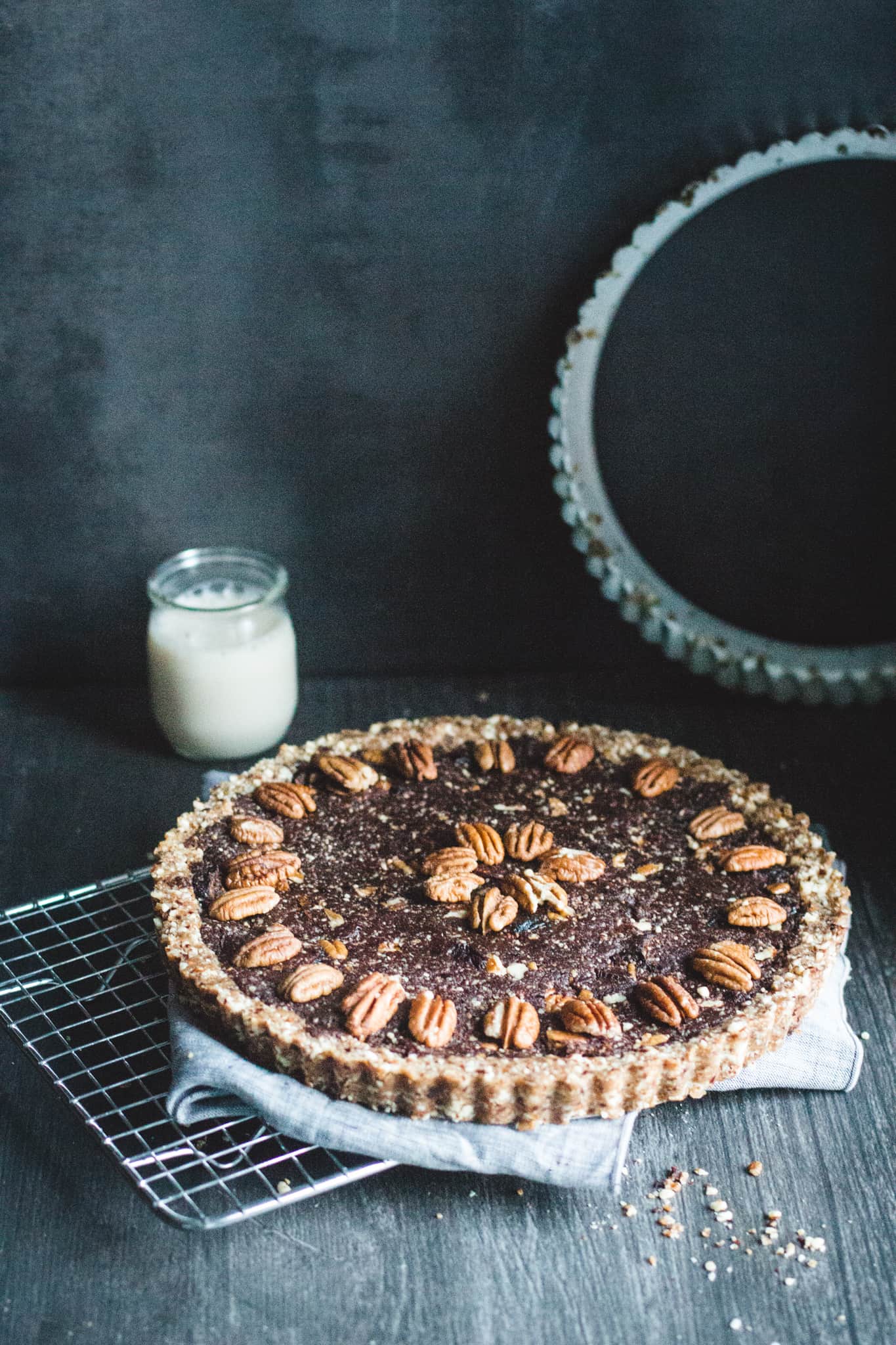 If you try this recipe, I want to know about it! I always appreciate your feedback. Leave a star rating in the recipe card right below and/or a review in the comment section further down the page. You can also follow me on Pinterest, Facebook, or Instagram. Sign up for my email list, too!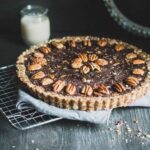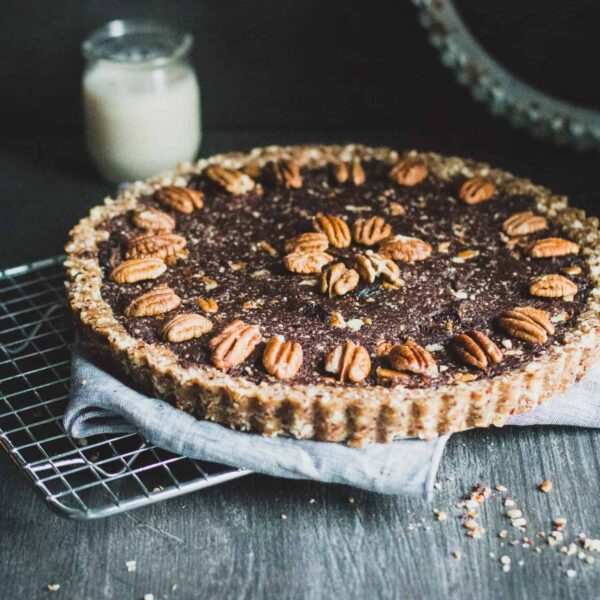 Chocolate Pecan Pie
This pie is simply lu-xu-rious. And wait a second, VERY rich. So don't go crazy stuffing your face with it.
Save Recipe
Saved!
Print Recipe
Pin Recipe
Ingredients
Crust:
1 ½

cups

almonds

½

cup

grated coconut

unsweetened and dried

8

Medjool dates

or 16 small dates
Garnish
1 ½

cup

pecan

Pinch

salt

⅓

cup

cacao powder

raw

½

teaspoon

vanilla extract

1

teaspoon

maple syrup

1

teaspoon

rum

(optional)

¼

cup

dried figs

cut into pieces
Instructions
To make the crust, place the almonds and coconut flakes in the food processor fitted with the "S" blade and process until coarsely ground. Add the dates and process until the mixture looks like a fine and grainy texture and begins to stick together. Don't overprocess. Transfer the mixture to a 9-inch (23 cm) deep-hinge mold, spread it out and squeeze it with your fingers or a spatula (if too sticky).

To make the garnish, cut ¼ cup pecans and set aside. Place the remaining nuts and coconut in the food processor fitted with the "S" blade and process until a granular consistency. Add the dates and process until the mixture sticks together. Add the cocoa, vanilla and optional rum and process until well blended. Transfer to the bottom of the pie and press firmly. Decorate with pecans on top.
Nutrition
Calories:
3262
kcal
|
Carbohydrates:
266
g
|
Protein:
73
g
|
Fat:
245
g
|
Saturated Fat:
44
g
|
Polyunsaturated Fat:
59
g
|
Monounsaturated Fat:
129
g
|
Trans Fat:
1
g
|
Cholesterol:
3
mg
|
Sodium:
33
mg
|
Potassium:
4414
mg
|
Fiber:
73
g
|
Sugar:
168
g
|
Vitamin A:
375
IU
|
Vitamin C:
3
mg
|
Calcium:
910
mg
|
Iron:
20
mg
Get Your Free Plant-Based Eating Toolkit and More
Subscribe to my newsletter and unlock my plant-based course, nutrition charts, recipe secrets, and exclusive updates to prepare wholesome, varied & balanced meals effortlessly. All you need is a good appetite. Subscribe!