Hum, hum,
Is there anyone still in the room? It's me, Naiby. You know, the girl who shares plant-based recipes that are supposed to be tasty? Phew. You are here. I feel like I've been gone for ages. Well, it's been ages. I haven't communicated with you all winter. Oh, dear. How time flies!
Many things have happened. From Autumn to Winter, I bolted relentlessly, like the beaver that spends most of its time felling hundreds of trees to build dykes and channels during the cold seasons. When I look back, my last recipes were Philippine Tofu Sig, Cauliflower with bang bang sauce, and pumpkin bread. What work ate up my time so much?
Teaching French to newcomers to Quebec and integrate them into the culture every day and every evening of the workweek. Well, there you go, you will know I am a francization teacher. It's been exactly four years now. I'm finally comfortable telling you.
Yes, I've decided, all things considered, that I don't want to become a septuagenarian, sleeping outside on pieces of cardboard and all toothless because I'm too broke to stop my periodontitis. Thus, my retirement income will officially come from this profession which, admittedly, really fulfills me all the same.
In short, after five months of frenetic work and a zombielike state, I realize that several major events have passed under my nose:
The untimely rise to power of Rishi Sunak as Prime Minister of the United Kingdom (I know, I live in the depths of a cave);
The multiversal movies with terribly long titles, like Everything Everywhere All At Once that I heard having won the Oscars lately (but then again, I loved seeing Gwyneth Paltrow in Sliding Doors, a film released in 1998 and following the same idea);
The dismal Wednesday series from with THE dance that spread on TikTok;
The home delivery of four Huusk knives, FOUR, allegedly "made from traditional Japanese stainless steel which was used to make the Japanese samurai katanas." (They're Chinese-made, and the company is based in Lithuania.) Mr. Pleasant (aka my spouse) inadvertently over-purchased them.
And now, spring is upon us and unveils the best gifts of its mild weather: potholes that have swarmed without scruples on the roads of Montreal! Oh, Montreal. What would you be without these symbolic holes?
Lately, I've started concocting culinary creations again, but with procrastination, that said. What more can I tell you? I'm like the beaver, after all; I move slowly. It took me the express request of my little one to cook an onion soup. This was followed by active experimentation in the kitchen and the renewed wearing of the food blogger hat.
So today, staying in the slow-motion theme, I present a soup that requires slow cooking.
Ok, I know, soups are usually a winter thing, but think again. The Quebec winter has not said its last word. Don't be surprised if I write to you at the end of April to tell you that we've been hit by snow, not once, but five times since this writing, friend. We become amnesic in five seconds when the weather warms up, and we get carried away with showing our pale legs anytime soon.
I digress.
So this soup, as I was saying, is actually an onion soup, but vegan.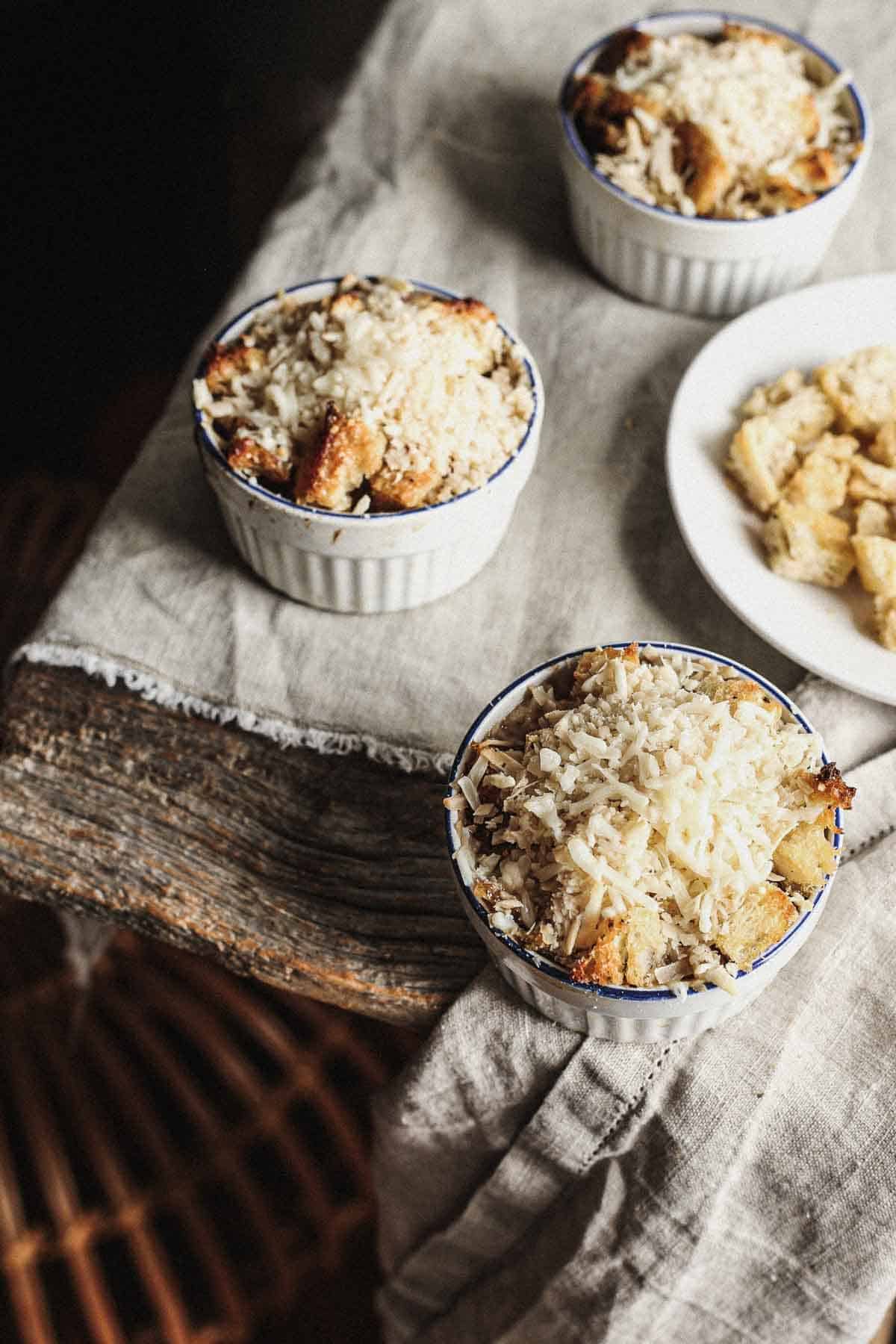 The origin story of onion soup is quite hazy, but it is known to have originated in France centuries ago. At the time, farm workers and soldiers regularly consumed onion soup because the ingredients were inexpensive and easy to find. The soup was often prepared with onions, stale bread, broth, and aromatic herbs.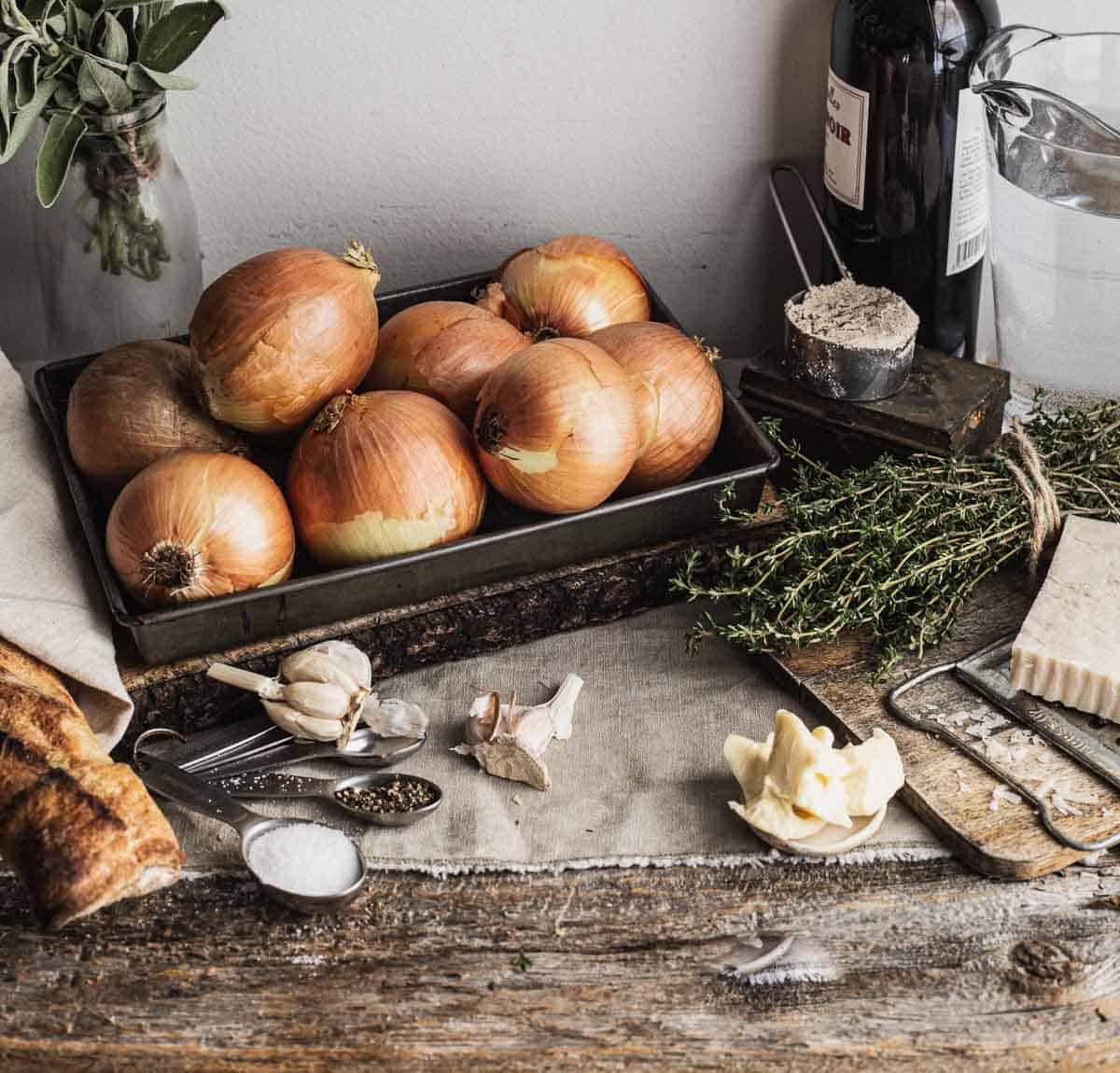 It was considered a nutritious and comforting dish for workers who spent long days outside or soldiers who needed a hot and hearty meal.
Today, onion soup is considered a French specialty and is enjoyed around the world.
And with good reason. Even veganized, this riff is absolutely divine. I've prepared it a few times: sometimes as a main course adding cooked lentils at the end of the cooking process, and other times as a side dish. Finally, the type of plant-based cheese makes all the difference. It must be melting to multiply the comforting side.
This soup is perfect for closing intense work periods when laziness haunts you and the winter season.